When it comes to popular budgeting apps, Mint is one of the best. The popular software company Intuit purchased Mint in 2009, just three years after it was first created. This personal finance app allows you to sync your accounts, track your spending, and budget your goals all in one place. Other helpful features include custom alerts, credit scores, and educational tools. 
Mint Budgeting App Review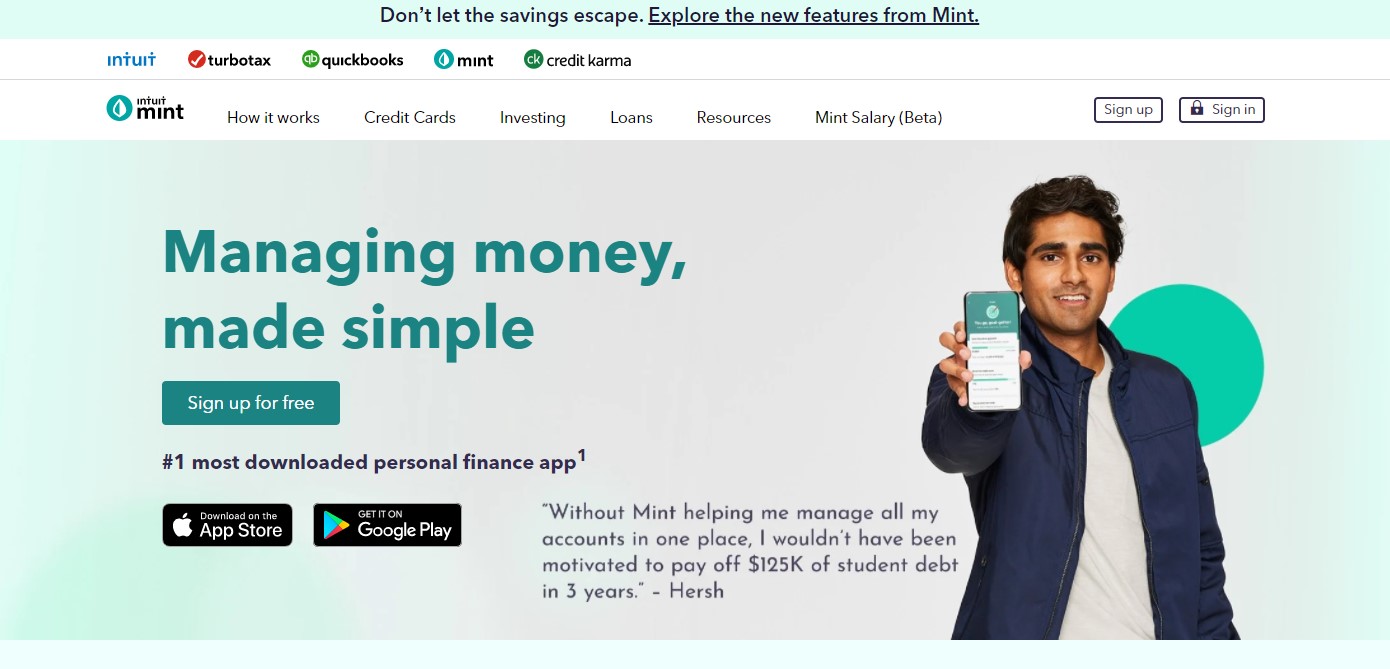 You can easily go to Mint.com to view your online account. However, the Mint budgeting app allows you to check your transactions and more on the go. The Mint app is compatible with all Apple and Android products, like the iPhone and more. 
Mint App Cost
Mint is completely free for everyone to use. By signing up for a free Mint account, you will have access to all its features. However, there are advertisements on the platform, which is how Mint earns money. There is no premium version of the Mint budgeting app to eliminate advertisements. 
Pros of Mint Budgeting App
Link Your Financial Accounts in One Place
Not only can you link all of your accounts at once, but Mint supports a plethora of types. You can link your bank accounts, credit cards, personal loans, and mortgage to the Mint budgeting app. That way, you have a clear picture of your income and debt in just one spot. 
Monitor Your Spending and Set Alerts
Thanks to account balances and recent transactions, you can easily see what you spend daily. With Mint, you can see your net worth quickly and easily. 
You will never miss a payment or accidentally overspend with the Mint budgeting app. You can select several account alerts and reminders, including low balance, bill pay, late fees, overbudget within a category, rate changes, unusual account activity, and more. 
View and Track Investments
Although it is a budgeting app, Mint still allows you to get a snapshot of your finances in one place. That means you can see your investment accounts, too, like IRAs, 401ks, brokerage accounts, and others. You can compare your portfolio to industry benchmarks and monitor fees using the investment tracking tool.
Create Financial Goals and Get Free Credit Scores
Set and track specific financial goals using Mint. That includes paying off your debt, saving money, or boosting your credit score. 
Thanks to a soft credit check, you'll be able to view and track changes to your credit score, and it won't negatively impact your score itself. With these free credit monitoring tools, you can see your TransUnion Vantage Score, along with helpful insights into how your score is calculated and the steps you can take to raise it. 
Enjoy Complete Security
Since Intuit is the owner of Mint, you can expect the utmost in security. Why? Because Intuit follows the latest security protocols for all of its products, including Mint. Intuit uses the trusted VeriSign to transfer data securely. Plus, your info is safe with strong encryption; you also have to complete multi-factor authentication, further protecting your account. 
Feel free to add more safeguard measures like a four-digit security code to your mobile devices. You can turn off mobile device access or delete your mobile account remotely from a computer if something happens to your phone. 
Cons of Mint Budgeting App
Time-Consuming Setup
You have to create a complete account to use Mint. Depending on how many accounts you need to link, it can take time to input your information. Furthermore, you might want to allocate some time to learn the new budgeting app to reap the most benefit from its features. 
Incorrect Automatic Categories
Mint offers automatic category assignments, which can be helpful. However, sometimes the app will assign expenses to the wrong classification. You have to edit the categories and fix them manually if this happens. 
Account Connection Issues
Users complain of occasional account connection issues. Furthermore, Mint may have problems connecting to certain financial accounts at times. Furthermore, if you use a small institution, you might have difficulty adding it to your account. 
Constant Advertisements for More Financial Products
You will see recommended financial products every time you use the Mint budgeting app. Mint doesn't charge users a fee; instead, they partner with these various companies to cover costs. As a result, you will constantly see ads for more products. Some find it to be intrusive. 
Alternatives for Mint App
You Need A Budget (YNAB)
Pros: No dollar goes unaccounted for when you use the 'zero-based budgeting system' within You Need A Budget. Rather than budgeting buckets, you must account for each dollar you earn. Thanks to educational resources, you can budget for future months and learn to budget better overall. 
Cons: People consider this a serious budgeting app. You have to pay monthly rates or annual fees for YNAB. 
Zeta
Pros: You can manage and split budgets with Zeta, making it ideal for couples. It is easy for you to categorize expenses as shared or individual. Plus, you can still see total income, expenses, bill reminders, and more. 
Cons: Zeta is not geared for individual budgeting needs. 
Mint Budgeting App FAQs
Who Should Use the Mint Budgeting App?
The main goal of the Mint budgeting app is to allow users to connect all of their financial accounts in one space to have a quality overview of their financial standings. Anyone who wants to track their expenses, set financial goals, and budget for a better future should use Mint. 
How Much Does the Mint App Cost?
Mint is free to download and use. You never have to pay to use this budgeting app, which is one reason why Mint is so popular. 
Does the Mint App Affect Your Credit?
Checking your credit score through Mint is free. Furthermore, it does not affect your credit rating because Mint does a soft pull. 
The Bottom Line
The Mint app is completely free, and users rave about how easy it is to use, from monitoring your spending to setting financial goals. Even though you can set up bill pay reminders, there is no bill pay feature. Plus, users complain about intrusive ads, problems with account synchronization, and the fact that it doesn't support multiple currencies. 
Nevertheless, since Mint first started in 2006, it is also one of the oldest budgeting apps available. Intuit, the same software company that owns TurboTax, ProConnect Tax, Mint and QuickBooks, so you know it will have security standards and the highest safety measures. The user-friendly platform updates automatically each time you log into your account, protected by multi-factor authentication. 
You can link your accounts beyond just your checking and savings to Mint. That includes your mortgage, personal loans, credit cards, and more to see where you stand financially. Besides tracking your spending, you can personalize your budget, set bill payment reminders, monitor your credit score, and see your investments. 
TheVoIPHub
Average rating:
0 reviews