ProConnect Tax Online is a software for Tax Professionals available on the cloud courtesy of Intuit. With ProConnect Tax, you have access to over 5,700 forms for individual and business tax returns, including 1040, 1041, 1065, 1120, 1120s, 709, and 990. Some tax software only deals with simple tax returns. ProConnect Tax experts can handle complicated scenarios thanks to thousands of critical diagnostics, automated calculations, and suggestions, so you don't miss any deductions or deal with e-file rejections. ProConnect should not be confused with TurboTax which is for individuals who are completing there taxes rather than tax professionals.
ProConnect Tax Online Review
ProConnect Tax is great for freelancers, enterprises, nonprofits, and small to mid-sized businesses. It integrates with a plethora of other tax-related software programs, like QuickBooks, QuickBooks Online, QuickBooks Cash, LukkaTax, EasyACCT, and Intuit Practice Management. Besides connecting quickly with QuickBooks, keep reading more benefits of ProConnect Tax. 
Pros of ProConnect Tax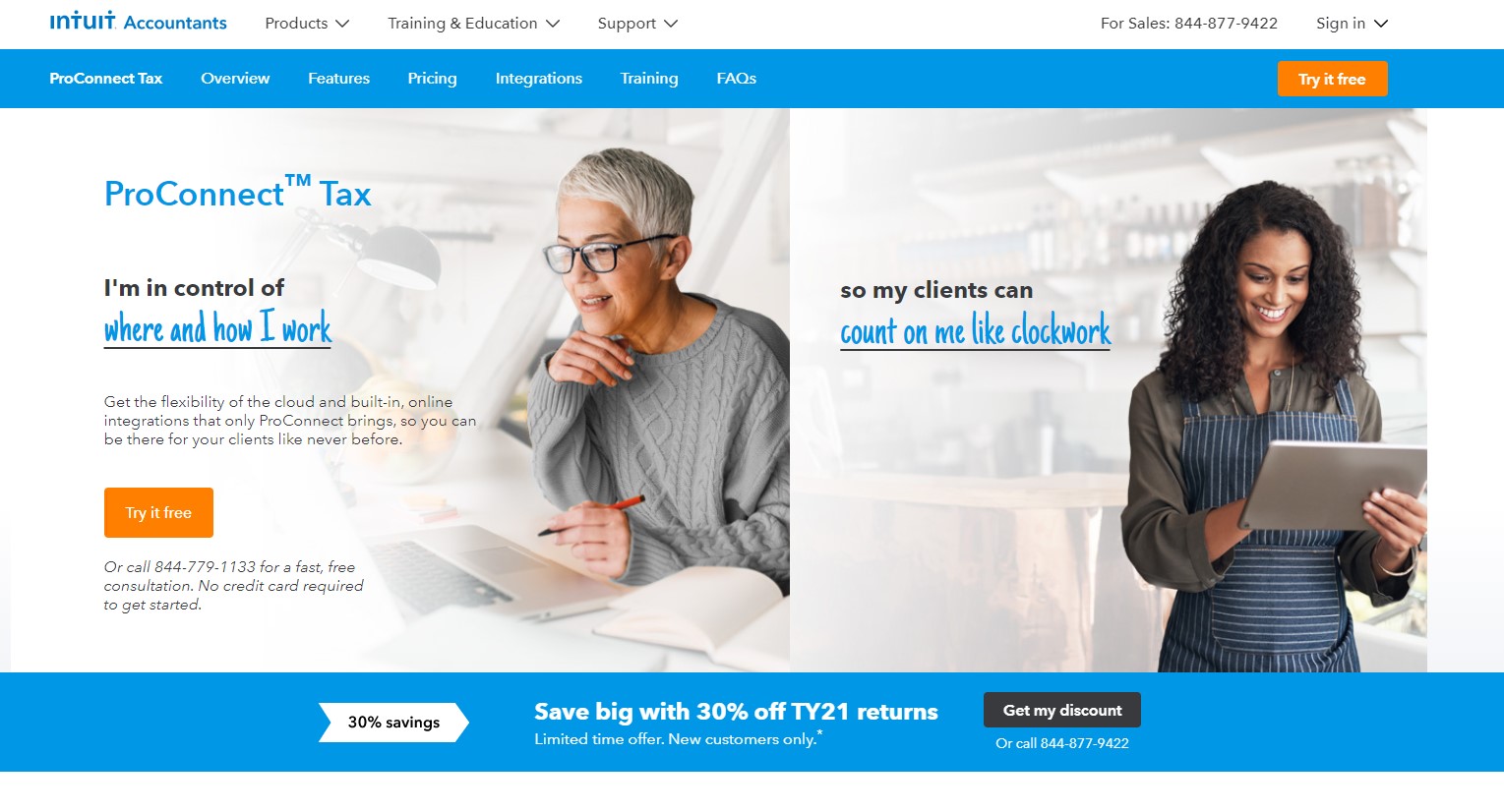 Cloud-Based Tax Management Software
ProConnect can help manage payments, documents, electronic filing, and more for all-size businesses. Using a unified portal, the platform allows organizations and large enterprises to create and share documents with internal and external stakeholders. They can also access various forms and import client data from other external accounting systems. Plus, as we mentioned, ProConnect Tax connects easily with QuickBooks.
The Inuit Link
You or your tax attorney can quickly flag files that have missing data so you can identify gaps and reduce review time in the future before filing. With the Inuit Link, you can simply complete the process of collecting client documents, thanks to one secure online portal. Organize your documents and store them by the client to quickly retrieve and share them with others in the company using this centralized repository. You can also automate data entry and the document collection process. 
Built-In Tax Planner 
This unique feature allows you to develop comparative scenarios. You can also compare historical data, figure tax liabilities, view and export tax summaries in PDF forms, and more. Other handy tools include data entry, third-party integration, document uploads, review management, and so on. 
Cons of ProConnect Tax
Untrained Software Personnel
Software-related problems can occur, but users note frustrating experiences with software support personnel. More training related to the tax law and basic return prep might help so they can provide adequate, valuable service. 
Per Return Costs
Depending on your business needs, the flat-rate fee of tax returns per person can hinder many. ProConnect offers promotional rates, but sometimes that can be a problem as smaller businesses can afford the lucrative competitive expense, but not when it goes to the normal rate, which is double or triple the price. 
ProConnect Tax Online Costs
ProConnect Tax offers a free trial that you can try for as long as you want without a credit card upfront. You'll enjoy the full working program of the tax software instead of a demo version with restricted tools. You have to create an account and answer some questions to receive personalized service unless you are already an Intuit customer. ProConnect Tax pricing offers one flat per-return rate. That way, you can pay for what you need and nothing more. Check out the following costs, including e-file for state, federal, multi-state, and municipal returns. 
Please be aware that these costs may reflect promotional rates. 
1040 Individual Returns
1-9 Returns: 

$66.47

 per return

10-49 Returns: 

$58.77

 per return

50-99 Returns: 

$51.77

 per return

100-199 Returns: 

$40.57

 per return

200-299 Returns: 

$33.57

 per return

300+ Returns: Call customer service 
1041, 1065, 1120, 1120s, 990 Business Returns
1-9 Returns:

$82.57

 per return

10-49 Returns: 

$73.47

 per return

50-99 Returns: 

$64.37

 per return

100-199 Returns: 

$50.37

 per return

200-299 Returns: 

$41.97

 per return

300+ Returns: Call customer service 
Alternatives to ProConnect Tax
Please understand that the rates and free trial offers below may change or already be different. 
TaxJar
Price: Three plans are available from $19 to $99+ per month. 
Pros: This technology solution is better at meeting your tax needs if you are an eCommerce business owner, and it also offers better support and a more user-friendly site. 
Cons: TaxJar is ideal for eCommerce businesses to help manage sales tax, so it might not suit your needs if you are a different type of freelancer. 
Avalara
Price: Starting at $19 per month for basic returns and $83 per month for standard returns and calculations. Custom packages are available. 
Pros: Avalara offers a free trial and is excellent for mid-markets. 
Cons: Even though you can try it for free, the plans are more expensive overall. 
Canopy
Price: Prices start at $25 per month per feature. For example, time and billing are $24 per month per user. Document management is $40 per month per user. Workflow and tax solutions are $30 and $33, respectively. 
Pros: Complex tax scenario management included. 
Cons: There is no free trial, and users complain of issues with connectivity with email tracking, electronic signature restrictions, and other minor details. 
ProConnect Tax FAQs 
Who Should Use ProConnect Tax?
Smaller companies that process fewer than 300 tax forms per year should try ProConnect Tax Online. It supports both individual and business tax returns via desktop and mobile devices. 
How Much Does ProConnect Tax Cost?
There are flat rates for individual and business returns based on the number you need. Tiers range from 1-9, 10-49, 50-99, 100-199, 200-299, and 300-plus. Individual returns start at $66.47 per person, and business returns start at $82.57, although rates may vary based on promotions. 
Is There a ProConnect Tax Free Trial?
Yes, you can try ProConnect Tax for free. You don't have to input your credit card upfront, nor is there an expiration date. That means you can try it for as long as you wish. You'll have access to the full software, including all of its features. 
The Bottom Line
ProConnect Tax is a cloud-based software from Intuit. That means you can trust its secure settings to keep your information safe. Plus, you can easily connect to QuickBooks and other tax-related programs. ProConnect has helpful links that makes it easy to collect client data at one convenient spot. You can also setup automated features to save you time. The built-in tax planner allows you to test thousands of complex tax scenarios. The best part about ProConnect Tax is you'll have instant access to thousands of individual and business tax forms, including 1040, 1041, 1065, 1120, 1120s, 709, and 990. You only have to pay for what you need because of flat-rate pricing for individual and business tax returns. However, even with a free trial and tiered payment system, it can be costly for small business owners and freelancers. 
TheVoIPHub
Average rating:
0 reviews