Since 1993, Inuit has offered TurboTax as a leading provider of financial management solutions for entrepreneurs, freelancers, and independent contractors, along with small and mid-sized companies. TurboTax is a popular personal tax preparation software if you want to file your taxes online. You can file your federal and state income tax returns accurately using one of the many TurboTax packages, including a free plan.
TurboTax Tax Software Review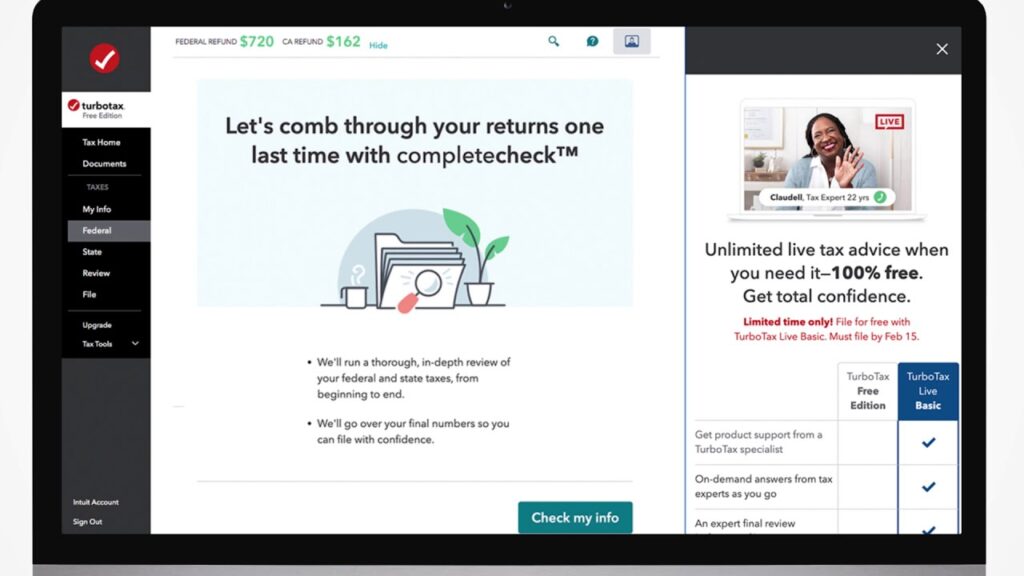 You can file taxes online using TurboTax software whether you have one W2 or multiple receipts for various expenses. Check out the benefits of using TurboTax tax software. 
Pros of TurboTax 
Easy to Use
TurboTax has a straightforward interface that allows you to skip around if you desire. A banner keeps track of your progress and tells you what you still need to complete. With embedded links, help buttons, on-screen chat help, and other features, there are a plethora of sources at your fingertips within TurboTax. 
ItsDeductible is a feature for many TurboTax plans, including Deluxe, Premier, and Self-Employed. You can quickly find the deduction value when you donate things like household items, clothes, and more. 
Import Various Tax Documents
If your employer partners with TurboTax, you can automatically import your tax info. Likewise, you can take a photo of your W2 and upload it to your TurboTax account to transfer the data. You can also upload particular 1099s. With the Self-Employed plan, you can upload client 1099-NEC just by taking photos. You can also import Uber, Lyft, and Square expenses and income using TurboTax tax software. 
Plus, you can also import electronic PDFs of tax returns from other companies, like H&R Block, TaxAct, TaxSlayer, and so on. Are you a cryptocurrency investor? You can import 4,000 transactions simultaneously with the Premier plan. 
Helpful Support Options 
Thanks to searchable forums and video tutorials, you can find answers throughout the TurboTax website. Furthermore, the chatbot is a 24/7 digital assistant to offer helpful tech support, while all paid packages receive access to a tax specialist. Live, on-screen tax advice is also available. 
TurboTax Live comes with every package and offers a one-on-one tax return review with a professional before you file. Also, you can receive unlimited tax advice throughout the year using TurboTax Live. Using a one-way video where you see them but they don't see you, you can ask them anything at any time. 
Suppose you want to do away with complicated tax software altogether. In that case, opt for the Live Full Service, which allows a tax preparer to meet you on a video call. Then, they will get to work and meet again when your tax return is ready for review. 
Cons of TurboTax 
Cost of the TurboTax Software
Although there is a free TurboTax version, the prices of additional services can be high. Plus, if you live in one of the states requiring state income taxes, you must file your state with TurboTax, which costs more. Suppose you wish to talk to a live tax expert; that will cost more. You can also pay extra for that professional to file everything on your behalf. Are you getting a tax refund from TurboTax? A processing fee will apply to pay for your tax prep service out of your return. 
How Much Does TurboTax Cost?
Both free and paid packages are available for TurboTax. All plans come with options for live access to a tax professional along with a final review until March 31st. 
Free TurboTax Version
You can file your taxes for free using this TurboTax plan. However, you cannot itemize anything or file various schedules 1, 2, or 3 of 1040. 
Simple tax returns only

File 1040 and state return

Live version is available for free
TurboTax has three paid packages, including the following. However, promotional rates may be available at different times.
Deluxe for $59 + $49 Per State with Deluxe Live for $119 + $54 
Itemize business income

Claim tax deductions 

Organize and claim credits
Premier $89 + $49 Per State with Premier Live for $169 + $54 
All Deluxe features

Investment reporting

Rental income

Schedule D, Schedule E, and K-1s
Self-Employed $119 + $49 Per State with Self-Employed Live for $199 + $54 
All Premier features

Business income and expenses for Schedule C

Home office deductions and features for freelancers
Alternatives to TurboTax 
Please be aware that prices may vary depending on promotional options. 
TaxSlayer
Price: Federal is $29.95 to $59.95. State is $0 to $39.95 per state. A free plan is available for simple tax returns.
Pros: Various tiers for different business needs with four plans available. 
Cons: On-demand help with tax professionals only available at higher levels, like Premium and Self-Employed packages. The interface isn't as intuitive as others. 
TaxAct
Price: Federal is $46.95 to $94.95. State is $39.95 to $54.95.
There is a free version for simple tax returns.
Pros: There is no base fee with TaxAct whereas with TurboTax, it is $49+. TaxAct has a mobile app. You can receive free help through Xpert Assist. 
Cons: Although there is no base fee, the state and federal tax filings are more expensive. TaxAct doesn't have an offline version, either. Some resource links may not lead to the correct spot, for a poor user experience. 
TurboTax FAQs 
Who Should Use TurboTax?
TurboTax may be a good choice for you, depending on your situation. Suppose you have a simple tax return that you want to file online. In that case, TurboTax is an accessible route. That includes people with no dependents, significant assets, charitable contributions, and other issues that would make the return more complex.
How Much Does TurboTax Cost?
There is a free version of TurboTax. So if you plan to file a simple tax return, TurboTax is free. However, there are three paid packages for other needs, including the Deluxe, Premier, and Self-Employed options. All come with live versions as well, ranging from $59 to $199, plus a standard filing fee of either $49 or $54. The rates may change based on promotions. 
Is There a TurboTax Free Trial?
No, but there is a free TurboTax option when filing your taxes online. You won't have to pay any money to file your federal or state return if it is a simple tax return. 
The Bottom Line 
Since releasing in 1984, TurboTax has been a top software program for preparing taxes. Produced by the trustworthy company Inuit, TurboTax is known for being a safe and secure way for people to file taxes online without the use of a tax professional. You can file your state and federal returns for free if it is a simple tax return. However, if you have more complex taxes, you can opt for paid packages that deliver the resources you need to file your taxes online. That includes itemized business income, investment reporting, rentals, home office deductions, and more. You can complete schedule C, D, E, K-1, and more. Thanks to TurboTax, you can prepare and e-file your tax return from any computer or even mobile device without downloading and installing tricky software. You can reach out to customer support or have a tax professional complete everything on your behalf. 
TheVoIPHub
Average rating:
0 reviews