Ooma is a VoIP telecommunications company that was founded in Palo Alto, CA in 2004. The companies strategy is focused on saving people money on both residential and business phone services. They are able to service to both commercial accounts and everyday consumers by dividing their services into 'Ooma Office' and 'Ooma Telo'. Ooma Telo is then further split into both basic and premier levels.
---
Ooma's 'Basic' service, which was launched in the companies early years after impressively raising over $60 million from venture capitalist firms, is their flagship service and sparked rapid growth in the company. This rapid growth quickly made them one of the more popular VoIP companies in the United States. The key behind their rapid growth was the fact that their 'basic' service comes free of charge. All consumers have to do is pay for the companies VoIP adapter and then are only charged for government taxes and fees each month. No monthly service charges are ever paid to the company for calls within the U.S. and Canada. This incredible offer quickly got their devices in thousands of retail stores nationwide and most online electronics websites.
The current VoIP adapter used for their residential service is the Ooma Telo, with the former device being called Ooma Hub. The beauty of this adapter is that unlike most VoIP providers you don't need a computer, ever. Just plug the Telo into your regular phone and your modem and you can begin making calls within minutes.
---
What Phone Services Do They Offer?
Ooma provides ultra-cheap VoIP telephone services to both residential and business customers alike. Their home phone service is tabbed 'Ooma Telo' and their business phone service is called 'Ooma Office' (referred to as Ooma Business by some).
Both services work via specific and different hardware systems allowing users to make calls over the Internet for dramatically cheaper than landline phone service.
---
Ooma Telo Overview
Cost
The Telo Home service comes with two different tiers. The first is actually free and is called 'Basic' as mentioned above. There is a one-time fee to buy their VoIP adapter which costs around $100. Once you have the device you can get a phone line and you will never have to pay Ooma a dime for it. The service includes unlimited local and long distance calling to anyone (excluding 411 and 900 numbers) in the United States and comes with a plethora of features.
Unfortunately there is a small catch, the government doesn't let you get the service for free (they always find a way to get their dirty hand on your money). Instead they charge you state and local taxes/fees on a monthly basis (usually $5$8). How they get to charge any taxes when the service is free we don't know.
If you want more features you can always upgrade to the second level of service they offer, sometimes called Premium or more officially 'Premier'. This plan with Ooma isn't free however and will cost you. Though it's just a modest $9.99 per month in addition to the government taxes and fees. With this service you get an enhanced account with features that don't come with the basic service plan. For differences between the two see our Premier vs. Basic comparison. For further details on the Premier service see our full writeup on Ooma Premier.
International Plans
There are also overseas calling plans that can be added to either service for a monthly fee or you can make calls on a prepaid per minute basis. You can get 500, 1000 or unlimited international plans with escalating monthly fees for each one.
Devices
Like most VoIP services, setup of your Ooma service is quite simple. The brains behind the Home services is the Ooma Telo, a simple VoIP Adapter that is very easy to use. It is essentially 'plug and play' with a few options depending on whether you want your setup to be wireless or wired to your router.  It works very well and takes just a few minutes to setup and register.  It only costs around $100 as we mentioned above and it is a one-time fee. It comes with a 30-day guarantee allowing you to return it for any reason at all.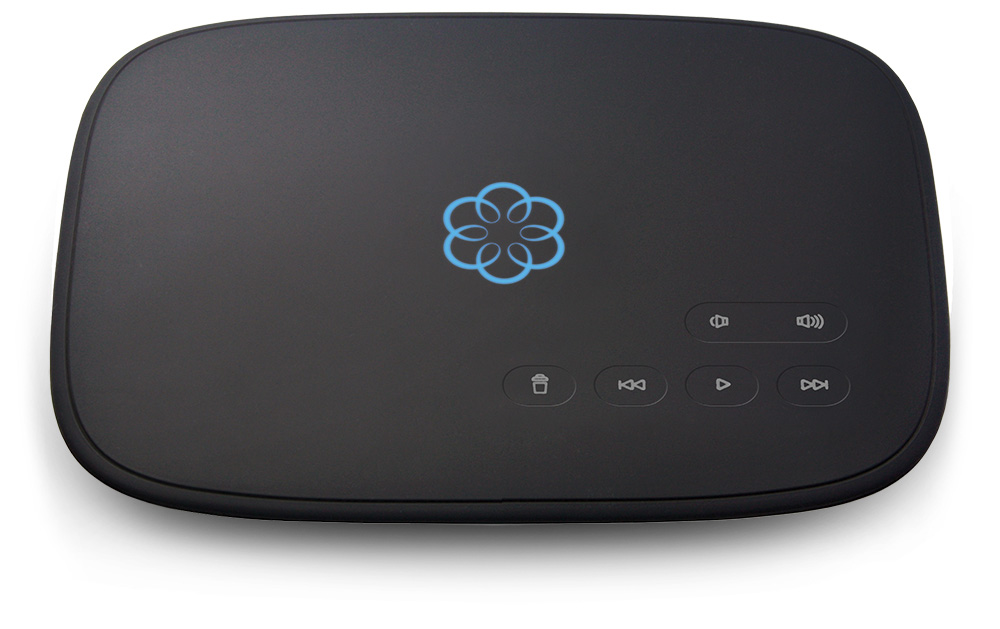 Features
As we've stated before Ooma Telo doesn't skimp on features, whether you choose the basic or premier plan. A full list of features can be seen here. One key feature that you don't see with some other VoIP companies is the official support for faxing.
Mobile Application
The Ooma Mobile App is somewhat new and allows anyone that already has service to download and begin making calls immediately from their smartphone for free. It essentially allows them to take their home phone with them wherever they go. They can even set it up to ring simultaneously on both their home and smartphone . There is also a new option for people that don't have the service already. These people can download the app and get 1,000 minutes of outgoing calls for just $4.99 per month. The app is available for both Android and iOS devices officially and can be hacked to work with Blackberry devices as well.
Savings
The reality is that the savings is going to be different for everybody and dependent upon what you currently pay. You can get the residential service for as little as $5-8 per month (covers taxes and fees) or in upwards of $40 if you go with a full-fledged international plan and all of the add-ons. The basic plan is more than sufficient for most and if you must get the add-ons they are more reasonably priced than the same services from other companies so that likely means you will be saving even more money.
Telo 2
Recently Ooma came out with an updated version of their VoIP adapter, tabbed the Ooma Telo 2 and although it includes a few minor cosmetic updates we were unable to find anything that helped it to truly stand out from the original version of the Telo.
FAQs
How does Ooma Telo compare to other VoIP services?
Unlike most other VoIP services it does not require a computer and there is no software to install. The device is standalone and only requires a phone to work. This is much simpler than other VoIP services and thus eliminates another potential tech gadget that could malfunction and cause a service outage, dropped calls or other potential issues.
Does Ooma support 911 services?
Of course it does. Wherever E911 is supported it will work. When you first register you are required to enter your E911 address and in the event that you dial 911 the emergency personnel will go to that address. This is why it is especially important to update your address if you ever move.
How does voicemail work with Ooma?
It is super easy to setup your Ooma voicemail, see our post for more information regarding this.
It says unlimited but is there a monthly limit on the number of minutes I can use?
Like most unlimited services there is an actual limit that it set to restrict people to a reasonable usage, stop abuse and keep the system working efficiently for the other 99.9% of users. This limit is set at 5,000 outgoing minutes per month. This is enforced on a case-by-case basis and generally is only enforced when it is clear the subscriber is abusing the service (commercial use).
Do I need high-speed Internet to make Ooma work?
Yes, all VoIP services require a high-speed Internet connection. VoIP takes a large amount of bandwidth to work correctly and you will experience very poor voice quality if you attempt to use it with a slow Internet connection. This is the case with every single VoIP company worldwide.
What does it cost to call 411 directory assistance?
All calls to directory assistance cost $0.99 each.
Can I use the service with my current phone?
While Ooma does offer their own branded phones you can use any phone that you already have whether it be corded or cordless. You can even setup a cordless phone system with phones throughout your house.
Can I keep my current phone number?
Yes, in nearly all cases you can port your current phone number. There however is a one-time $39.99 porting fee. This fee is waived if you sign up and pay for a year of Ooma Premier in advance.
Why do they say it's free when it actually cost money?
Technically the service is free and you are only paying the government taxes and fees. Ooma is merely acting as an intermediary and collecting the taxes and fees. They are required by law to collect these and doesn't have a choice. The fees are then forwarded to the governmental agency to which they are due.
For further details on the company's Home service see our complete Ooma Telo review.
---
Ooma Office Overview
Cost
Ooma Office was designed with businesses in mind and includes all of the features that your business needs in an instant. It is for businesses that are looking for a fully featured phone system and want to move away from traditional phone companies that charge them an arm and a leg for business phone systems and service. Ooma Office is incredibly cheap and can save your business thousands of dollars per year. The service starts at just $19.95 per month (for 1-line) and you can add additional lines for just $19.95 each. This service includes both a local and toll-free number of your choice. It also comes with a virtual fax extension (ability to send free business faxes) and conference calling extension. There is a one-time fee for the VoIP adapter that allows your phone line to connect to the Ooma network. This adapter is called the Ooma Office Base Station and costs $199 direct from the company however deals can often be found the lower the cost to under $150.
Office can support a maximum of 20 users at a cost of $399 per month ($19.95 per line), before government taxes and fees. This is a simply amazing price and saves many businesses thousands per year over a traditional phone company. The beauty of it is that you can start with 1, 2 or 3 lines and add additional lines and your company grows over the years.
International Plans
Unfortunately our review revealed that they do not yet offer international plans but you can still make calls to other countries on a per minute basis. All international calls are prepaid, meaning you have to have credits added to your Office manager account prior to dialing any international numbers. They do provide the same very reasonable international rates that you get with their residential service.
Devices
The device that is used for Office, the Ooma Office Base Station, is designed with do-it-yourself installation in mind so you can be up and running quickly without the need for a technician. It costs only $199 direct from the company and comes with two Ooma Linx wireless devices that each allow you to wirelessly connect a telephone to the Base Station. It also comes with a 30-day full money back guarantee. They also offer several powerful phone systems that work in tandem with the base station and you have the ability to use the service with any phone system you might already have.
Features
Office comes with many features including nearly all that most businesses may need and even more. This includes a virtual receptionist, extension dialing, call transferring, call logs, various modes for business hours and after hours. For a complete list of features see our list of features on our full Ooma Office review.
Mobile Application
The mobile application for Office works just like the Ooma Telo Mobile App minus the option for someone without a service plan to get one via the app only. It too allows anyone with a plan to sync their service with their smartphone and get business calls even when they are out of the office. It turns their smartphone into a business phone. They can also change business and after hours settings so that business calls are automatically forwarded to voicemail after they are done working for the day. This app also works with Android and iOS officially, with the ability to hack it for Blackberry phones.
Savings
Again the savings are dependent upon your businesses current phone bill and phone system needs. A business could get a service plan for as little at $25.00 per month after taxes and fees or as high at $500 if 20 lines are needs. If you have 20 lines you may be paying in upwards of $1500 per month for your phone service and could save $1,000 per month. However if you have only one line you may only cut from $50 to $25. Regardless of your situation it would be very shocking if they couldn't save you a worthwhile amount of money over a landline provider.
FAQs
How can I be sure Ooma Office is as good as the more recognizable names in the business VoIP industry?
They were recently given a 9.4 rating out of 10 from PCMAG and selected as the #1 choice for small businesses. They beat out the likes of Shortel, Cisco and even Ringcentral. A rating like that from a reputable magazine should be enough but if not then you should trust the reviews that have been left here at our blog or visit Google and search for reviews. Ooma reviews from real users are all over Amazon and many other places. There are plenty of reviews from consumers that rave about the phone service they provide.
How Do I Setup My Office Service?
Setup is designed to be quick and easy so that just about anyone can do it. All you have to do is connect your base station to your modem or router and then plug your phone into the base station. If you want to use it wirelessly you can use the Ooma Linx that comes with DECT 6.0 wireless technology.
What if my Internet goes out?
In the event that your Internet goes out you will not be able to make phone calls. This is no different that a regular landline which can also go out. The service is however design to work with a backup landline in the event your Internet ever does go out. This would mean that at minimum you would have one phone line that could still take calls at your place of business even if your Internet was down for a brief time period.
This of course would cost extra to keep a backup landline in service at all times.
Can I port my current business number and if so what is the cost?
Lines can be ported easily for FREE. It can take 1-2 weeks for the porting process to complete so you need to be sure not to cancel your other service before Ooma has secured your number from your old company. If you don't wait you will likely lose your number.
Does the system account for multiple calls coming in? What about busy signals?
With Ooma Office there are never any busy signals. You are effectively given unlimited lines on your phone numbers and nobody will ever be given a busy signal. You decide what the person hears if you are on the other line and unable to answer the call.
What about 911 calls?
Like the Ooma Telo service, Office also supports E911 and you are required to enter your physical address when you first activate your service. This allows emergency personnel to know where to respond to in the event of an emergency.
For further details on Ooma Office service see our full post on Ooma Office / Business.
---
Other Important Stuff
Call Quality
Ooma has incredible call quality made possible by several technological advances they have implemented including each of the following:
Advanced Voice Compression
Ooma uses advanced voice compression technology that allows them to reduce bandwidth usage by up to 60%. This allows you to do other online activities quickly without it draining all of your bandwidth.
Wire-speed QoS
This feature causes the device to get priority over all other devices fighting for bandwidth on your connection so that you rarely if ever experience any static or dropped calls.
Adaptive Redundancy
This feature recognizes before your phone call is about to experience static and corrects the issues before it ever begins to interfere with you call.
HD Voice
HD Voice once again helps by further improving call quality.
Customer Service
Their customer service has long been lauded for being top-notch. They have 24-hour live chat support available and a phone number you can call if you are having issues with your service or hardware. Call center agents with the company are know to be very patient and courteous, sticking with you for the long haul until they get your issues solved. It doesn't take long to look around and see all of positive reviews and awards won for their outstanding support.
For the U.S. and Canada there are different support and troubleshooting numbers. There are various other options to seek help including searching the Ooma support forums for others who have had the same issues and gotten answers.
---
What We Like
Wowww!! We like a lot about this service, too much to list in fact so we have listed a few things we like in order to be brief and not go on for too long about how much we love it.
Cost – incredibly good value for the money at $0-$10 per month for residential and starting at $19.95 for a business line (both before govt. taxes and fees)
Low international calling rates – prepaid international calling rates are very low for the residential and business service and you can even purchase monthly bundles for residential service
Excellent voice quality – the call quality for Ooma is considered to be best in industry
Best in industry customer support – the custom service is top-notch and rated excellent almost all of the time
Mobile application – mobile app allows you to take your home or business phone with you wherever you go
Ability to port your phone number – if don't want to give up that number you've had for years you don't have to
30-day money back guarantee – don't like it and you can return it for a full refund
---
What We Don't Like
Though we love the service after digging deep we were able to find a couple things to complain about
No international calling plans for the business version of the service
Limit of only 20 users for the business service – what about large businesses, you don't want their money?
Initial hardware cost of around $100 could be prohibitive – we would like to see a payment plan to pay it off over 1-year
Slow speed of number porting – porting can take 1-2 weeks which means your number may be hung up in limbo for several days. Other companies can get this done in under 72 hours, why can't they? Especially when you consider there is an expensive porting fee of $39.99 if you are using the free service.
No softphone that allows for use with a computer – this would have been nice for them to at least offer.
---
Final Thoughts On Ooma
Wow, there is a lot of good to say about Ooma and not a lot of bad. The company provides excellent service with excellent reviews, for both businesses and residential homes. They are very thorough in providing a lot of features and also offer their services at incredibly low, rock-bottom prices. We are honestly stunned that Uma can make money with the affordability yet also quality of their service. We are use to seeing cheap VoIP companies that provide inferior customer service or limiting the features but that is not the case here. It is a great choice if you are looking to make the switch from landline provider or even from another VoIP provider. They are top-notch in the industry and you can't go wrong by choosing them.
---
Leave Your Review
Real User Reviews
Average rating:
1 reviews
Aug 8, 2017
Telo 2 has new features
My understanding is that there are at least two features (maybe more) that work on the Telo 2 but do NOT work on the "Telo" model. #1 it can work with Amazon Echo...#2...It can work with "Nest".