The number of companies providing Voice-over-IP phone services has grown rapidly over the last few years. Some like Vonage have become household names because of their consumer VoIP service and ubiquitous advertising. Most business VoIP providers aren't as high-profile as Vonage, but a few have become very well-known for their high-end product. One of the best is RingCentral.
---
What is RingCentral?
RingCentral is one of the largest worldwide providers of cloud-based VoIP services for businesses. The company is based in Silicon Valley with offices throughout the US and Canada, Russia, the Ukraine, China, Singapore and the Philippines. The company was founded in 1999 with an original focus on serving small businesses but is now a large, publicly-traded operation, providing enterprise solutions for companies of all sizes and servicing more than 350,000 clients.
Over the years, RingCentral has been honored with numerous awards for its outstanding business phone service and overall products offerings. Some of these well-known organizations and publications include the World Economic Forum, CNET, Gartner, PC Magazine, Internet Telephony Magazine and Finances Online, just to name a few. This is similar to it's main competitor 8×8, who has been received many awards as well.

---
Why Consider RingCentral?
Reliability, reliability, reliability. Just like "location" for real estate, the number-one attribute necessary for VoIP performance among businesses is reliability, and RingCentral provides it. The company operates from Tier-1 data centers and peers with Tier-1 carriers, with its own network backbone throughout America, Europe and Asia. When a provider is operating at that level, it means your business's communications will be as reliable as any relying on the cloud could possibly be.
Another reason that RingCentral should make your short list is the company's continuing rollout of advanced features that makes its products full-service solutions. It was among the first to offer support for both softphone and mobile clients, as well as full-scale video conferencing. It now provides complete integration and syncing with everything from DropBox and Google Drive to Salesforce and Zendesk thanks to its recent acquisition of Glip, which also allows full team operation complete with text messaging and chat. RingCentral also offers a developer platform that can be used to create custom apps for VoIP systems.
---
Service Plans & Cost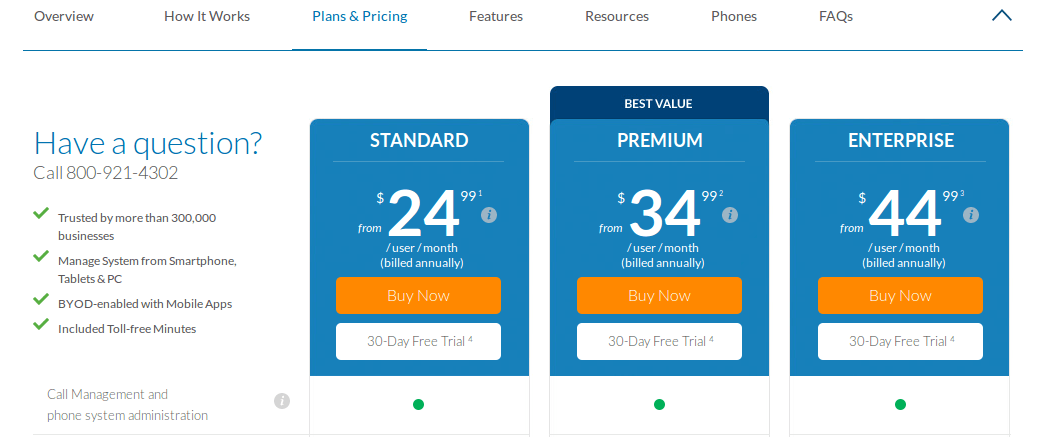 RingCentral Office offers three service plans, all available month-to-month or on an annual basis, and all with service-level agreements. Each plan includes unlimited local and long-distance minutes and an allotment of toll-free minutes, although international minutes do cost extra. There are no early termination or setup fees. No phones are included in the service packages; you'll need to purchase or rent SIP (session-initiated protocol) phones in order to use the RingCentral service in your offices. The company offers rentals of both desk and conference phones, but the system supports most major SIP products.
Standard – $24.99 per month (per user)
This plan is designed for small to medium-sized businesses. Most standard functions are included, as are full use of the service's messaging and mobile apps (compatible with iOS and Android), business SMS and conference calling. Glip services, including collaboration and messaging, HD video conferencing and integration with Google and Microsoft products, Box and DropBox, come with this package. Video conferencing is limited to four participants, however. 1,000 toll-free minutes come with the standard plan.
Premium – $34.99 per month (per user)
RingCentral's premium plan includes all of the standard features and adds capabilities such as multi-level auto attendant, automatic call recording, HD voice capabilities and inbound caller ID name. More importantly, the premium plan allows access to the custom app development and deployment platform, plus full integration with Zendesk, Desk.com and Salesforce. Video conferencing allows up to 50 participants, and this plan comes with 2,500 toll-free minutes.
Enterprise – $44.99 per month (per user)
There's little difference between the premium and enterprise plans. 75 participants are able to join video meetings, voicemail-to-text services are added to the premium package, and 10,000 toll-free minutes are included.
---
How Much Could RingCentral Save You?
Our reviews of RingCentral revealed that the savings really depends on a business's current phone system and their phone capability needs. The amortized cost of a traditional in-house PBX system, for example, is lower over time than the cost of rental equipment – so the savings possible with RingCentral can vary considerably. For that reason, it's virtually impossible to calculate a number that represents an average company's savings.
However, it's easy to look at the areas in which a RingCentral plan can save money.
First, the initial equipment cost will normally be much lower, because all that's required is purchase or rental of the SIP phones. Administration, maintenance and reconfiguration of the system can be handled by existing personnel and will be unlikely to require expensive service calls or tech support. And the scalability of VoIP systems eliminates enormous hardware bills when expansion is necessary.
Most of the features available at no extra cost with RingCentral plans, like unlimited minutes, auto-attendant and video conferencing, will cost extra with a traditional PBX monthly service. The company also allows the inexpensive addition of local or toll-free international numbers that can be routed anywhere in the system, vastly reducing costs for businesses operating worldwide.
RingCentral's integration of phone and fax functions with desktop and mobile applications also saves on duplication of services, reducing costs for some of those apps and greatly increasing productivity.
The bottom line: The majority of businesses with traditional phone systems can save significant amounts of money and some companies that already have VoIP can save by switching to RingCentral but the true amount of savings will largely depend on each businesses specific situation and needs.
---
Service Features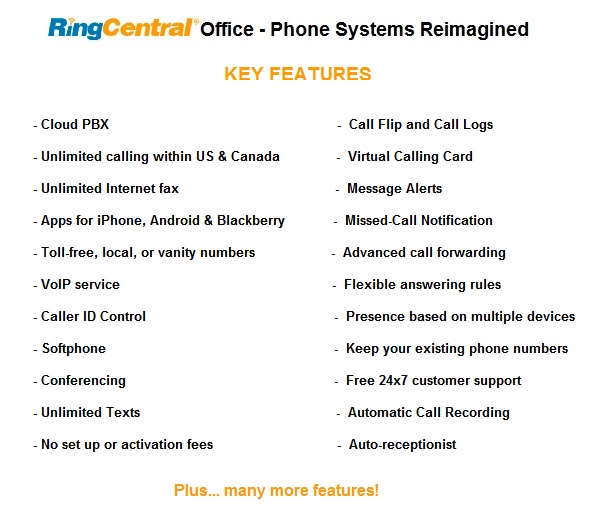 We've already highlighted most of the important features provided by RingCentral's cloud VoIP packages. However, here's a summary with more features listed. This list is not exhaustive and RingCentral is also always adding new features.
Phone Numbers and Minutes
Local and Toll-Free Numbers
Unlimited local minutes
Graduated number of toll-free minutes depending on package
Call Management
Auto-receptionist
Call forwarding, call screening, call recording, missed call notifications, caller ID control
Message alerts, dial-by-name, voicemail, visual voicemail, music on hold, conference calling
Apps
Internet fax, messaging, conference calls, video conference
IOS, Android, desktop
Integration with Microsoft, Google, Box, DropBox, Glip, Zendesk, Desk.com, Salesforce>
---
What Is The Customer Service Like?
This is one area in which RingCentral could improve. Sales reps are attentive and responsive but it's often quite different when you need support, even though representatives are on duty 24 hours a day and an SLA comes with the service.
Perhaps it's because of the system's enormous popularity, or perhaps it's because of the fact that most support is conducted in the Philippines. But long wait times on hold and long response time for email support requests are common and it can take a while to have an issue resolved properly.
The service itself is terrific, but be prepared to be frustrated if you run into a problem that needs attention from support reps.
---
RingCentral Setup Process
Setting up a RingCentral system is relatively easy, especially if you're renting or buying preconfigured phones from the company. Everything is done through the online user interface, once you've set your modem to IP pass-through or bridge mode, configured your router (instructions for each model of modem are on the RingCentral website) and connected phones to your router or network with an Ethernet cable. If you're not using a RingCentral provided phone, the instrument must be set to "provision enable" and some extra information like the SIP domain and outbound proxy (available on the website) must be entered into the user interface.
Once you've received your email confirmations detailing your phone number assignments, you're ready log onto the web portal. Through a series of wizards (or via drill-down menu if you'd prefer), you're able to add devices/users and pair them to phone numbers – provisioning takes only about 10-20 seconds and the phone will be active through RingCentral. Each user will receive an email giving them the option to configure the details of their individual line (such as music on hold).
The user interface also allows you to perform functions like assigning users to groups or queues, configuring the auto-attendant, or setting up call routing trees throughout the system. Once again, this is done through built-in wizards. The process can get a bit confusing for complicated configurations, but is quite intuitive once you get used to the way it works.
---
What We Like About RingCentral
Did we mention reliability? We thought so. The performance of a RingCentral system naturally depends greatly on the quality and speed of a company's Internet provider. But assuming that's not an issue Ring Central's Tier-1 data centers and peering, together with its dedicated backbone, make the service virtually flawless. Dedicated circuits between businesses and the nearest RingCentral data center are also available at an extra cost.
Full integration with important apps makes RingCentral one of the best ways to improve productivity. For example, you can open Salesforce, call a contact via RingCentral with a single click and make notations while you're talking; when someone calls you, RingCentral can automatically recognize their information and open the appropriate screen in Salesforce for you. And Ring Central not only allows you to send faxes (as most VoIP systems do) but lets you fax from your DropBox or Google Box account, or sign a document on your computer and fax it immediately (or schedule it for later sending).
Softphone (using a computer and headset) and mobile app (Android or iOS) options are terrific with RingCentral, making it one of the most versatile VoIP business phone systems available.
The inclusion of the Glip app adds tremendous collaboration power to the RingCentral package. Teams can be created through the system, enabling chat, video conference, group calls, text messaging and all of the collaboration tools necessary in a modern business. The app supports smart texting as well, allowing you to click on a link in a text to open a website or make a phone call directly through RingCentral. Video conferencing with one of the larger packages (allowing 50 or 75 participants) is particularly robust, too.
The service provides unusual flexibility when it comes to phone numbers. You can port an existing number to the system, choose new local and toll-free numbers, order international local or toll-free numbers that can ring anywhere you choose, or even request a vanity number – a service very few VoIP providers offer.
The RingCentral development platform allows in-house or outsourced programmers to create custom integrations of the system into any company processes or software.
RingCentral has a robust analytics package, letting you track all call information while also allowing you to create full graphical reports on system usage based on a number of different variables.
---
What We Don't Like About RingCentral
Per-user prices for RingCentral service are among the highest of all cloud VoIP providers. The cost can often be justified for small installations, large companies which have high utilization demands on their phone system, or those for whom the extra features provide enough offsetting benefits. But RingCentral may be out of the budget ballpark for those who don't need all of its features or don't have all of their employees on the phone constantly.
The offshore support services are definitely sub-par. Thankfully, support isn't often required once the system is up and running, but the experience can be quite annoying.
---
RingCentral FAQs
Q: Is there a free trial of RingCentral available, or is an immediate commitment required?
A: There's no specific free trial period and charges begin immediately, but there is a 30-day money back guarantee and phones can be returned for a refund within 90 days.
Q: Is any special equipment required to use RingCentral?
A: Just SIP phones (for desk or office phone use) and a router which will make Internet connections available to the system. RingCentral recommends a QoS-enabled router for best voice quality.
Q: Do you have to rent or buy phones and fax machines from RingCentral?
A: No, RingCentral supports most major SIP phones from companies like Yealink and Cisco as well as some generic SIP devices. Analog phones and regular fax machines can be used with a Cisco ATA adapter.
Q: What computer setup is required for softphone or Microsoft integration?
A: Windows 7 or above with 2 GHz or MacOSX 10.8 Mountain Lion or above with an Intel processor, plus 1 GB RAM and 300 MB hard drive space available.
Q: If power or Internet connectivity is lost, does that make the RingCentral system unavailable?
A: Not necessarily. As long as cell phone numbers are set as forwarding numbers, calls will be forwarded from the cloud.
Q: Are à la carte packages available for just specific features?
A: No, RingCentral only sells full packages.
---
Final Thoughts On RingCentral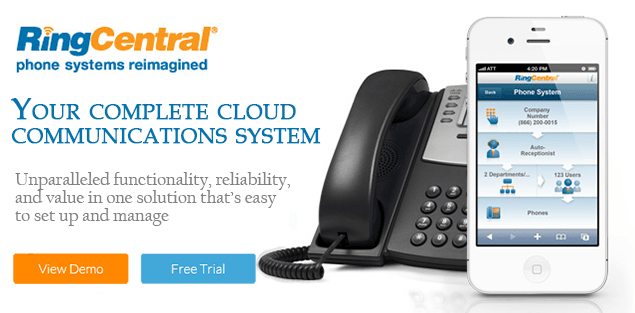 RingCentral is a market leader for very good reasons, including the strength and reliability of their system and the wide range of collaboration and productivity tools that come with their packages. Those packages are more expensive than the ones provided by most competitors, however, so a careful ROI analysis should be performed before deciding whether the prices are justifiable or too expensive for your business.

The service can be scaled to nearly any sized business from a small home-based business all the way up to a Fortune 500 company with a need for robust Business Phone System and 500+ phone lines.
If you've looking to make the switch to VoIP or are just plain dissatisfied with your current VoIP provider RingCentral would be a fine choice most companies with typical business calling needs. However, for micro businesses with a need for less features there are likely better suited options that cost less.
---
Other Top Business VoIP Providers
If you are launching a new company or are interested in switching to save money each month we suggest you read our comparisons of the best VoIP Providers and also take the time to look at our reviews of other highly rated business VoIP providers listed below.
8×8 Phone Review – 8×8 is an industry leader in the cloud communications sector offering a full range of features and very competitive prices. Any business with a normal budget would be happy with 8×8 business phone service.
VirtualPBX VoIP Review – VirtualPBX offers a full host of features providing nearly any capabilities a business could imagine and scalability to meet the needs of both small businesses and large corporations. This again would be another excellent choice for most businesses.
magicJack For BUSINESS Review – magicJack BUSINESS is a new service launch by the popular magicJack company that brought ultra-cheaper phone service to the residential VoIP market. Their new business services is cheap, offers a wide range of features and is scalable which allows you to easily add lines as your company grows. This service is better suited for small-to-medium sized businesses rather than large ones.
Ooma Office Offerings– Ooma Office caters to small-to-medium sized businesses and aims to hold the value spot in the business VoIP market. If you are looking to get cheap, yet reliable service for your small business you can't go wrong with Ooma.
---
Leave Your Review