Glance.Intuit.com – In this guide we cover all things related to the Glance.Intuit.com website including what Glance Intuit is, how it relates to VoIP, how it can help you, where to download the Glance Intuit software, how you can to get a glance.intuit.com code to begin your remote session, and much more so that you can get the help you need right away!
What is Glance.Intuit.com Remote Support?
Glance Intuit is a remote screen sharing app/software for TurboTax and Quickbooks help offered by Intuit through the Glance Guest software suite.
People who are struggling to complete there taxes in Turbotax can download the GlanceGuest software in order to be able to connect with an Intuit customer service rep in a remote access session where the user can share their screen within Turbotax with the Intuit representative.
Business owners and tax professionals can also use the www.glance.intuit.comn remote support website to quickly initiate a support session and get help with Quickbooks.
Both of these options can allow you to get the help you need with any Quickbooks or tax questions since the rep can see exactly where you are at in the software instead of you trying to explain it over the phone, which was found to be complicated in the past!
What is Glance Guest?
Glance guest is the flagship software of Glance Networks, Inc. Each software is individually tailored to the specific client such as what Glance has done in creating glance intuit for both Quickbooks Pro Connect sessions and Turbo Tax help.
How Does Glance Intuit Relate to VoIP?
While the Glance screen sharing software isn't run through VoIP you can make a voice connect with VoIP if you're have issues using the standard way to connect through Glance, which can then be easily integrated with the software.
This is yet another cool way that VoIP is being used to help improve communications outcomes for not only consumers who are in need of help with TurboTax but also accountants who are troubleshooting with QuickBooks.
How Can I Download the Glance Intuit Remote Access Software?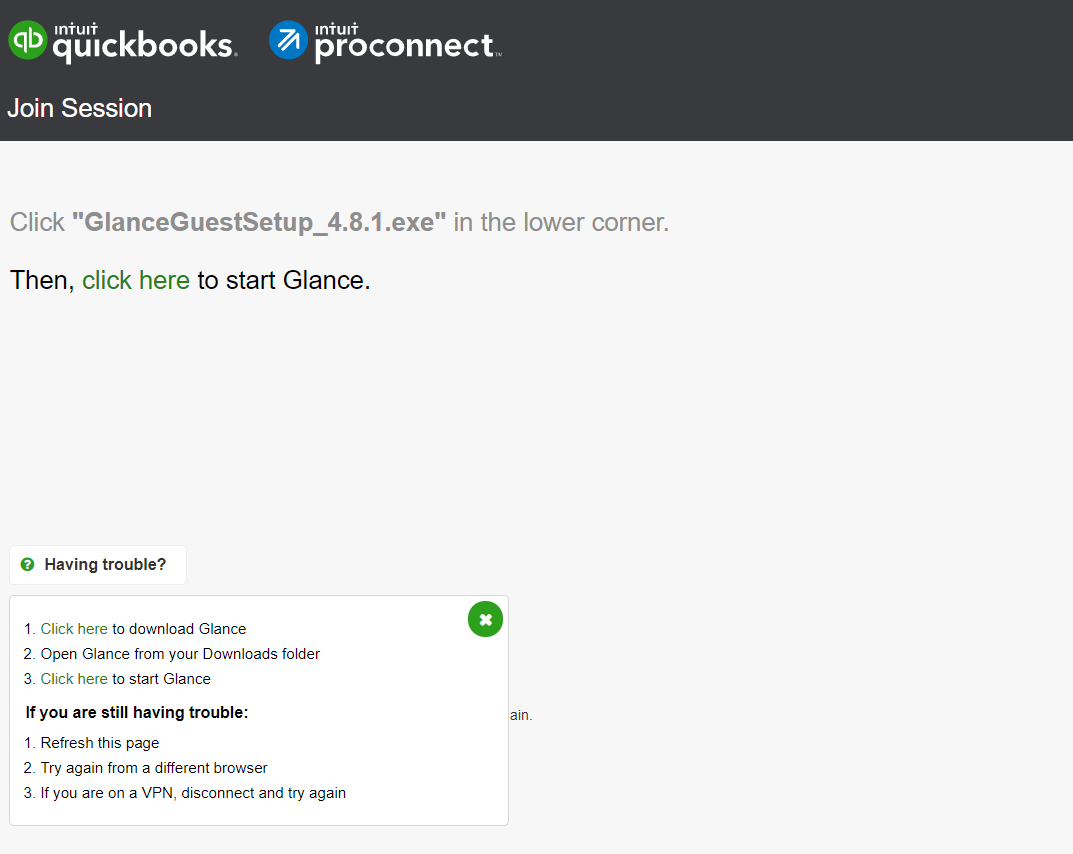 Downloading the glance.intuit.com software is confirmed to be 100% safe since it is officially brought to you through Intuit in partnership with Glance Guest.
For Quickbooks help
Go to www.intuitu.glance.net, www.glance.intuit.con or https://glance.net/visitor/start and your download should automatically begin
Run the download file glanceguestsetup.exe file and follow the onscreen prompts to complete installation for glanceguestsetup_4.17.1.exe
Start up the software
Get and enter your code
Begin remote session
Pro Tip: You can see all Glance downloads that are available at https://glance.net/install/install.aspx. Here you can get the Mac, PC, Firebox or Chrome Extension if you so desire.
For TurboTax Help
Go to www.turbotaxshare.intuit.com and your download should automatically begin
Start the .exe file and follow the onscreen instructions to for installation
Start the software and follow onscreen prompts to initiate a remote screen sharing session
For further help with TurboTax you can connect with a live Intuit representative via TurboTax Smartlook by visiting livelook.intuit.com or support.turbotax.intuit.com/livelook/
How to Join a Glance Intuit Remote Session?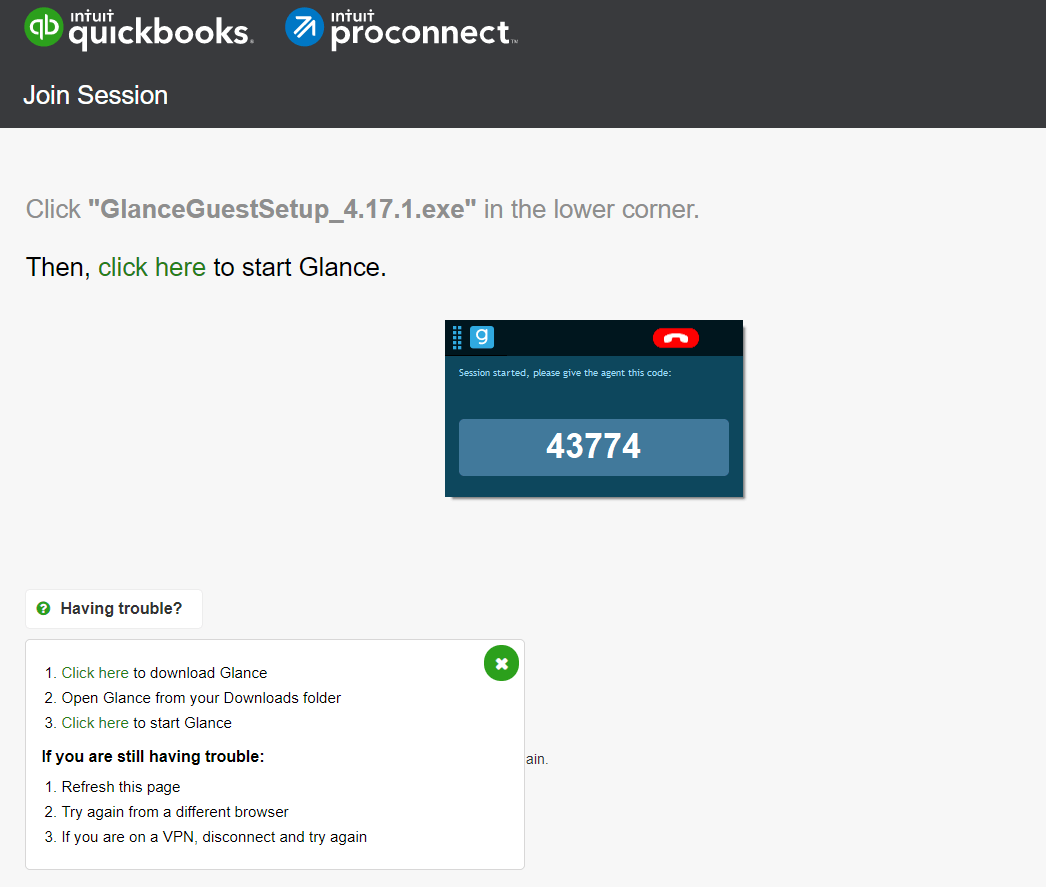 Once you have downloaded the Glance software you need to install it by double clicking on the .exe file in your downloads folder. Installation will commence and after installing you will notice almost nothing happen and the application won't show up in your list of files or on your desktop.
To join a session you will then need to go back to glance.intuit.com and click on the 'having trouble" link. Then click on the link in step 3 that says "click here to start Glance" as seen in the picture above. Once clicked a small box will pop up with a 5-digit code you can then supply to the Intuit agent whom you are on the phone with. Once the agent enters the code on their end your remote session will begin.
Simple click the hang up button if at anytime you feel uncomfortable and want to end the session.
Help! I Can't Get the Glance.Intuit.com Download to Work.
Refresh the download page
Try opening the download site on a non Chrome browse
Double check that the Network Administrator or VPN hasn't blocked downloads from the Glance website
Check out our guide to downloading Glance Intuit for Mac or a Windows PC more information
How Do I Remove the Glance Guest Application After Use
Removing Glance Intuit on Windows is simple and done just like removing any other application from your computer. Just navigate to your Windows Settings and go the Apps & Features folder. Find GlanceGuest in the list and click on 'uninstall'. Follow the prompts to remove Glance from your computer.
I Still Can't Get it Figured Out! Where Can I Get Further Support?
About Intuit, Inc.
Intuit, Inc. is a U.S. based financial software company located in Mountain View California. The company sells accounting, tax and personal finance software to smalls businesses, tax preparers and individuals. The company's flagship products are the well known TurboTax tax preparation software and Quickbooks accounting software. The company also offers the free personal finance app MINT which has helped them greatly increase their footprint with everyday consumers.
About Glance Guest Networks, Inc.
Glance Networks was founded in 2013 and is based in Wakefield, MA. They are a software company that provides technology that allows call centers to convert traditional customer service into a screen sharing and cobrowsing experience which often leads to a much higher customer satisfaction rate among clients.