magicJack Troubleshooting & Help: Complete Guide to All Things magic Jack
Though seemingly simple magicJack phone service and its devices can be complicated and questions often arise when users are setting up the device and during ongoing use. You would think that customer service would be a simple phone call away for a phone service provider but this isn't the case with magicJack as they cut corners here and only provide customer service via remote chat.
Due to these circumstances we saw a significant need for answers to various setup, troubleshooting and support questions that are often asked by paying customers. Below we have provided a handful of articles that answer many of these questions and an extensive FAQ article that we are constantly adding to when common questions and new issues arise.
We have gone all out with this section and our goal is to have it be the best resource on the Internet for common magicJack related questions due to the abundant need.
We are always working to expand our magicJack support section with new reviews and guides so please contact us if there is something you need help with and we will consider adding it to our FAQ or if it is a big enough problem we will write an individual guide to help those in need.
If you already have the magicJack we encourage you to leave a review of your experience with it.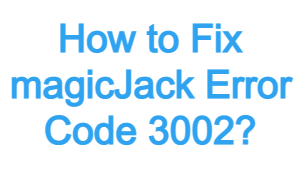 If you magicJack is not working and you're getting the pesky error code 3002 then you should check out this tutorial. Here we guide you step-by-step in your efforts to fix magicJack error 3002 so you can get your magicJack phone service back to functioning properly...