Find Top Business Phone Service Providers In Your Local Area
Get Quotes for Best Business VoIP Services in 2022
If you're interested in saving money by getting get VoIP phone service for your business then you've come to the right place to start cutting your expenses each month with more features to boot. We have included a number of business VoIP statistics below in order to show you why now is the time to make the switch. 
With the advent of VoIP you no longer have to look to landline phone service providers by zip code since VoIP providers can offer service in almost any area and with almost any area codes no matter what zip code you live in.
Whether your looking for a larger enterprise phone system or need a small business provider, the phone companies featured below offer customized plans for any budget and provide unparalleled customer service with the most extensive features.
With our reviews and comparisons of these top enterprise and small business VoIP providers you will get an idea of how the service is actually working for businesses just like yours. We provide these reviews free of charge for business owners that want to do the shopping for themselves and we also offer a free quote service if you want to be contacted by the top providers to get a custom quote that meets your exact exact needs.
So go ahead and have a look at our article and find the best business landline phone service provider by zip code! The guide should clear up any questions you were having about whether switching to VoIP was a good idea and the reviews should guide you towards the perfect provider for your needs.
*If you've come to the wrong place and are looking for home phone service please see our residential VoIP Provider reviews 
Our List of Cold Hard Business VoIP Stats
Below we've put together a list of cold hard business VoIP statistics for you to use in order to build your case to your boss as to why your business should make the switch to VoIP! These aren't silly mumbo jumbo numbers but rather great easy-to-understand ammunition you can use to quickly and easily convince your boss that he NEEDs (yes NEEDs, not wants) to make the switch, and PRONTO!
Being in the industry for so many years we understand how confusing VoIP can be so instead of talking about the technical aspects of it we've created a list of easy to understand facts that you can use to convince the decision maker at your place of employment so that they will without a doubt be ready to change over to one of the top business phone service providers!
If the decision maker at your company is like most people who have looked into making the switch, they've probably read a lot regarding the benefits of VoIP and why their business should make a change from a traditional service provider, but with these anecdotal stories it's hard to know what's actually the truth. Were these stories written by the providers who have a profit motive in getting you to make the move to VoIP?
So, if you're an IT person or whatever other position and trying to present a case to your boss, company executives or the small business owners you work for you need strong facts in order to convince them that a switch is necessary.
[Related: www.Glance.Intuit.com Remote Access]
---
Cost Savings with VoIP
---
VoIP and Customer Service
VoIP lets companies answer more customer service call – none go unanswered saving companies on average 191 hours per day. SOURCE: IT Toolbox
Some VoIP Providers allow businesses to communicate via Whatsapp & FB Messenger resulting in higher satisfaction for customers. SOURCE: IT Toolbox
VoIP allows small business to be more available with mobility so they can take calls when they're away from their desk, raising customer satisfaction. SOURCE: Prooncall
---
VoIP and Mobility in Today's World
---
VoIP Raises Productivity
---
VoIP Market Growth
---
Session Initiation Protocol

Trunking (SIP)
80% of businesses with at least 20k employees said SIP is a very important feature. SOURCE: All Stream
Small and Medium sizes business can save approximately 70% with SIP. SOURCE: Business ATT
It is estimated that large enterprises can save up to 50% by leveraging SIP trunking. SOURCE: Anaya
80% of businesses with 100-500 employees say the same. SOURCE: All Stream
---
VoIP Security
Thanks to encryption these days VoIP is more secure than traditional landline phone service. SOURCE: Nextiva
The top business VoIP providers off many security measure with their VoIP service. SOURCE: Avoxi
---
What Is Business VoIP?
Business VoIP is the umbrella term for all commercial-class, contemporary technology of VoIP services. Companies can send audio, data and video communication over the internet by using a high quality business phone system for a fraction of traditional legacy setups. Not only does it grant freedom from the wires-n-cables monster replete with copper wiring, PSTN switches, circuitry, costs of hosting in house telephony unit, network and call bandwidth limitations there are also several operational benefits to be had. Cloud-based VoIP solutions for an office mean the technical support, maintenance, load balancing in times of high traffic, heavy hardware upkeep and similar ancillary costs could be offset in favor of a fixed monthly fee. In addition the services can quickly add additional lines, extensions, features, port over to new locations, include more international or geographically distributed locations, as well as scale with the business size.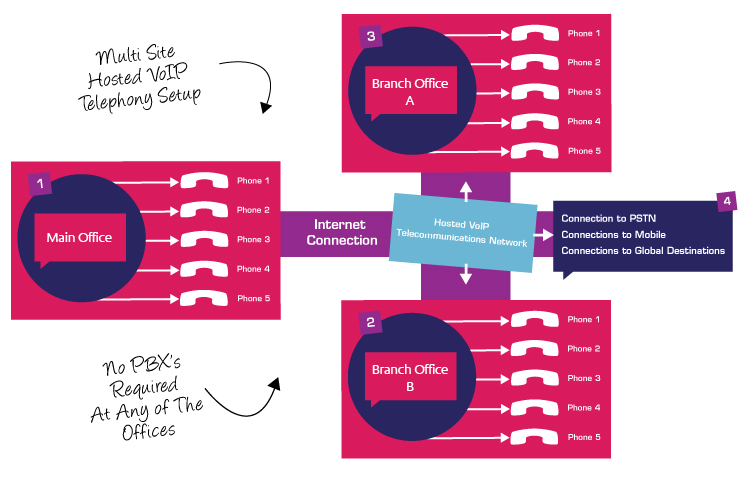 Business VoIP services are loaded with feature rich alternatives for small to medium sized businesses and hence differ from traditional telephony options. Inexpensive, multi-dimensional features help these small business, single office locations and (increasingly) corporate employers deliver a professional client-facing communication solution. A business VoIP vendor today serves up an perfect mix of enterprise phone system features and operational integrations with most popular business services to ensure optimum productivity. The resultant products have proven irresistible for businesses in terms of both cost and efficiency.
Popular phone features include: Voicemail management, virtual attendants, music on hold, translation and transcribing options, ring groups, blacklisting groups, dial-by-name extension directory, masked extensions, custom announcements and introduction for different departments under a central number, to name a few. Almost every business VoIP solution offers some niche service for free trial so you can test and opt to pay on only if you feel it suits your business.
Popular integration features include: Click-to-call, mobile and smartphone app integration, unified communication options for all kinds of multimedia, CRM integration, video conferencing and developer API exposed to leverage the feature source. In addition these units help in automatic call distribution and management. You can also configure business SMS features to keep your personal and professional communication twain separated.
Attractive pricing can also be attributed to minimal to no additional cost or hidden taxes for communication over the high-speed internet services businesses are already paying for. Barring some specific federal communication tariffs, the cost is low and in turn brings down the costs of nationwide or international calls drastically. The only investment in terms of hardware costs is the analog to digital adapter and VoIP/ SIP enabled devices to hook into the digital transmission channels and be capable of communicating with those protocols in place.
Another cost saving feature is the 'pay as you go' format. With internet, you pay only for the bandwidth you use or the number of devices you're trans-receiving from. That means your solution is fit to scale with nary an excess fee or need to estimate any spike or drastic under-utilization of the services you pay for. This keeps your running costs attuned to your business usage.
---
How Do I Find The Best Business Landline Phone Service Providers By Zip Code?
See that's the beauty of VoIP, you no longer need business landline phone service and the majority if providers can provide VoIP service in any area and any zip code! All of the providers we work with can provide VoIP service in your area no matter what zip code you are in and some of them even provide service world!
---
How to Choose the Top Business VoIP Service Provider for Your Needs
Choosing a provider that is right for you isn't an easy task and the best provider for one person may not be the best for somebody else. The great news is there are many excellent providers of both commercial phone service and residential VoIP. The best place to start is by checking out our VoIP reviews to get an idea of what is out there. Obviously if you are a business your needs can vary widely based on the size of your business, conference calling needs, ability to sync with mobile phones on the go and whatever other customizeable features you may need. Similarly, if you are looking for a residential VoIP provider then your needs will likely vary greatly depending on the number of incoming/outgoing calls you expect, whether you have family and friends overseas you may be calling often and if you need a second line. For both residential and business customers there are a few basics to consider when choosing a provider.
Support – How is the support rated by current and past customers? What hours do they offer for support? 24/7 support via phone is the gold standard here and it can go a long way in helping you get the help you need when you need it.
Cost – Are their prices competitive with the major players in the market? You might need to compare several VoIP quotes to make sure you are getting the best deal as prices can vary quite a bit. Just because the price is less than your landline phone doesn't mean it's the best deal.
Call Quality – How is the providers call quality rated by current and past users? Call quality is of upmost importance if you're a business trying to win customers and close deals.
Ability To Scale – Is it easy to scale with the provider you've chosen in the event that you experience significant growth? You want to be sure that your service provider can quickly and easily add lines to your plan as needed in the future so you don't find yourself on the hunt for a new service in just a year or two.
Reliability of Network – Does the provider you're considering have a track record of high up-time? The last thing you want is to choose a provider that is known for significant downtime and lose the ability to make and receive calls during the most critical of times.
Location of Service – Make sure the company provides local business phone service by zip code in your area.
When analyzing whether a provider is right for you or not, beyond the basic considerations listed above a business or person needs to think long and hard about what customized features they cannot live without and be sure that the provider they go with provides their list of 'must-have' features.
---
Questions to Ask a Prospective VoIP Provider
If you've already read through the technical and commercial details hitherto described, you are probably well aware of your personal or professional need to switch over to VoIP. You understand the technology. However, as a customer you always need to ask the right questions before putting down your hard-earned money towards adopting a solution. This is probably even more true for a business where your budget call will determine your professional bottom-line and profit margin.
So here are a few relevant questions to ask your VoIP provider:
What are the startup & recurring costs? – Self explanatory. You need to determine the initial costs and calculate with respect to your present phone bills, personal or professional. Moreover, you need to determine whether it's worth putting all your eggs in one basket or go for a phased porting.
Ask clearly about porting feature and fee for existing numbers. Some vendors don't offer the service. Some others charge an extra amount for it.
Free trial options or money-back guarantee? It often seems a good idea to test out a solution for a bit. See if your household or employees are comfortable with the change, if their regular needs are being met. If you can do it without losing any money – that's ideal. Otherwise, inquire about cancellation fee or any possible contractual obligations. Beware of hidden fee or any other legalities involved in cancellation of contracts.
Details about included calling features. Some features cost extra, others need additional tech support. International calling isn't as fully fleshed out in some services. Be assured of these features fitting your requirements.
Does the vendor support E911?
Mobile app is almost a pre-requisite in this era of smartphones and portable/ connected devices. A lot of low-cost vendors don't offer it by default or only offer it for a specific platform like iOS. Ask questions.
Do you provide business phone service in my area?
Over the past decade, VoIP has continued to grow in terms of innovation and adoption. Increasingly, the big technology firms are investing in them, identifying their potential to unlock the vast power of internet for audio-visual communication. While reliability, latency and failover strategy issues are still not optimized, robust protocols and standards are being implemented to ensure they step up as an efficient alternative to PSTN options. Suffice to say however, as a technology VoIP is here not just to stay, but to grow and increase its footprint in the communication landscape.
When you are a small business owner looking to manage costs, business VoIP sounds like the magic pill. Flexible, full-featured and significantly cheaper than conventional telephone units – they seem like the perfect solution. Like any good buyer however, you need to be aware of the monetary payoffs, technology limitations and trappings of commercial VoIP services.
In the following section we put together a comprehensive business VoIP guide to help you determine what you need in a VoIP solution to support your small business, starting with justifying the investment towards a business phone system.
---
What are my Business Phone System needs?
Needless to say, the first question you must ask yourself as a business owner is the need for particular solution. Scale of operations, financial investment and business domain are critical to evaluating whether a certain set of features are either too many or too little for your business to yield the best results.
Some of the questions you need to answer at the outset are:
Do you need to invest in a full telephone unit: physical telephones, fax and multimedia units or could your business get by with a virtual service reliant on mobile phones? For example, a highly visible advertising agency might need the former, while a local handyman service might be better off relying on the latter.
Traditional landline telephone services provided by regional/ local companies have their merits, especially with reliability of service in critical weather, power outage or remote locations where internet connectivity isn't as robust. They are also expensive, with their dedicated hardware and installation costs for extra lines but offer greater security. Voice over Internet Protocol (VoIP) systems by contrast have several providers who need not be in your geographical vicinity, rely on high-speed internet and electrical connectivity for the devices. While the latter is less expensive, it might not be your choice if you must have the best uptime (e.g. first responders, emergency health care, classified political office, etc.)
What are your device compatibility needs? Do you need to lease ATA gateways, replace analog phones? Does your business rely on faxing (T.38 gateways can upgrade traditional fax machines to internet compatible ones)? Will your set up fly with 4G networks, Wi-Fi hotspots and all mobile operating systems? Vendors are often prone to selling the best features, but as a business owner you'd need to ask these questions.
Hidden costs you're dealing with? Several vendors would advertise a 30-day free trial, money-back guarantee, fixed price exchange or vanity numbers to test out the service without paying for them. Do not dismiss the contractual fine print lightly. If needed, ask them about the financial commitments and actual monthly bill you'd incur after the trial before you lock down a solution.
Even if you choose VoIP – would you rather have a on-premise service unit or cloud based remote service providers? Perhaps you would you rather opt to rent a unit and test it out for a while before you finalize your choice.
How many employees or users would be needing a dedicated telephone line? Could some of them realistically share a line in an office or a satellite location?

Simply put, VoIP is a great solution if you anticipate your business needs to lean more towards scalability, lower costs, international operations and so forth, trading a bit of emergency downtime and lower security needs for the bargain.
---
Why do I need a VoIP phone?

A professional first impression is critical to any small business. Having a dedicated contact number, staying connected to the clients and customers and maximizing the efficiency and connectivity of your business is reliant on having a good business telephone service at your disposal.
Mobile phones are great as personal contacts. As a virtual telephony option however, they fall short of VoIP systems since they don't offer nearly the same amount of enterprise level services like: directory listing of proper company contacts, information portals for hours and directions or virtual receptionist services to connect clients and customers.
VoIP is in vogue. While that alone doesn't (and shouldn't) sway your call, it's worth considering that traditional telephone service aren't evolving. There is no R&D investment in that domain, as compared to VoIP where companies are continuously refining their software capabilities to fit the latest set of portable devices and other connectivity options like Google Voice, Skype, WhatsApp, Viber etc. And yes, cost of high-speed internet is always dropping.
Attractive cost benefits. Internet Telephone Service (VoIP) is less expensive when compared to traditional telephone systems, hardware installation and purchase costs or even renting options. They amount to lower operating costs even for multiple remote locations and connectivity requirements. The feature-set offered: virtual receptionist, caller ID blacklisting, identification, network security and scalability with minor setting changes and free company-wide or nation-wide call options mean huge savings for your business. From $4.99/ month unlimited nationwide calls, to $60 / month plans for multiple users with several features from Verizon, Vonage Business or Vocalocity, there's really an entire range to pick from and save more!
---
So is VoIP secure and reliable? 
VoIP doesn't lack security. It is more like a service where you have options. With high-speed internet and electrical power being your calling cards, you can choose to make it as secure as you wish. If your business has reasonably high security requirements, you may:
Purchase a solid internet connection from a leading brand. Most of the top business service providers have package deals which come with a security pack, anti-virus, hacker shields and network security options to protect you against any vulnerabilities.
There are several back-up power options you may have to ensure your VoIP devices have minimal downtime.
Several internet service and hosting companies have cloud-based providers with "Six Nine" (99.9999%) up-time guarantees, comparable with any traditional telephone service provider.
As a small business owner, it is up to you to weigh the advantages of opting for these features and paying a little more, versus opting for local services which might be less expensive initially. You always have the choice to upgrade as your business demands. Besides, you are likely to save significantly from traditional business telephone options even if you opt for higher initial investment.
---
On Premise vs Cloud Based VoIP
Now that you've decided to take the cord-cutting from Netflix on your iPad to your small business, there are choices to be made regarding the hosting service. We take a look at the side-by-side comparison:
| | |
| --- | --- |
| On Premises VoIP | Cloud Based VoIP |
| All the hardware, including the private branch exchange (PBX) is housed within your business space. | No hardware or maintenance barring the IP phones. |
| Upfront capital expenses are high owing to purchase of equipment and installations. | Scales with businesses by easily adding new lines and quick access to new features |
| Monthly fee only for SIP trunking or PRI circuit (to transmit or receive VoIP calls). No fee for hardware after initial costs of self-hosted unit. | Flat monthly fee on a per-user basis. Additional users or services are simple to add-ons. |
| Your IT staff is responsible for handling maintenance, repairs and upgrades of the system. | The service provider houses, maintains and upgrades all of the PBX technology for you. |
| You control your service – up-time, configuration, operative details and available features. Despite the upfront hardware cost, the monthly costs of services are lower. The downside is potential additional costs incurred in paying for someone to maintain and service the unit. | No PBX hardware or dial-tone services to purchase and maintain. Set up and configuration is a simple software-guided process from your computer. The downside is you're not in control of the hardware. You have to rely on the provider to take care of repair, recovery, upgrades etc. |
| Privacy and security are better with you controlling the communication first hand | Quick access to new system features and connectivity to multiple satellite locations on a single platform. |
---
What do I need to implement VoIP?
As mentioned above, implementing a VoIP as a business solution can vary in terms of complexity, time and set-up costs. It is up to you to determine the best solution to fit your domain. That being said, there are some things you'd need regardless.
Broadband connection  – High-speed internet is the first investment. The costs are pretty low and forever dropping (thanks to fiercely competitive services).
Spare Bandwidth – The more the numbers of users working simultaneously, the more the bandwidth you'd need. That's a simple math equation. What isn't obvious to many small business or home office owners, is that you do not need to invest in a 120 mbps enterprise plan. With a 25 mbps home connection, you can easily handle 15 simultaneous calls even with Slack instant messages, streaming music from Spotify and Netflix running at the same time. Enterprise level providers use G.711 codec communication options (64kbps/ minute of talk time) allowing for plenty of leeway before you hit the bandwidth cap.
Adjustable service quality – One of the most under-rated features offered by VoIP service providers, is the ability to adjust your settings for service quality so you can route the peak traffic or high priority calls without clogging up the normal service.
Capable internal network – In addition to your VoIP solution, your internal IT network, routers and switches need to be up to the task. It's always worth having a backup power and routing option, fallback lines, additional bandwidth options and some amount of dedicated resources to handle VoIP disaster recovery. Internet speed tests against peak call volume is never a bad idea.
Ensure that you have phones you can use over VoIP – The VoIP session-initiation protocol technology to assign each phone or software client a specific IP address (something the IP-PBX uses to route calls to specific locations). So you'd need a SIP or H.323 enabled phone (the latter being relatively rare) to communicate. Your analog phone plugged into the ATA wouldn't be able to avail the advanced VoIP features on offer for advanced units like the Cisco CP-7921 unit.
Backup/ failover power supply – A battery or power source substitute is essential in case of a power outage or disaster recovery time lag.
Budget estimates – For all the good things a VoIP phone unit brings, there are costs associated. They may save a lot when compared to traditional units, but does your business need a solution for 50 people or for 10 people? Does your business survive on a hundred calls made per day or needs less than twenty calls per day. Your budget must be aligned to support these questions you ask of your business investment. The good part? Most VoIP plans and service providers are not bound by contracts.
---
Are there drawbacks?
VoIP does seem like a win-win for most situations, but there are a couple of kinks buyers should be prepared for:
Internet or Power failover options – given the complete reliance on internet speed and power for PBX units, it's best to have an alternative like "straight-to-voicemail" or virtual receptionist pre-recorded messages in case of such eventualities.
International calling – Unlike traditional telephone units which offer country-wise plans by linking up with major local service providers, VoIP is reliant on internet service provider (ISP) partnerships, which needless to say, could be sketchy for some of the more unconventional or remote geographical locations. Hence, the call quality to Swaziland or Latvia might not match that of Mexico or India. They mostly have unlimited calls to US and Canada though!
E911 Services – Here's one area where high base subscription fees or extra plan charges are commonplace. Most service providers don't cover it as part of their basic package. The risk of spotty, crowded or slow network speed causing bad audio quality or call drop-off during emergency magnifies the threat.
---
What is Hosted VoIP?
The place of effective communication in any business organization cannot be over-emphasized. Actually, there is nothing that can really be done in terms of goal actualization when good a communication system is not in place. Business communication can be in-house or external but each aspect is crucial to the success of the organization and it is always best when there is a unified system for communication. Efficient communication is needed for sustained collaborative efforts within any organization. It will also make all the difference for businesses when they are interacting with their customers. While effective communication will ultimately improve productivity in any organization, a lack of it has so many negative consequences including diminishing productivity, delayed projects and disgruntled customers. In the long run, a business that does not have an effective communication system will not only struggle with goal actualization but will ultimately fail.
To actualize efficient communication in any business setting, the organizational structure must be on top of the game. In addition to that, the right phone system must be in place to facilitate communication. In the past, businesses relied on a number of options mainly traditional PBX (Private Branch Exchange) phone system, fax machines, emails, and other regular channels of communication. At the moment, however, VoIP (Voice over Internet Protocol) phone systems are rapidly taking over as the backbone of business communication in most organizations. While some channels like ISDN or analog were relatively effective for many businesses, they had obvious limitations and VoIP phone systems address most of these limitations squarely. This type of PBX system has several advantages and most businesses have already abandoned their traditional phone systems in favor of cloud-based VoIP phone.
The VoIP phone service market has been on a continuous path of growth. As you can expect, this has attracted several top rated players with many other companies springing up as service providers. This means you may have some sort of selection headache when looking for a phone system. On the positive side, this has brought about serious competition in the market and the quality of service your business will enjoy will depend on the service provider you hook up with.
---
A Final Word On Business VoIP
With several service providers, brands, plans and frequent offers, it could be a bit overwhelming to pick the business VoIP phone service of your choice. Typically, it's a good idea to look at your custom needs as a business rather than the feature set you procure for a price point. VoIP is the future and the now of small business telephone service, increasingly buttressed by a sturdy feature-set, security and disaster recovery to lend your business a professional, approachable impression at a fraction of your traditional communication costs.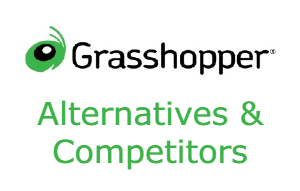 Grasshopper is a VoIP service provider that was established in 2003 and has been helping businesses improve their communications. Their features are tailored towards small and medium sized companies that are looking to unify their communications and make them easy to...