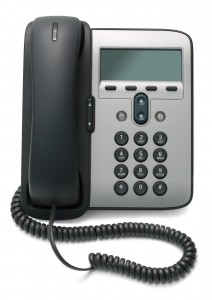 The internet is an amazing technology. Using it, we can view text, images, and video from people around the world and sometimes, even in real time. In addition, the IP networks that makes up the internet can be used to transmit phone calls. This is what is known as Voice over Internet Protocol.
So what is a VoIP phone? What does it look like?
VoIP phones can be either hardware or software. Many VoIP "phones" are simply a piece of software and a microphone attached to a computer. However, they can also be hardware devices built specifically to access IP networks instead of traditional phone lines and even complex VoIP Phone Systems for business. VoIP phones effectively take your everyday telephone audio and convert them into a digital type format that can be received over IP networks, instead of through standard phone lines. This includes the provisioning of communication services like fax, voice-messaging, and SMS text messaging over the internet instead of the public switched telephone network (PSTN).
Hardware-based VoIP phones look like typical phones. They have a key pad or touch pad for entering numbers and text, and display hardware to show caller IDs. There is also a voice engine to process voice messages and converters to turn voice to digital data and back. Most VoIP phones connect to a PC using an Ethernet port so that they can share a single data connection. Power might come from a battery, an AC source, or through the Ethernet connection (called a Power over Ethernet or PoE device).
There are some advantages of VoIP phones over traditional phones. It is possible to identify phone numbers with contact names or even e-mail style IDs that can be used to dial more easily than typical phone numbers. Contact lists can also be easily shared between accounts, which can be accessed from different computers.
The features available to VoIP phones are similar to those found in PC phone services, such as Skype or Google Voice. These services have latency issues related to limitations of the PC operating system under which they are running. VoIP phones do not suffer these limitations.
Sometimes mobile phones are able to run as VoIP devices via an app. These are Wi-Fi enabled phones running special software that allow them to connect to the IP network. There are also gateway devices that allow mobile phones to connect and make VoIP phone calls, though these devices require a license to run in most countries. They are useful in situations such as ships or remote countries where a connection to a typical mobile network is not possible.
So if you've ever wondered, what is a VoIP phone and whether you should get one, you now have the answers. VoIP phones are similar to software devices, such as Skype in that they allow the user to make phone calls using the internet. However, they are free from limitations faced by software programs since they aren't limited by available memory under a PC operating system. They also have advantages over traditional phone systems, such as being able to dial IDs instead of just regular phone numbers. VoIP phones look like traditional phones and can even run on mobile devices.
Much like with any other phone service, there are a number of different phone options to choose from if you are considering making the switch to VoIP. Let's take a look at the at all the different types of phones that are compatible with VoIP services.
---
Types of VoIP Phones
VoIP service is a diverse one that can work effectively with a variety of different types of phones. Below we will share some of the different types as well as what some of the leaders are among each category.
VoIP Cell Phones
There are a variety of mobile phone devices that cooperate with VoIP services making it easy to send and receive text messages with an intelligent wireless infrastructure. They can effectively knock out the prices of expensive cell service, utilizing mobile hot spots whenever possible.
Cisco 7925 G Unified Wireless IP Phone – CP-7925G-W-K9 – This is a unified wireless IP phone that delivers on-campus mobility to all users using voice over wireless LAN (VoWLAN). It is the ideal phone for demanding business environments or for general office use, especially between separate branches. It boasts an array of features from enhanced voice communications, security and quality of service. Other benefits and advantages with this device include:
IEEE 802.11 a/b/g radio
Two-inch color display
Supports Bluetooth 2.0 with an Enhanced Data Rate
MIL-STD-810F standard for shock resistance
Supports a wide range of applications
Long battery life that allows for up to 13 hours of total talk time
Excellent voice quality that supports wideband quality
Built-in speakerphone included for hands free communication
Comes with a 3-year warranty, one headset, one mini type B USB
Able to work with six different phone lines
Current price $425.00
Pixel Phone by Google – This is one of the more popular phones on the market today. It features a 5-inch FHD AMOLED display with a 2770 mAh battery. It is available in 32 and 128GB, in black, silver, and blue. The Google Pixel phone is easy to use, making it a favorite among VoIP phone users everywhere.
Specifications:
19 days of standby battery life
Up to 24 hours of use
Features a 12.3 MP camera
Width of 2.74 inches
Height of 5.66 inches
Works in over 200 countries
50% faster peak speeds in more than 450 cities
8 MP front camera
2770 mAh
Android Nougat 7.1 operating system
Storage – 4GB LPDDR4, flash 32GB or 128GB
Global network – LTE (Global) B3, B7, B20, B28; GSM Quad B5, B8, B3, B2 (850/900/1800/1900Mhz) UMTS Quad B5, B8, B2, B1 (850, 900, 1900, 2100 MHz);
Processor – Snapdragon 821; MSM8996 pro AB Quad Core 2+2 Kryo 2.15GHz/1.6GHz
HD voice – video calling with simultaneous voice and data. Wi-Fi calling wherever you have a Wi-Fi connection
---
VoIP Phones for the Home
VoIP phones are not only utilized within the four walls of business, but everyday home environments as well. In today's economy paying for a bunch of individual utilities and services like a cell phone, landline and internet can be quite costly, albeit unaffordable for some. If you find yourself facing a situation like this then VoIP phone services for your home or home business could effectively save you money while providing you with a number of advantages. There are several options out there when it comes to finding a VoIP enabled phone for your home.
Samsung Wireless Handset Assembly Telephone Accessories SMT-W5120D/XAR – This IP ready device has a 1.5" 65K color display. It comes with a charger, power adapter, holster, and 2EA battery ready to power your phone on. While it is priced at $479.00 it is built to last and is definitely a long-term investment that will save you money in the long run.
Specifications:
Mnfr Part #: SMT-W5120D/XAR
Features an LCD – 1.5 inch 65K color display
Has 3 fixed keys and 2 soft keys
Has a capable speakerphone option
Headset jack availability
Packaged with a charger, power adapter, holster, and 2EA battery
Cisco 7940 G IP Phone – CP-7940G – Many of these phones are available through Triton Database 3 Online. They have a wide variety of VoIP phones for all types of needs be it home or business. The Cisco 7940 G IP Phone has SIP or SCCP firmware. VoIP phones such as this do not work with traditional phone lines, but rather over the internet. Before purchasing you should always make sure that the phone you are looking at is compatible with your VoIP service. This can be figured out rather easily simply by contacting the VoIP service you use. Priced at $35.00
Specifications:
Integrated with an Ethernet switch
Hands free capability
Capable of accessing two separate phone lines
Large buttons for easy reading
Able to be paired with a headset
Direct features like auto-dial
High-quality speakerphone
Volume controls and a mute button
Pixel based LCD display for direct, easy to read information about all incoming calls
The display shows all number you push before you execute the call, ensuring that you input all the correct digits
Easy to access soft keys for designation of your most used telephone services
Four fixed feature keys with designated services
---
VoIP Phones for Business Use
When you are searching for a series of VoIP phones for your small to large business, you want a high-quality, dependable product that is going to respond positively to all of your diverse business needs. There are several options out there, depending on what your specific business needs might be.
Polycom VVX 400 Skype for Business Edition (2200-46157-019) – Priced at $114.99 brand new, the Polycom VVX 400 Skype for Business Edition (2200-46157-019) is an excellent, affordable option for virtually every business. It provides crystal clear communication between branches, and clients alike. It is capable of operating not just phone services but Skype and office 365 as well. It also comes equipped with the required Polycom UC Software.
Specifications:
Polycom licensed software
Ready to operate Skype and Office 365
Backlit 3.5" display screen
Able to operate between 12 different phone lines
4 context-sensitive soft keys for easy programming
4-way navigation cluster
Fixed feature buttons that activate speakerphone, mute, headset, volume up and down, mute, message, call transfer, and do not disturb
Dedicated RJ-9 headset port for easy multi-tasking
SIP protocol support
HD voice technology for crystal clear communication
Powered via Ethernet
Avaya E159 Media Station (700508084) – This VoIP capable phone is a SIP station equipped with a keypad on the base that can be used easily with your smartphone or tablet. It features high quality speakers for the absolute highest quality of communication between branches, clients or other businesses.
Specifications:
This is a standard SIP phone
Operates with either a typical phone, or your smart phone or tablet
Supports both Apple iOS and Android devices alike
96×32 LCD screen located on the base station
Full numeric pad
Ships with an AC adaptor
Gigabit Ethernet with integrated switch port
Includes a 6-foot CAT5E Ethernet cord for easy hookup
Comes with Apple lightning 30-pin and generic micro-SD cables for hookup to your different devices
Docking cradle for your devices
Requires IP office 9.0.3 or Aura 6.2 FP3 and above