Fax machines aren't dead yet, and Ooma Business recognizes the flexibility and security of transmission provided by them. Despite frequent reports of its imminent extinction, medical reports, legal documents, mortgage documents, financial transactions, and key business documents continue to rely on faxing to ensure verified signatures and counter-signed receipts. Sure, the numbers of analog machines have dwindled over the years, but digital faxing and VoIP options over IP phones have only stepped in to keep it alive.


Ooma's Office phone service is a market leader in providing smart communications platform for businesses provides options to fax via 'virtual faxing' over internet. Their recent addition of compatibility for Analog, Mobile, and IP Phones further broadens their spectrum and provides small business owners all the options of fax telecommunications.
*If you are a user of Ooma Home phone service you can jump on over to our how to fax with Ooma Telo post to learn more about your options to fax with Ooma.
---
Sending A Virtual Fax
A reliable alternative to physical machines, Virtual faxing allows end-users to send and receive faxes directly over the internet. To send a fax users may simply upload a PDF document and send the through the Ooma User End Portal. In order to receive a fax users will need to choose an email address where they will receive their faxes. The email address is chosen by the Ooma Office Administrator within the Office Administration panel. When faxes are received it they come as an email with a PDF attachment.
Configuration
Every number or extension in your Ooma Office network has a dedicated 'fax' enabled number. Once configured as a fax line, you can set it up for each user to take advantage of the 'Send Fax' feature in the portal.
Login to your Ooma Office account and navigate to the Manage Extensions screen.
If you have administrator access, you should notice a button "Add Extensions". Click and select 'Add virtual Fax' from the drop down selection.
Enter your name and an email address for incoming faxes. This would be the primary inbox to receive PDF documents of the faxes.
You may also configure a back-up email in case this inbox is full.
To update the email address associated with the number or extension, click on 'settings' of the 'virtual fax' option associated with them, enter the new email address, and click 'Save'.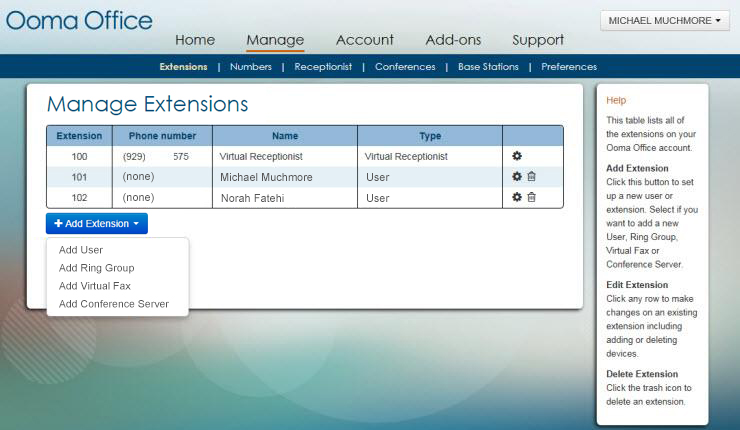 Sending a fax
Navigate to the Send Fax option beneath the Home tab.
Fill in the destination fax number and the Ooma Office number/ extension sending the fax.
Attach the digital file from your computer and click the 'Send Fax' button to email transmission of your virtual fax document. Keep in mind, only PDF or TIFF formats are supported as of now.
Receiving a fax
Ooma Office administrators may activate 'virtual fax' option in their Ooma account to allow receiving of virtual faxes. They are directed to the email address associated with the number/ extension of the user with the PDF of the fax attached to the email.
Cost
Virtual fax is included for FREE with standard Ooma Office plans available in continental America (USA and Canada).


---
Sending An Analog Fax
As a powerful VoIP solution, digital faxing has tangible benefits in terms of secure electronic transmission, cloud archiving, and instant verification. However, there are several small businesses which rely on analog fax machines, or composite all-in-one telephony solutions with faxing options. Besides, there is also a case for important documents which may have been originally faxed in analog format, and yet need to be re-used.
On May 25, 2016 – Ooma Office alleviated all these concerns by expanding their service to all IP phones. Now compatible with IP phones, mobile phones, and entire suite of analog devices, Ooma Office further improves efficiency, productivity, and security of small businesses – all the while keeping their monthly bills lower than traditional business telephone options.
Configuration
You can set up any analog phone number, mobile phone, portable IP phone, or extension as the fax device.
Log into account as an Ooma Office Administrator and navigate to the Manage Extensions screen.
Select the IP phone and device type. You may even set up a toll-free number as a faxing option.
Enter your first name, last name, email address and other relevant settings.
To use the same number for phone and fax, simply use a phone splitter to connect both your analog fax device and IP phone. To ensure that your calls are not picked up by the fax machine, merely set up the IP phone as the default device in 'auto answering' mode.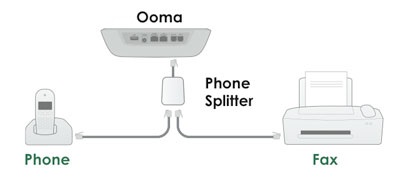 Click 'Save' to confirm faxing options for your IP phone.
Troubleshooting analog fax reception
Unlike virtual faxes, which are essentially an email with PDF, analog fax machines have different device settings, and receiving faxes on IP phones could hit a roadblock at times. To ensure that your faxes are transmitted and received, here a few troubleshooting tips:
Dedicate a line (phone number or extension) to your analog fax machine. Sharing it with an IP phone may cause bandwidth issues.
Free up Bandwidth – disable large file downloads, reduce quality of transmitted images, and piecemeal the number of pages per document into a few smaller transmissions if possible.
Ensure that the Error Correction Mode(ECM) on your fax machine is switched off.
Reduce the Baud rate (transmission rate) of your faxing device.
Check the internet connection, the connection of Ooma Office device to the modem (and router, if any).
Cost
The cost for the Ooma Office plan remains highly affordable at $19.95 a month ($24.95 CAD). For desk phone options there is one-time additional hardware cost ($249.99) which effectively pays for itself within a few months depending on business telephony requirements.
Ooma Office phone system sells the IP phones and offers their advanced feature suite (supervised 2-step transfer, internal extension fax configuration, fax indicator, do-not-disturb, fax queuing etc.) as part of this exclusive package.  As of now, the supported models include the Yealink SIP-T21P E2, Cisco SPA 504G, and the Cisco SPA 303.


---
SureFax™
Since 2014, faxing with Ooma Office has greater reliability with SureFax™. The feature was automatically rolled out to Ooma Office users as a software upgrade to tackle the challenges of VoIP fax failures, and optimized to leverage virtually any kind of internet to fax documents.
SureFax™ translates your 'analog fax' into VoIP, enabling any high-speed internet connection (even free Wi-Fi) to transmit and receive faxes. Their robust options can be customized via their web-based Ooma Office administration panel to match the flexibility of power of virtually any analog or digital fax option.
---
Conclusion
With support for toll-free numbers, optimized, flexible, and reliable faxing options, and exclusive support, Ooma office has taken VoIP faxing to the next level, all the while keeping their promise of an affordable phone bill.