How Much Does Ooma Office Cost?
The pricing for Ooma Business phone service (called Ooma Office) is significantly cheaper than most other VoIP services geared toward businesses and is a great way for businesses to cut cost whether thriving or struggling. For the only plan they offer one user and one telephone line will cost your business just $19.98 per month. On a yearly basis that's just $239.76 before government taxes and fees. This includes a $9.99 flat fee for the service and $9.99 for the first line. For each additional line it costs just $9.99 per month, up to 20 lines total. Government taxes and fees typically run at around $5 per month and are determined by the state and local governments in your area. These fees are passed on by Ooma to the governmental agencies to which they are due and you will incur them with any phone provider.


Ooma really delivers with their small business service, providing incredible savings over the big players in the industry as seen below: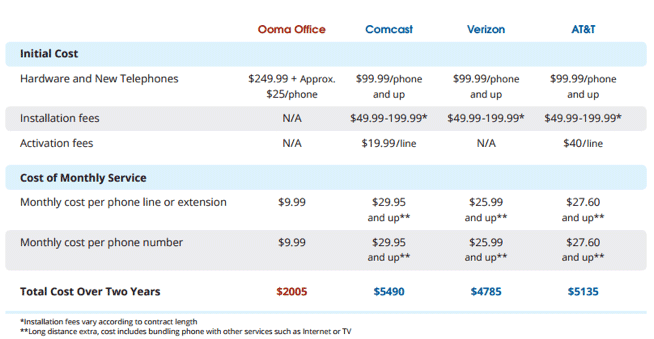 ---
How Much Does The Ooma Base Station Cost?
The Office Base Station is the brains of your Ooma business phone line and is required in order to use the service. It's suggested retail price is $250 but it can often be found online for much less. Shipping of the device will run at $9.99 via UPS ground when purchased direct from the company and it comes with a 30-day money back guarantee. Your base station purchase includes 2 Linx devices which allow for adding 2 phones wirelessly.
---
How Much Do Additional Features Cost?
Most of the Office features such as faxing and 3-way calling are included at no additional charge but there are some things that cost more including calls to directory assistance at a rate of $0.99 each. Along with Hawaii numbers costing an additional $29.99 per year.
---
How Much Does Other Equipment Cost?
As your business grows and you look to add new users/lines you may need to purchase additional equipment in order to beef up your offices' business telephone system. The base station is only designed to handled 5 users/lines so if your need goes over 5 users you will need to expand your base station by purchasing the Office Expansion Unit. Additionally you will need to purchase an extra Linx devices devices for each additional line you want to add. These come in at around $50 each but the price can vary widely. Each additional Linx allows you to add another line while wirelessly syncing it to your Office Base Station.


You can use any phone with Ooma Office but the company also offers various Yealink and Cisco telephone systems. These allow for a full-fledged business phone system including extensions and transfer options within the phone system to specific employees the caller is trying to reach. From the official company you can currently purchase the Yealink T21P IP Phone, Cisco SPA 303G IP Phone or the Cisco SPA 504G IP Phone.
Additionally Ooma offers various conference calling phones that can be setup in a conference room where everyone in the meeting room and take part in the conference call. Have a bigger conference room? You can even purchase microphone extensions for your conference calling phone!
Any orders of additional equipment incur a flat $9.99 shipping and handling fee. Also if you are interested in an extended warranty for any of your equipment directly from Ooma it costs just $39.99, though it was unclear how long this extended the warranty and whether it was per device or just one fee.
---
How Much Do International Calls Cost?
Office business plans don't provide monthly packages for international calls but you can still get very low rates on a per minute basis. These rates are significantly cheaper than most Business VoIP providers charge and offer your business the flexibility to pay only when you actually make international calls. For more details please see our Ooma Office International Rates Chart.
---
How Much Does Ooma Office Cost For Canadian Businesses?
The cost for Canadian customers is exactly the same, the only difference being that they are priced in CDN instead of USD making them slightly cheaper by today's exchange rates.
---
What If I'm The Only Employee At My Business?
For single employee owned small businesses you can download the office mobile app and bypass the need for a base station or physical telephone. Once you have the app downloaded simply sign up and pay the standard $19.98 per month fee and you have a new business number that goes wherever you do as long as you have your mobile phone.
---
OOMA OFFICE MONTHLY AND ONE-TIME COSTS ( USA Rates )

Description

Cost

Service
$9.99 per user
Applicable Taxes and Fees
Varies by locale.
Ooma Care Phone Support
Free
Porting/Change Fee
Free
Phone Number
$9.99 per number
Hawaii Phone Number
Additional $29.99 per year
Directory Assistance
$0.99 per call
Reactivation/new service fee
$9.99
Extended Warranty
$39.99 per year

Calling Plans

| | |
| --- | --- |
| Pay-as-you-go |      Varies by country. |

Accessories

| | |
| --- | --- |
| Office Expansion Unit | $99.99 each |
| Ooma Linx | $49.99 each |
| Ooma Wireless Adapter | $49.99 each |
| iOS Ooma Mobile App | Free |
| Android Ooma Mobile App | Free |
| Shipping and Handling | $9.99 per order |
---
OOMA OFFICE MONTHLY & ONE-TIME COSTS (Canadian Rates)

Description
Cost
Service
CDN$9.99 per user
Applicable Taxes and Fees
Varies by locale.
Ooma Care Phone Support
Free
Porting/Change Fee
Free
Phone Number
CDN$9.99 per number
Hawaii Phone Number
Additional CDN$29.99 per year
Directory Assistance
CDN$0.99 per call
Reactivation/new service fee
CDN$9.99
Extended Warranty
CDN$39.99 per year
Calling Plans

| | |
| --- | --- |
| Pay-as-you-go |      Varies by country. |

Accessories

| | |
| --- | --- |
| Office Expansion Unit | CDN$99.99 each |
| Ooma Linx | CDN$49.99 each |
| Ooma Wireless Adapter | CDN$49.99 each |
| iOS Ooma Mobile App | Free |
| Android Ooma Mobile App | Free |
| Shipping and Handling | CDN$9.99 per order |