Ooma Office Manager is the one-stop web portal to manage all your Ooma Office functionalities. The Office Manager is a fully featured location for customizing your Office settings from any device with internet access. The toolkit on offer can handle all custom requests like adding extra lines, call forwarding options or a virtual receptionist.
---
Sign in to your Office Manager
Login at  http://office.ooma.com to access the office manager portal. Your username is your primary Ooma Office phone number with a prefixed "1" (e.g. 12019988878). Note the absence of periods(.) or dashes (-) between the numbers. Forgot password? Don't worry, there's a handy link right below the login form to trigger a reminder email to your primary account. Once the password recovery is complete and verified, you may return to this screen and log back in.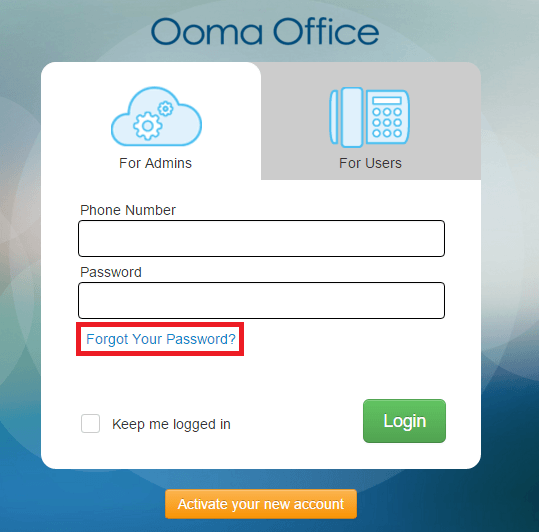 Call logs, Faxing logs and information / electronic confirmations can be found in your dashboard home.
---
Ooma Office Manager  – 

Manage Section
Click on "Manage" tab to access the options to personalize your account. You can configure the following under the respective 'Manage' options and navigating to the 'Preferences' tab to further attune them to your business needs: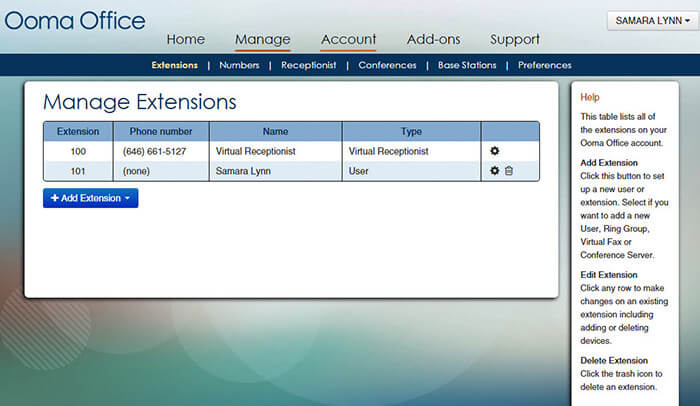 Add an extension and configure dialing options
Add a virtual receptionist
Add music for 'Call hold' (accepted formats .wav and .mp3)
Configure ring groups
Add a bridge for conference calling options
Add multiple users, groups or numbers for forwarding or call-back options
Edit your billing and admin information
Navigate to 'Preferences' to further attune your choices to meet your business needs.
Click 'Save' to implement your settings.
You may also delete a specific extension or a virtual receptionist or any similar custom setting and click 'Confirm' to pare down your office manager settings. The portal allows you to adjust your Ooma Office settings so you may incur costs only for the services you are using, depending on how your business scales up or down.
---
Ooma Office Manager –

Account Section
Settings specific to your account are handled under this tab. This tab is mostly available to admins, as the users are not privy to the account specific information. In this section you handle the following:
Administrator information
Business details
Security options
Payment information (including secondary or fall-back options)
Number porting status
You also have the option to add funds for a prepaid account or purchase additional hardware for compatible services from within the office manager portal. Occasionally, if you're timed out of your present browsing session, you may be requested to verify the cached 'login' session by entering your credentials again as you attempt to navigate.
---
Ooma Office Mobile App
The latest offering from the Ooma Office stable is the Office Mobile App, to enable a login from any smartphone or tablet device. Fully compatible with latest iOS (version 8.0 and above) and Android devices (v 4.4 and above), even iPod Touch and iPad, it allows for seamless access to your Ooma Office portal (literally) at your fingertips! You may receive, transfer or forward phone calls, voicemails, email the transcripts or simply connect to other telephony devices over the same data connection or wi-fi network. Note: Some devices like Bluetooth enabled ones or iPod touch, may require microphone or bluetooth-enabled headsets to complete the calls made over them.
---
How much does it cost?
Ooma Office solution has a one-time $199.95 hardware cost. Once it's installed, it can plug in to any analog or digital telephone system and IP phones, so there's no other additional cost apart from the monthly fee of $19.95. The monthly fee is the same for Ooma Office Mobile app (though you can try it out for free for the first month). You can also port your existing number to your Ooma Office unit as the primary contact for free.
---
Logging Out of Your Account

Simply click on your user name and select '–>Sign Out' to exit your Ooma Office Portal. This is especially recommended if your login session is from a public computer used for business purposes.