The number of companies providing Voice-over-IP phone services has grown rapidly over the last few years. Some like Vonage have become household names because of their consumer VoIP service and ubiquitous advertising. Most office telephone providers aren't as high-profile as Vonage, but a few have become very well-known for their high-end products.
One of the companies that is offering top quality VoIP Phone services to all types of businesses is RingCentral. This reviews will focus on what they have to offer and discuss some of the most important things you would want to find out before choosing them for the communication needs of your business.

Our RingCentral Pricing & Features Review
---
What is RingCentral?
RingCentral is one of the largest worldwide providers of cloud-based VoIP services for businesses. The company is based in Silicon Valley with offices throughout the US and Canada, Russia, the Ukraine, China, Singapore and the Philippines. The company was founded in 1999 with an original focus on serving small businesses but is now a large, publicly-traded operation, providing enterprise solutions for companies of all sizes and servicing more than 350,000 clients.
Over the years, RingCentral has been honored with numerous awards for its outstanding business phone service and overall products offerings. Some of these well-known organizations and publications include the World Economic Forum, CNET, Gartner, PC Magazine, Internet Telephony Magazine and Finances Online, just to name a few. This is similar to one of RingCentral's main competitors, 8×8, who has been received many awards as well.
---
Why Consider RingCentral Office?
Another reason that RingCentral should make your short list is the company's continuing rollout of advanced features that makes its products full-service solutions. It was among the first to offer support for both softphone and mobile clients, as well as full-scale video conferencing. It now provides complete integration and syncing with everything from DropBox and Google Drive to Salesforce and Zendesk thanks to its recent acquisition of Glip, which also allows full team operation complete with text messaging and chat. RingCentral also offers a developer platform that can be used to create custom apps for VoIP systems.
Looking at the awards and accolades RingCentral has earned over the years, it is easy to see that there are definitely so much they are doing right. If you are still thinking of specific reasons to consider the service RingCentral offers, we will summarize some of the most notable benefits here:
Reliability
Reliability, reliability, reliability. Just like "location" for real estate, the number-one attribute necessary for VoIP performance among businesses is reliability, and RingCentral provides it. The company operates from Tier-1 data centers and peers with Tier-1 carriers, with its own network backbone throughout America, Europe and Asia. When a provider is operating at that level, it means your business's communications will be as reliable as any relying on the cloud could possibly be.
Unnecessary downtimes can harm your business in different ways. RingCentral understands this perfectly and has built its service to be ultimately reliable. From the time it was launched, the company has been focused on delivering enterprise-grade reliability and quality of service. It has invested immensely in its own technology and network with a team of capable professionals who monitors the platform for optimum performance 24/7/365. Being fully redundant geographically in the locations they operate is one simple way RingCentral beats its competitions in those places. The distributed network ensures that your business enjoys 24/7 business continuity.
Security
While efficient communication is important, the place of security cannot be relegated to the background. A data breach can cost your organization, exposing you to fraud and service abuse. RingCentral VoIP has you covered in that regard. The RingCentral platform makes use of multiple layers of security to protect your data and communications. There are actually seven layers of security in the RingCentral architecture. The RingCentral phone system also provides Transport Layer Security (TLS) and Secure Real-Time Transport Protocol (SRTP) encryption between all endpoints to prevent interception of your communications. Through access control, detection controls, and usage throttling, RingCentral business also offers proactive fraud mitigation. The company also meets regulatory and compliance needs, undergoing independent verification of their security controls to ensure this.
Mobility
Most VoIP service providers offer mobility but not many do it as efficiently as RingCentral does it. You can actually put your business communication in your palms and that of others in your organization through the use of the RingCentral phone system. It offers true Bring Your Own Device (BYOD) feature thanks to the advanced mobility. RingCentral HD voice is often clear even from mobile apps. Users can send and receive text and fax, as well as participate in online meetings and conferencing from any location at all. It is also possible to manage your phone system right from the smartphone or tablet. Once you are logged in with your device, it is enabled for system administration, conferencing, notification, and voicemail too.
Integrations
While looking for a business phone system, it is also helpful to find a system that integrates well with other digital tools you have already. You have the opportunity to integrate the RingCentral Office with the applications and digital tools you use on the day to day running of your organization. The platform offers one of the largest ecosystem of integration in the market, helping you to improve productivity and efficiency. Being able to perform most processes without having to switch between different programs improves communication and collaboration meaningfully. RingCentral Office integrates with SalesForce, Google, Zendesk, Outlook, Microsoft Office, Box, Desk.com, Dropbox, Okta, Google apps, Oracle and more.
Developer Platform
This feature is one of several others that is not for the regular call agent but can be very beneficial to your organization. It offers a family of cloud APIs and SDKs. This platform lets programmers and developers build custom app integration. With the right technology and technical know-how, your business organization will be able to use the RingCentral Connect platform to integrate business communication with any other system you are running. Making it an integral part of your business processes. This will automate workflows, drive efficiency, and gain valuable insight from communication data. The platform is also designed for scale, availability, and speed. The SDKs have everything your tech team needs to get started and integrate as fast as possible.
---
How Much Could RingCentral Office Save You?
Our reviews of RingCentral revealed that the savings really depends on a business's current phone system and their phone capability needs. The amortized cost of a traditional in-house PBX system, for example, is lower over time than the cost of rental equipment – so the savings possible with RingCentral can vary considerably. For that reason, it's virtually impossible to calculate a number that represents an average company's savings.
However, it's easy to look at the areas in which a RingCentral plan can save money.
First, the initial equipment cost will normally be much lower, because all that's required is purchase or rental of the SIP phones. Administration, maintenance and reconfiguration of the system can be handled by existing personnel and will be unlikely to require expensive service calls or tech support. And the scalability of VoIP systems eliminates enormous hardware bills when expansion is necessary.
Most of the features available at no extra cost with RingCentral plans, like unlimited minutes, auto-attendant and video conferencing, will cost extra with a traditional PBX monthly service. The company also allows the inexpensive addition of local or toll-free international numbers that can be routed anywhere in the system, vastly reducing costs for businesses operating worldwide.
RingCentral's integration of phone and fax functions with desktop and mobile applications also saves on duplication of services, reducing costs for some of those apps and greatly increasing productivity.
The bottom line: The majority of businesses with traditional phone systems can save significant amounts of money and some companies that already have VoIP can save by switching to RingCentral but the true amount of savings will largely depend on each businesses specific situation and needs.
---
RingCentral Pricing & Service Plans

As of Spring 2019 RingCentral Office offers four service plans, all available month-to-month or on an annual basis, and all with service-level agreements. Each plan includes unlimited local and long-distance minutes and an allotment of toll-free minutes, although international minutes do cost extra. There are no early termination or setup fees. No phones are included in the service packages; you'll need to purchase or rent SIP (session-initiated protocol) phones in order to use the RingCentral service in your offices. The company offers rentals of both desk and conference phones, but the system supports most major SIP products.
Essentials – $19.99 per month (per user)
This is the lowest cost plan and primarily designed for very small businesses that make a low number of calls and don't need the ability to fax, keep track of calls logs or an auto-attendant but need a reliable business phone line. This type of line is essential for businesses to have 99.99% uptime in order to conduct business with potential customers while appearing professional. Most standard functions are included but one notable one that isn't is Internet faxing. This plan still includes 100 toll-free minutes in case a business has minimal but still some toll-free callings needs.
Standard – $24.99 per month (per user)
This plan is designed for small to medium-sized businesses. Most standard functions are included, as are full use of the service's messaging and mobile apps (compatible with iOS and Android), business SMS and conference calling. Glip services, including collaboration and messaging, HD video conferencing and integration with Google and Microsoft products, Box and DropBox, come with this package. Video conferencing is limited to four participants, however. 1,000 toll-free minutes come with the standard plan.
Premium – $34.99 per month (per user)
RingCentral's premium plan includes all of the standard features and adds capabilities such as multi-level auto attendant, automatic call recording, HD voice capabilities and inbound caller ID name. More importantly, the premium plan allows access to the custom app development and deployment platform, plus full integration with Zendesk, Desk.com and Salesforce. Video conferencing allows up to 50 participants, and this plan comes with 2,500 toll-free minutes.
Ultimate – $49.99 per month (per user)
There's little difference between the premium and ultimate plans, it's just a matter of a business needing more toll free minutes or a larger number of participants to a conference call. 75 participants are able to join video/audio meetings, voicemail-to-text services are added to the premium package, and 10,000 toll-free minutes are included.
---
Full Details of Plans and Cost
RingCentral offers a variety of service plans and each have features that will suit different types of business. Finding out the plan that will meet your immediate need is key to enjoying improved productivity at the minimal possible cost. The Ring Central plans include Essentials, Standard, Premium, and Enterprise. The pricing for each plan is based on per user cost and will also vary depending on if you want an annual contract or prefer to be billed on a per month basis. The number of users you have will also affect the rate you will be charged. It is also possible to get additional features that are not included in any service plan once you are willing to pay the additional cost they attract.
Essentials
This is the basic service plan in the RingCentral VoIP service. It offers unlimited calling, conferencing, business SMS, and toll-free or local number. It also offers 100 toll-free minutes. With the Essentials plan, you can have an online meeting with up to 4 people per meeting. It also include call management, desktop apps and mobile apps for Android and iOS devices. A maximum number of ten users is allowed for this plan.
Billed annually, pricing for the Essential plan is:
$19.99/month/user for 2 – 10 users.
$29.99 per month for a single user.
For monthly billing, the pricing is:
$29.99/month/user for 2 – 10 users.
$39.99 per month for a single user.
Standard
This is plan that will suit any growing small business. The plan offers unlimited calling, conferencing, and business SMS. It also offers 1,000 toll-free minutes, unlimited internet fax, as well as multi-point mobile and desktop online meeting/video conferencing with screen sharing for up to 4 participants per meetings. The standard plan includes a full call management features, desktop app for Mac and Windows as well as mobile app for iOS and Android. The plan allows for unlimited users.
Billed annually, pricing for the standard plan is:
$19.99/month/user for 1,000 – 9,999 users;
$22.99/month/user for 100 – 999 users;
$24.99/month/user for 2 – 99 users;
$34.99/month for a single user.
For monthly billing, the pricing is:
$29.99/month/user for 1,000 – 9,999 users;
$32.99/month/user for 100 – 999 users;
$34.99/month/user for 2 – 99 users;
$49.99/month for a single user.
Premium
This is the most popular plan in the RingCentral phone system and is sort of the middle ground. It offers all features in the standard plan and more so instead of 1,000 toll-free minutes it offers 2,500 minutes. You can also hold a video conference with up to 100 people in attendance instead of just 4. Additional features in the plan include automatic call recording, multi-level auto attendant, caller ID, HD voice, smart integration with CRM systems, and custom app development/deployment.
For annual billing, the pricing is:
$29.99/month/user for 1,000 – 9,999 users;
$32.99/month/user for 100 – 999 users;
$34.99/month/user for 2 – 99 users;
$44.99/month for a single user.
For monthly billing, the pricing is:
$39.99/month/user for 1,000 – 9,999 users;
$42.99/month/user for 100 – 999 users;
$44.99/month/user for 2 – 99 users;
$54.99/month for a single user.
Ultimate
This is the big price for serious enterprises that want the best out of their communication management service. It offers all the features in the premium price and more. Instead of 2,500 toll free minutes it offers 10,000 minutes. It also offers Multi-point mobile and desktop online meetings with up to 200 participants. Voicemail transcription is another helpful feature that comes with this plan and a more comprehensive support also comes with it.
For annual billing, the pricing is:
$39.99/month/user for 1,000 – 9,999 users;
$42.99/month/user for 100 – 999 users;
$49.99/month/user for 2 – 99 users;
$59.99/month for a single user.
For monthly billing, the pricing is:
$49.99/month/user for 1,000 – 9,999 users;
$52.99/month/user for 100 – 999 users;
$59.99/month/user for 2 – 99 users;
$69.99/month for a single user.
Looking at the pricing structures above, you can see that quotes are limited to 10,000 users. For organizations with more than 10,000 users, RingCentral requires that they be contacted for a custom quote.
Besides the basic features offered by these service plans, you can add:
Additional toll-free or local number at the cost of $4.99 per month.
Additional vanity number can also be added for a one-time fee of $30.
Additional international numbers can also be added, and it starts at $5.99 per month per user.
Additional international toll-free number can be obtained with $25 one-time fee and $14.99 per month.
---
Summary of Service Features
Besides the specific benefits discussed above, the set of features offered by RingCentral business is another important reason to choose this service. We won't be able to extensively discuss all the available features: we will briefly discuss the most important ones and highlight some others you just need to know about: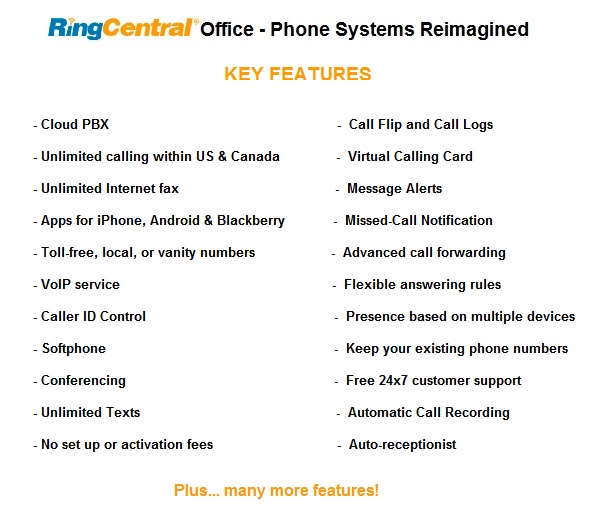 We've already highlighted most of the important features provided by RingCentral's cloud VoIP packages. However, here's a summary with more features listed. This list is not exhaustive and RingCentral is also always adding new features.
RingCentral Numbers
RingCentral offers affordable toll free numbers that can significantly improve the image of your business. Toll free numbers can improve how customers rate your services and present you as a big business with national presence. You also have options to select from. You can go for the easily recognizable 800 number prefix or choose from 888, 877,866, 855, and 844 numbers. You can also take things to the next level by creating a vanity number for your business. The fact that RingCentral numbers are competitively priced means most businesses can afford it and enjoy the benefits of toll-free numbers. Minute bundles range from 1,000 to 100,000 minutes and this can be enough for most businesses. It is also possible to automatically purchase additional minutes with ease.
Cloud PBX
The virtual PBX system is better than traditional systems in terms of cost and functionality. The cloud hosted phone system has all that traditional system offers and more without the expenses and limitations of hardware like trunks and switches. The fact that RingCentral supports mobility also means there is no limitations in terms of location and equipment. Online meetings and faxing on the move are just additional features. Such inherent features as the virtual PBX helps businesses to compete in the digital age.
Phones and Headsets
With RingCentral, businesses have the options of using their current devices or choose from different state-of-the-art VoIP phones. The RingCentral Phones are from top manufacturers including Cisco, Polycom, and Yealink. There is a wide selection of wonderful hardware devices grouped as Cordless, Receptionist, Conference, Headsets, and Others. Even if you prefer to use your current phones, there won't be any serious issues setting up the RingCentral phone system and enjoying the amazing benefits.
Collaborative Meetings
The RingCentral meeting is another feature that deserve some form of mentioning due to the benefits it can have for your business. With easy to set-up online meetings you can make all the teams in your organization to be more productive. Each user can use his/her favorite device from any location and meet with others in HD videos. HD telepresence room system is easy to build without the need for a costly, proprietary hardware: you can use off-the-shelf equipment to set it up. Training and conferences with as much as 500 people is possible with the RingCentral meeting; screen sharing makes this more efficient. It is also possible to create up to 50 breakout sessions during conferences and training to enhance the experience and improve results.
Voicemail and Greetings
The RingCentral phone system also offers each user a free voicemail inbox with multiple options for managing voice messages. This is available to each phone extension and departments too. Another great thing; users can access their voicemail messages through different means including desk phone, email, mobile device, desktop app, and the Ring Central online account. This means you can access the message from anywhere at all. Users can also customize their voicemail services the way they want and go through their voicemail based on their priorities. Voicemail transcription is also available. For voicemail greetings, users are at liberty to create the exact experience they want. There are RingCentral greetings and if users are not interested in it, they can record custom ones or use professionally recorded greetings.
Internet Faxing
Like most other VoIP service providers, RingCentral offers internet faxing. To further eliminate cost in business communication and bring all communication platforms under a single system, the faxing service is advanced and requires no hardware components or dedicated phone lines. The feature also allows users to send faxes from a range of sources and devices including their personal smart devices that are connected to the RingCentral network. The advanced faxing functionality also allow users to attach files from different sources including cloud storage services like Dropbox, and Google Drive. You can also send fax directly from FaxOut.
Phone Numbers and Minutes
Local and Toll-Free Numbersf
Unlimited local minutes
Graduated number of toll-free minutes depending on package
Call Management
Auto-receptionist
Call forwarding, call screening, call recording, missed call notifications, caller ID control
Message alerts, dial-by-name, voicemail, visual voicemail, music on hold, conference calling
Apps
Internet fax, messaging, conference calls, video conference
IOS, Android, desktop
Integration with Microsoft, Google, Box, DropBox, Glip, Zendesk, Desk.com, Salesforce
---
Full List of RingCentral Features
Here is a near complete list of RingCentral features including the ones discussed earlier:
(Automatic) Call Recording
3rd-Party Integrations
Analog Adapters
Answering Rules
Auto-Receptionist
Call Flip
Call Forwarding
Call Logs
Call Monitoring
Call Park
Call Reports
Call Screening
Caller ID Control
Cloud PBX
Collaboration
Conference Phones
Cordless Phones
Desk Phones
Desktop and Mobile Apps
Dial-By-Name
Directory Listing
Extensions
Hot Desking
Intercom
International Numbers
Internet Fax
Multi-Level IVR
Music on Hold
Online Meetings
Online Meetings
Paging
Personal Demo
Presence
RingCentral Global Office
RingConnect CloudConnect
RingMe
Ringout
Role-Based Access Control
Secure VoIP Service
Shared Lines
Single Sign-On
Team Collaboration
Tool-Free and Local Numbers
Unlimited Business SMS
User Templates
Video Conferencing
Visual Voicemail
Voicemail and Greetings
Voicemail-To-Email
VoIP Headsets
---
RingCentral Desktop App
The RingCentral phone system has a desktop app that makes it possible for users to take advantage of the various features from PCs. This app delivers lots of extra benefits for users: it has an intuitive interface and offers advanced call management features. The app is compatible with Mac and Windows and we will briefly discuss it under the different platforms:
RingCentral for Mac
This app enables you and other users in your organization to enjoy the features of the RingCentral Office through Mac Computers. Users can make calls with their computers as long as it has adequate internet coverage. They can equally send a text or a fax using the Mac systems. It is also easy to start an online meeting or audio conferencing with the RingCentral app. The System requirement for this RingCentral app is Mac OS X 10.7 Lion or above, Intel Processor, Minimum of 512 MB of memory, and 200 MB of hard drive space.
RingCentral for Windows
This is the app that lets you access the RingCentral VoIP service in your Windows PC. Like in Mac systems, users will be able to make and receive calls, send and receive texts and faxes, and also set up online meeting and audio conferencing with ease. It also has a very friendly user interface that makes using it fun. The system requirement for this RingCentral app is Windows 7 and above, minimum 2 GHz 32/64-bit processor, Minimum of 512 MB of memory, and 200 MB of hard drive space.
Getting the app is always a breeze. Once you are registered on the platform, a simple RingCentral download from your computer will get the app into your desktop. You can login immediately afterward to enjoy the services from the app.
---
RingCentral Mobile App
The RingCentral Mobile App is another impressive thing about the service. The app is quite different from similar apps offered by RingCentral competitors. The excellent mobile app will make business communication easier for every member of your organization as it offers comprehensive suite of mobile features. Collaboration with team members is a lot easier with the team and can be done from any location at all. Through the mobile app, RingCentral users can make and receive calls, send and receive faxes and texts, and also set up or join conference calls on the go. It is also possible to access phone system configuration, settings, notifications, and voicemail from the mobile app. The app also offers advanced call management controls, letting you transfer, record, flip, or pack calls as you wish.
The RingCentral mobile app is compatible with Android and iOS devices. For the former, it requires Android 4.0 and above while for the latter, it requires iOS 6.0 or later and works with iPhones, iPad, and iPod Touch. It is equally optimized for iPhone 5+ devices. For the mobile app, RingCentral download from the App Store or Play Store will get the app into your smart device.
---
RingCentral SMS
Text messaging or SMS is an integral part of business communication and improves collaboration exponentially. Actually, RingCentral offers Business SMS and MMS as a helpful feature. It gives users the opportunity to send professional texts and multimedia messages to colleagues, clients, and departments, using the business number. It supports unlimited free text and messages can have as much as 1,000 characters. Thanks to the MMS feature, users can equally send videos, images and other multimedia files through the business line.
RingCentral SMS also work across all the major devices that are supported by the phone system. This means users will be able to send SMS via their desktop and integrated mobile devices. This also implies that users can send and receive messages irrespective of their locations. Push and email notifications of incoming messages are also available.
It is important to note here that the RingCentral SMS features are basically available for USA and Canada. This doesn't mean that users can text people in other locations. The can but international SMS rates apply. Text to 911 is also available exclusively to US Office customers, and not all the 911 service centers have the capabilities to receive the text messages.
---
RingCentral Glip
RingCentral Glip is another exciting product in the system that facilitates true collaboration. This persistent workstream collaboration platform became part of RingCentral in 2015 and has impressed most customers. It is a fast and effective platform that will let you manage information in one place. Being easy and seamless, RingCentral Glip is definitely the future of team messaging. Users are able to chat online in real time anytime, anywhere, and from any device of their choice. This will bring team members together in the fastest and most efficient manner without affecting the telephone bill. The platform also facilitate file sharing and screen sharing during video calls. On the spot feedback is also a lot easier since users can simply open files and add comments in real time.
Online video meeting with RingCentral Glip is also super easy. The free, built-in one click dialing capabilities for video calls and meetings offered by Glip means that you can easily set up a face-to-face session to discuss a business project, resolve an issue, or agree a deal in just a click. The platform truly serve the purpose of one place for task management. Another bonus advantage: Glip integrates seamlessly with other digital tools for business including Google Drive, Box, Dropbox, and JIRA.
---
Ring Central Meetings
This is the HD video conferencing and screen sharing solution offered by RingCentral. It lets users meet and collaborate better to improve business processes even if they are in different places. RingCentral meeting lets you host unlimited video conference calls as well as share contents at the same time. Online meeting can have as much as 500 participants. Interactions during such meetings is enhanced by advanced annotation tool. The meeting can also be recorded for reference purposes.
During RingCentral meetings, breakup sessions lets you divide participants for small group discussion and trainings. Since RingCentral integrates with Microsoft Outlook, it is also possible to schedule an online meeting directly from the Outlook. Additional Webinar add-on is also available to broadcast content to as much as 10,000 audience with customized registration, Q&A, poll and complete reporting.
RingCentral meeting can be accessed through any device the user prefers as long as it is compatible. For Mac, a minimum of 1 GHz processor, Mac OS X® 10.10 or later is required. For Windows, minimum of 1 GHz processor and Windows 7 and later is required. For Android devices, Android 5.0 is required. For iOS, iOS 9.0 or later is required. Ring Central meeting can be conducted over Wi-Fi, 4G/LTE, and 3G networks.
---
RingCentral Video Conference
RingCentral Video conference is what you can get with the Ring Central meetings discussed above. The benefits of meeting with teams live in HD video and being able to share contents and screens cannot be overemphasized. It will save you so much in different ways. The fact that you wouldn't have to travel so much to meet teams from different location is something good. Also, knowing that people can participate with computers, smartphones, and tablets makes this more interesting. It is also possible to chat with groups or individuals within the video conference.
The ease installing an affordable telescreen conferencing in any room in your office is another attractive benefit of the RingCentral system. In instances that your organization already has on-premises telescreen endpoints, RingCentral Room Connector™ lets you connect the system to the cloud service with ease. Setting up a video conferencing is also a breeze, thanks to the seamless calendar integration that let you schedule and start a video enriched meeting with a simple tap on your smart devices.
Some important video conferencing features and advanced functionalities have already been discussed in the RingCentral meetings session. This is basically a reminder that video conferencing is made much more efficient with the system and it will certainly improve your productivity.
---
RingCentral Integrations
We discussed integration as parts of the reasons you may consider RingCentral business phone service. Having a VoIP phone system that integrates easily with your existing digital tools helps to make your business processes more efficient. As stated earlier, the RingCentral phone system offers one of the largest ecosystem of integration in the market. It integrates with such tools as SalesForce, Archiver, Google, Outlook, Microsoft Office, Box, Desk.com, ServiceNow, Dropbox, Okta, Google apps, Oracle, Zendesk, Skype and some others. This will significantly improve productivity as users wouldn't waste time switching between programs to perform such tasks as calling, texting, sending faxes and participating in online meetings.
---
RingCentral International Calling Options
Calls to international numbers from your RingCentral VoIP phones come with extra charges. The rate will depend on where you are calling. Being able to connect to clients and business associates from different parts of the world through your business phone is a good thing but the extra cost can sum up too easily. International calling needs to be enabled in your account before you can actually make international calls; you will have to contact support to get that done. After enabling the functionality, making an international call is easy. You have different options for it:
Option 1
On the dial pad, you can dial 011 + (Country code) + (the phone number you want to call)
Option 2
On the dial pad, dial "+" (plus sign) + (Country code) + (phone number)
RingCentral has set a limit for international calling to protect customers from fraudulent and over usage so international calls may not go through always. If you get a prompt that says your calls cannot be completed, contact system admin. If you are the admin, you can contact RingCentral Customer Service to verify billing information or increase your account limit.
---
How Is RingCentral Customer Service Rated?
When it comes to customer support, RingCentral has you covered to an extent. There are a number of ways you can obtain help to deal with any issue at hand. By simply visiting RingCentral.com, you will find a lot of helpful material in the Knowledge base and FAQs sections. The RingCentral website also has so many video tutorials and articles to help you run your VoIP account smoothly.
RingCentral also offers 24/7 customer service. You can call in at any time; the team always try to be as helpful as possible. There is also a chat feature on the website if you are not a fan of calling customer service. There is also a customer community where you can learn from the experiences of other customers to make your own experiences better. Theoretically, RingCentral has an adequate customer support system to ensure customer satisfaction but it is not all bliss on a closer look.
One of the downside of the customer service of Ring Central is that the 24/7 team are not quite technical. Some RingCentral reviews from customers indicate that the support team is often unable to address many issues appropriately. While the company tries to have the customers covered at all times, they can do better by training their customer support better on the technical aspect of the phone system so that customers will find it easier to solve any hitch once they contact support.
---
How to Contact RingCentral Support
There are different ways to contact RingCentral support. You can click the support menu on the main website to get help on a number of issues. From the page, you can open a case and will be contacted by the support team for the needed help. You can also find out how to get started, how to change password, how to login, and other helpful information. If you want to speak to the support team, you can call RingCentral customer service phone number:
1-888-898-4591 (if you are within the United States) or
+1-925-301-8209 (if you are outside the United States).
This is specifically for users of RingCentral users in the United States. There are other numbers for RingCentral users in other countries.
---
RingCentral Setup Process
Setting up a RingCentral system is relatively easy, especially if you're renting or buying preconfigured phones from the company. Everything is done through the online user interface, once you've set your modem to IP pass-through or bridge mode, configured your router (instructions for each model of modem are on the RingCentral website) and connected phones to your router or network with an Ethernet cable. If you're not using a RingCentral provided phone, the instrument must be set to "provision enable" and some extra information like the SIP domain and outbound proxy (available on the website) must be entered into the user interface.
Once you've received your email confirmations detailing your phone number assignments, you're ready log onto the web portal. Through a series of wizards (or via drill-down menu if you'd prefer), you're able to add devices/users and pair them to phone numbers – provisioning takes only about 10-20 seconds and the phone will be active through RingCentral. Each user will receive an email giving them the option to configure the details of their individual line (such as music on hold).
The user interface also allows you to perform functions like assigning users to groups or queues, configuring the auto-attendant, or setting up call routing trees throughout the system. Once again, this is done through built-in wizards. The process can get a bit confusing for complicated configurations, but is quite intuitive once you get used to the way it works.
---
RingCentral Faxing
For businesses that still have the need to fax, RingCentral fax have them covered. This is an internet faxing solution and there are two major ways to enjoy it:
How to fax with RingCentral Phone Service
Faxing with the Ring Central phone system is quite easy. The service allows you to send and access fax through your email. To send fax, you can simply enter your recipients fax number on an email address line followed by @rcfax.com. You can do this from RingCentral for Desktop or RingCentral mobile app. You will also be able to get faxes through your existing number or a specific fax number from RingCentral. The faxes will be received as email attachments. Since RingCentral integrates with other applications, it is possible to directly fax from Google Drive, Dropbox, Box, or Microsoft Office application.
RingCentral Fax as a standalone service
Internet faxing is also offered as a standalone service by RingCentral. With this service, you can eliminate the expenses of fax machines, phone lines, and supplies. There are four service plans available for the RingCentral fax:
Fax 750 starts at $12.99
Fax 1500 starts at $17.99
Fax 2500 starts at $49.99 and
Fax Unlimited starts at $39.99
Each of the plans have its unique features and you can always find the perfect plan for your business. You can equally expand your system if there is need for that. You can get additional fax numbers at $4.99/month. You can also get additional 800 and vanity numbers for $30 one-time fee.
---
Service.RingCentral.com Login
For administrators and regular users of the RingCentral phone system can login to their account following the same process though their privileges differs on the portal. You can log in using your RingCentral phone number:
Go to https://service.ringcentral.com
Enter your phone number and click 'Next'
Enter your Password and click 'Sign In' (if you are signed an extension, enter it in the appropriate field)
You can click 'Stay signed in' to ensure that next time you visit the site with the same device, you will be automatically logged in. It is also possible to login into your account using Single Sign-on, Google, and Email Address. All these options can also be used to login to RingCenteral meetings: the same processed can be followed always. As long as you have your login credentials, the process is always smooth.
---
What We Like About This Service
There are so many things to like about the RingCentral phone service but some are just too great that we have to talk about them as briefly as possible again:
Terrific Mobility
What RingCentral offers is real definition of true mobility. While other providers have mobile apps included in their service, the apps are not always as great as customers will want: the functionalities are often limited. RingCentral apps are quite different. The Desktop app and the mobile app are all superb, ensuring that users enjoy true mobility with any device of their choice.
Plenty of Pricing Options
While RingCentral may not be the cheapest VoIP phone service in the market, it offers lots of pricing options. Depending on the number of employees a business has and the features they need, it is quite easy to choose a plan that will help them to save cost on the long run. If you are certain you want to stick to RingCentral and go for the annual billing option, you can save more cost for your business.
Unlimited Business SMS
Business SMS can do so much for a business and RingCentral have you covered in this regard. Business SMS is available in all the packages and it will enhance collaboration within teams. RingCentral also supports MMS, allowing users to share images, videos and multimedia files with ease without running up the bill.
Extensive Integration
The fact that the RingCentral phone system can integrate with a host of other digital tools is another reason to love the service. This feature means you and your employees will not waste time switching from one tool or another for daily business processes. This often have remarkably positive impact in business productivity.
Awesome RingCentral Meetings and Video Conferencing
The online meeting and video conferencing feature of RingCentral VoIP is one of the best in the market. Through RingCentral Meetings, you can meet and interact with teams located at different places as if you are in the same room. Enhanced functionality like screen sharing and advanced annotation tools improves the result of video conferencing.
Did we mention reliability? – We thought so. The performance of a RingCentral system naturally depends greatly on the quality and speed of a company's Internet provider. But assuming that's not an issue Ring Central's Tier-1 data centers and peering, together with its dedicated backbone, make the service virtually flawless. Dedicated circuits between businesses and the nearest RingCentral data center are also available at an extra cost.
Full integration with important apps – This makes RingCentral one of the best ways to improve productivity. For example, you can open Salesforce, call a contact via RingCentral with a single click and make notations while you're talking; when someone calls you, RingCentral can automatically recognize their information and open the appropriate screen in Salesforce for you. And Ring Central not only allows you to send faxes (as most VoIP systems do) but lets you fax from your DropBox or Google Box account, or sign a document on your computer and fax it immediately (or schedule it for later sending).
A Softphone (using a computer and headset) and mobile app (Android or iOS) – options are terrific with RingCentral, making it one of the most versatile VoIP business phone systems available.
The inclusion of the Glip app – This adds tremendous collaboration power to the RingCentral package. Teams can be created through the system, enabling chat, video conference, group calls, text messaging and all of the collaboration tools necessary in a modern business. The app supports smart texting as well, allowing you to click on a link in a text to open a website or make a phone call directly through RingCentral. Video conferencing with one of the larger packages (allowing 50 or 75 participants) is particularly robust, too.
Unusual flexibility when it comes to phone numbers –  You can port an existing number to the system, choose new local and toll-free numbers, order international local or toll-free numbers that can ring anywhere you choose, or even request a vanity number – a service very few VoIP providers offer.
RingCentral development platform – allows in-house or outsourced programmers to create custom integrations of the system into any company processes or software.
RingCentral has a robust analytics package – letting you track all call information while also allowing you to create full graphical reports on system usage based on a number of different variables.
---
What We Don't Like About RingCentral
Per-user prices for RingCentral service – are among the highest of the top business VoIP providers. The cost can often be justified for small installations, large companies which have high utilization demands on their phone system, or those for whom the extra features provide enough offsetting benefits. But RingCentral may be out of the budget ballpark for those who don't need all of its features or don't have all of their employees on the phone constantly.
Offshore support services are definitely subpar –. Thankfully, support isn't often required once the system is up and running, but the experience can be quite annoying.
---
RingCentral FAQs
Q: Is there a free trial of RingCentral available, or is an immediate commitment required?
A: There's no specific free trial period and charges begin immediately, but there is a 30-day money back guarantee and phones can be returned for a refund within 90 days.
Q: Is any special equipment required to use RingCentral?
A: Just SIP phones (for desk or office phone use) and a router which will make Internet connections available to the system. RingCentral recommends a QoS-enabled router for best voice quality.
Q: Do you have to rent or buy phones and fax machines from RingCentral?
A: No, RingCentral supports most major SIP phones from companies like Yealink and Cisco as well as some generic SIP devices. Analog phones and regular fax machines can be used with a Cisco ATA adapter.
Q: What computer setup is required for softphone or Microsoft integration?
A: Windows 7 or above with 2 GHz or MacOSX 10.8 Mountain Lion or above with an Intel processor, plus 1 GB RAM and 300 MB hard drive space available.
Q: If power or Internet connectivity is lost, does that make the RingCentral system unavailable?
A: Not necessarily. As long as cell phone numbers are set as forwarding numbers, calls will be forwarded from the cloud.
Q: Are à la carte packages available for just specific features?
A: No, RingCentral only sells full packages.
Q: Is there a setup fee or activation fee for the service?
A: There is no setup/activation fees for RingCentral.
Q: Can I use my current business phone number?
A: Yes, you can use your business current phone number on RingCentral. You will select this option when registering for the service.
Q: Do I need any kind of contract to use the service
A: No, you can pay as you go on a monthly basis and cancel whenever you want. You can also choose to be billed annually if you like the service: you can save more this way.
Q: What is the requirement for international calls?
A: You will have to activate international calling by contacting customer support.
---
RingCentral Phone Alternatives
There are several VoIP providers in the market but the ones that can be actually referred to as true comparable RingCentral alternatives include Asterisk, Versature, Axon, Virtual PBX, Jive Communications, 8×8 VoIP service, OnSIP, and MightyCall.
---
Other Top Business VoIP Providers
If you are launching a new company or are interested in switching to save money each month we suggest you read our comparisons of the best VoIP Providers and also take the time to look at our reviews of other highly rated business VoIP providers listed below.
magicJack For BUSINESS Review – magicJack BUSINESS is a new service launch by the popular magicJack company that brought ultra-cheaper phone service to the residential VoIP market. Their new business services is cheap, offers a wide range of features and is scalable which allows you to easily add lines as your company grows. This service is better suited for small-to-medium sized businesses rather than large ones.
Ooma Office Review– Ooma Office caters to small-to-medium sized businesses and aims to hold the value spot in the business VoIP market. If you are looking to get cheap, yet reliable service for your small business you can't go wrong with Ooma.
---
Final Thoughts On RingCentral
RingCentral is a market leader for very good reasons, including the strength and reliability of their system and the wide range of collaboration and productivity tools that come with their packages. Those packages are more expensive than the ones provided by most competitors, however, so a careful ROI analysis should be performed before deciding whether the prices are justifiable or too expensive for your business.
The service can be scaled to nearly any sized business from a small home-based business all the way up to a Fortune 500 company with a need for robust Business Phone System and 500+ phone lines.
If you've looking to make the switch to VoIP or are just plain dissatisfied with your current VoIP provider RingCentral would be a fine choice most companies with typical business calling needs. However, for micro businesses with a need for less features there are likely better suited options that cost less.
---
Leave Your Review
TheVoIPHub
Average rating:
0 reviews