FreedomPop has launched a new cellular service aimed at small-to-medium sizes businesses looking to save money and expand their mobility. Tabbed FreedomPop Business, this new service allows businesses to save big, with 100% free service that includes unlimited minutes and unlimited texts along with blazing fast 4G LTE data speeds. Businesses also have the option to expand and pay in order to get more lines and/or extra data but even these expanded use plans are much cheaper than what you typically get with competitors.

Our FreedomPop Business Review
Founded in 2012, the FreedomPop company is a wireless Internet and mobile virtual network operator based in Los Angeles, California. The company's goal is to ensure that everyone stays connected, so no is left off the "connected grid", meaning without a phone or data connection. The company has been rewriting the rules of the global telecommunications industry and making it easier than ever before to get 100% Free Mobile Phone Service and now 100% FREE Business Phone Service.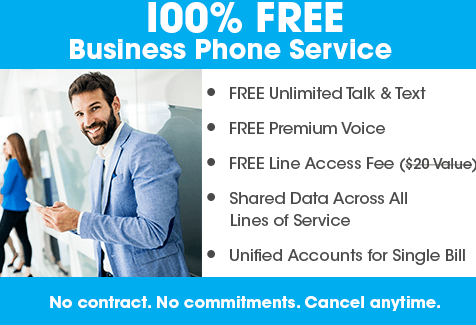 Through its innovative model and approach, it offers small-to-medium sized businesses free 4G LTE mobile phone service, free wireless internet, and free broadband. All of that for free? Yes, you heard it correctly. F-R-E-E, free.
Its latest offer, 100% FREE Business Phone Service with 2 LTE Smartphones for only $25/phone, is one businesses cannot miss out on. The offer comes with unlimited minutes every month, unlimited texts every month and blazing fast 4G LTE speeds. (Unlimited minutes, texts, and fast speed Internet? Correct.) On top of that, for the first month, FreedomPop is offering a FREE Shared 4GB trial ($34.99/mo value) and FREE line access fee trial for 2 lines ($20/mo value). You'll have to catch it quickly before the offer ends! If you don't need these extras you can choose their Free Basic Business Phone Plan either at signup or after your first month. The downgraded plan includes Unlimited Talk, Text and 2GB of data at the always present blazing fast 4G LTE speeds.
---
Save Money With FREE FreedomPop Business Plans
Interacting with countless clients and colleagues while closing deal after deal is easier now for businesses, especially in this digital age, because of mobile phones. Now, wouldn't it be more beneficial to conduct businesses through a mobile phone carrier that will save your company $1000s every month? FreedomPop Business can lend you a hand with that. Its latest offering – 100% FREE Business Phone Service with 2 LTE Smartphones for only $25/phone (retail valued at $199.99/phone) – is available for a limited time only — Get it now and save $1000s monthly!
Through its simple shared data plan on all lines, you can get up to 25 lines to run your business. With such a low price, this plan provides all the features that other phone carriers provide and more. The limited time offer provides Free Shared 4GB Trial ($34.99/month value), Free Line Access Fee ($10/month value), FREE for the first month, and Free Shipping ($9.99 value).
If you have more than a couple employees and a need for more lines then FreedomPop Business is also a great option to meet your needs since they make it simple, easy and affordable to scale as your business grows. See their business plans to the left and you will quickly understand what a great deal their plans. The amount of data you can get each month and share between lines for the price they offer is unheard of in the mobile business sector!
---
Line Access Package
What else comes with the line access? Below is a summary of what you would get with the line access:
Unlimited talk every month
Unlimited text every month
Shared 4GB LTE data trial ($34.99/mo value)
Downgrade to Free Basic Shared 2GB plan anytime
Blazing fast 4G LTE speeds
Share up to 25GB on up to 25 lines
Premium Voice
Group MMS
Visual Voicemail
No contract. No commitments. Cancel anytime.
Shared data across all lines of service
One low price, single bill
Manage and monitor all lines online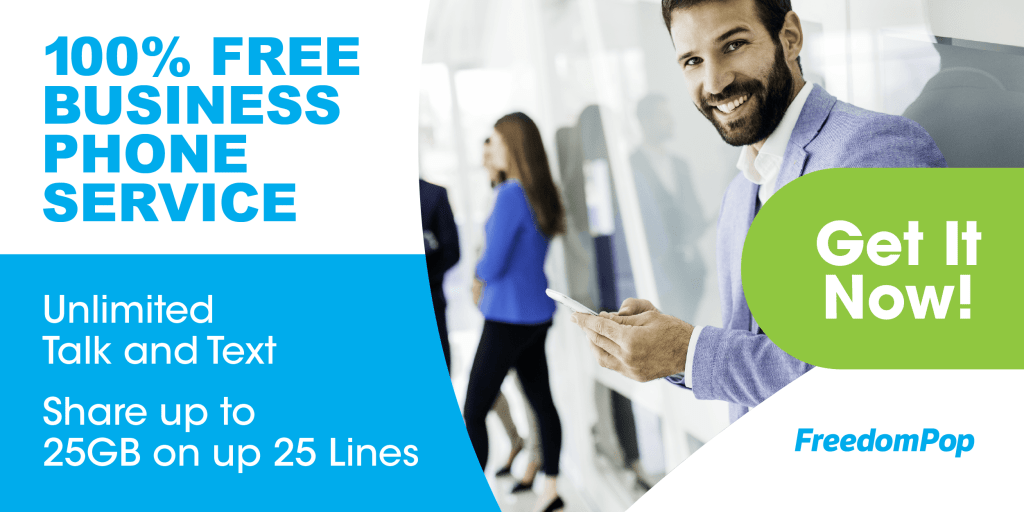 ---
Top Brand Smartphones Just Like The Other Carriers
Providing affordable phone services for small-to-medium businesses is great, but without top-of-the-line mobile devices it's all for naught. Fortunately FreedomPop understands that mobile devices matter, too. Similar to other mobile phone carriers, it offers top brand Android and iOS smartphones, such as the latest in the Samsung Galaxy line and Apple iPhones, just to name a few. But get this, FreedomPop is offering these mobile devices at up to 80% off retail value – giving you a bigger bang for your buck!
Intrigued and want to try it out for a few months or get the service permanently? No problem! With no contracts, no commitment, and no credit check, FreedomPop Business makes it easier than ever to get the offer and enroll now.
---
Blazing Fast 4G LTE Speeds Just Like Other Carriers
What's Internet these days if it's not fast enough to load files, send emails, load videos, browse the web, and more in order to conduct vital and time sensitive business? When it comes to managing businesses, it's all about efficiency and in today's mobile internet based world that means fast Internet speeds. Rest assured FreedomPop fully understands this, which is why they offer blazing fast 4G LTE speeds on all service plans, allowing you to manage your business with the highest level of efficiency.
---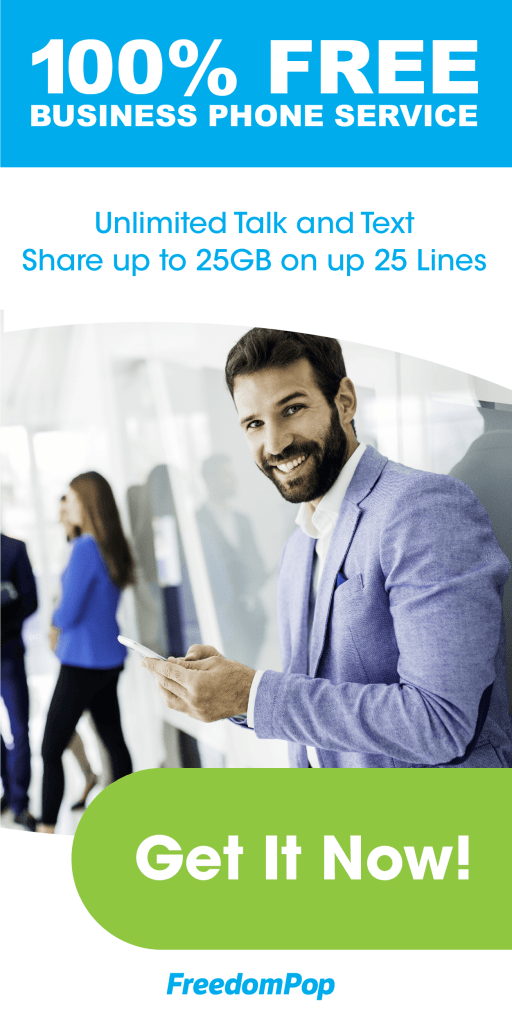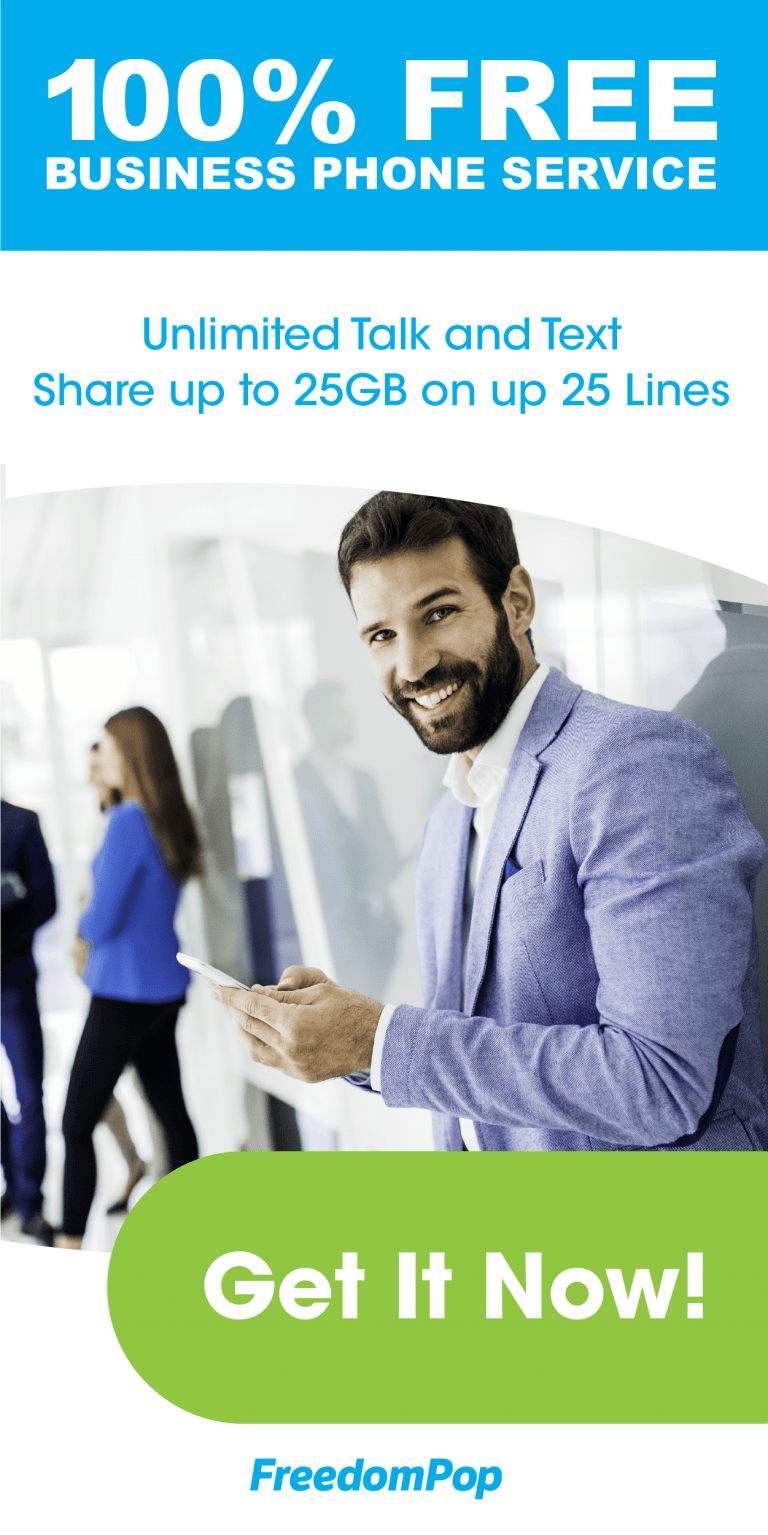 Easy Account Management
Speaking off efficiency FreedompPop makes management of your business account extremely easy since they know time is money in business. They provide easy account access and management, which comes with one simple statement/bill. So whether you have 2 phone lines or 25, you only have to manage one account and one bill. Managing your business could not get any easier than this!
If you have greater data needs you can also pay as you go with a custom sized data plan. Need to upgrade or downgrade your plan if your business needs change? No problem you can do this at anytime within your FreedomPop account.
What if you start off with 2 lines and then as your business grows you need to expand to 6, 12 or even 25 lines? Again you can do this at anytime within your FreedomPop personalized account page along with easily managing any other updates you may need to your business phone service.
---
What We Like
What's not to like about free business mobile phone service? From what we've seen regarding their service it is the complete package of affordability and features to boot. We're not sure what more a business could ask for.
100% Free Business Phone Service
Feature Rich – All of the vital features small-to-medium sized businesses need and more
Useability – User friendly interface with simple billing and the ability to make plan changes quickly within your personalized online account
Scalable as your business grows – Start with 2 lines and add lines when needed as your business grows
---
What We Don't Like
Minor questions about FreedomPop's customer service lingered in the past but those problems seem to be behind the company. When we questioned the company regarding these and other issues they were prompt is getting back to us and assured us that they have revamped their customer service and customer experience processes along with many other improvements to the service they provide. We have already seen major improvements in our navigation of the site and in our attempts to contact their customer service.
---
Final Thoughts On FreedomPop Business
Thanks to FreedomPop gone are the days of mobile carriers taking advantage of businesses and gauging them by making them overpay for the same services just because they are a business. As a business owner there is a much better option now with FreedomPop Business!
The reality is businesses are always going to be looking for ways to reduce costs and increase their ROI. FreedomPop is excited to help businesses save money so they can utilize this extra cash flow elsewhere in their business.
---
Leave You Review
TheVoIPHub
Average rating:
0 reviews