Are you interested in using the VoIP services offered by Grasshopper and Vonage Business? If so, you'll want to check out our review that includes a detailed rundown on the main features, integrations, pricing plans, and customer support that Grasshopper and Vonage Business have to offer. 
By the end of this post, you'll be left with a clearer picture of the VoIP service that you think is right for improving the communication processes within your business.
---
Our Comparison of Grasshopper Phone vs Vonage Business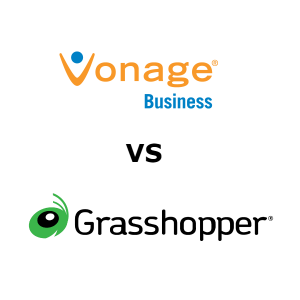 Vonage Business Overview
Vonage Business provides VoIP phone system features that work through the cloud so that businesses can have their communications unified through the internet. They have an impressive range of features and the flexibility to add new features to new your plans for additional costs. 
If you're a small business that's looking to scale in the near future, the admin portal available with Vonage Business enables you to have an easier time managing more users and all of the features. 
[Related: Vonage Business Pricing & Review]
---
Grasshopper Overview
Grasshopper has a range of VoIP features that are best for smaller and medium businesses. They offer features such as local numbers and toll-free numbers, as well as greetings and extensions. Small and medium businesses can use Grasshopper to keep their communications unified in one place that's easy to access. 
[Related: Grasshopper Pricing & Review]
---
Vonage Main Features 
Caller ID

Call recording

Call monitoring

Call routing

Call transfer

Conferencing

Voicemail 
You can use the VoIP features offered by Vonage Business on iPhones, Android devices, and desktops. Therefore, you can be sure to have plenty of freedom for your employees to easily stay in contact with each other and customers. 
There's also a total of 11 integrations available. Some of the main integrations include Microsoft Outlook, Salesforce Sales Cloud, Microsoft Dynamics CRM, QuickBooks, Tenfold, and more. These are popular programs that many businesses use regularly. So, having a VoIP service that can be integrated with these apps makes the installation process a lot smoother. 
[Related: Vonage Business vs RingCentral]
---
Grasshopper Main Features
Custom greetings

Texting

Voicemail transcription

Simultaneous calling

Reports available

Wi-Fi calling

Virtual fax 

Business phone number 

Call forwarding

Extensions available

Call transfers 
Your business can take advantage of the above features on desktops, Android devices, and iPhones. This allows your employees to communicate with customers and each other on their devices without any hassle. 
[Related: Grasshopper vs. RingCentral]
---
Vonage Business Plans & Price
Vonage Business doesn't offer a free trial and there are 3 pricing plans available. Their cheapest plan is the Mobile option that costs $19.99 per month for every user. The Premier plan costs $29.99 per month for each user and their Essentials plan costs $39.99 per month for each user. 
In addition to these pricing plans offered by Vonage Business, you're also able to have add-on features included with your plan for a higher cost. There's also a money-back guarantee offered by Vonage Business which provides businesses with peace of mind in knowing that they can get their money back if they're not happy with the services. 
---
Grasshopper Plans & Price 
Grasshopper offer 4 different pricing plans that include:
Pay As You Go –

This plan costs $12 per month and there are no minutes included with the plan. Therefore, there's an additional charge of $0.6 per minute. 

Ramp –

Costs $24 per month and comes with 500 minutes available. When you go over the 500 minutes, you'll be charged $0.6 per minute. 

Grow –

If you were looking to have more minutes for your business to use, this plan lets you have up to 2,000 minutes. There are also 2 local and toll-free numbers available. This plan costs $49 per month.

Max –

Grasshopper's Max plan costs $199 per month and comes with 10,000 minutes, 3 toll-free and local numbers, as well as a voice studio for recording greetings.  
Grasshopper has 7 integrations on offer that include Skype, LiveChat, Zapier, Google Voice, and more. These are common apps that many businesses use regularly which can make the process of integrating Grasshopper into your business smoother.
Furthermore, their VoIP services are compatible with desktops, Android devices, and iPhones. 
---
Customer Support
The customer support teams that are available with VoIP services are an element that you don't want to overlook. This is because implementing VoIP services into your business can be a big change, especially if you're changing from traditional phone systems to VoIP software. 
Having a reliable and knowledgeable customer support team can be useful in helping you to troubleshoot problems and ensure that all of your employees can use the software properly to boost productivity. 
Vonage Business
The customer support offered by Vonage Business includes a phone number and live chat support available online. Therefore, you're able to get in contact with a representative of the VoIP company for them to help you with any problems via the internet or phone call. 
Grasshopper 
Grasshopper also offers online and phone support, as well as a knowledge center. You can make use of this knowledge center for the more common problems that you can resolve on your own by using their resources.
---
Is There Any Training Offered by Vonage Business or Grasshopper?
Grasshopper only offers training in the form of documents that you and your employees can look at to get a better grasp on how to use their services. Vonage business, on the other hand, have documentation as well as webinars. 
Therefore, you can have an easier time learning how to use the VoIP services offered by Vonage Business to have it integrated smoother into your business. 
---
Is There Any Free Versions Of Vonage Business Or Grasshopper?
Both Grasshopper and Vonage Business don't offer free versions of their services. However, Vonage Business has a money-back guarantee if you aren't happy with their services. 
---
When Were Vonage Business & Grasshopper Founded?
Both of these VoIP companies were founded in 2003. So, they've been in the game and offering unified communications to businesses for many years which is why they've gained a good reputation among their customers. 
---
Conclusion
So, that concludes our review on the comparisons between Vonage Business and Grasshopper. They both offer great VoIP services with pricing plans that enable you to have more choice and freedom when implementing their software into your business. 
Both of the services offered by Vonage Business and Grasshopper are great for small businesses. Having said that, Vonage Business takes the win overall due to how its features and pricing plans allow small businesses to have a better opportunity to scale and expand their business. 
Hopefully, you can use the details found throughout our comparison post of these two VoIP services to feel more confident about choosing the one that's right for your business.