Our VirtualPBX Office Phone System Review
Private branch exchange (PBX) is among the most conspicuous enterprise telephony solutions for most business operations today. For a large business, chances are that an extensive (and expensive!) PBX unit handles the conference calls, specific extensions and all manners of voice mail customization.
Thanks to easy availability of high speed internet and cloud hosting solutions, however, the smaller business operations are rapidly adopting virtual PBX as a solution. Not only is it more affordable – not needing a hardware investment for on-site PBX systems – it is also simple to manage via a Web interface.
---
Brief VirtualPBX Company Overview
Founded in San Francisco in 1997, VirtualPBX is a top VoIP communications service provider with virtual hosted PBX solutions. In 2002, the headquarters were shifted to San Jose, California.
VirtualPBX long ago conceptualized a remotely hosted PBX system to handle all business telephony tasks such as managing multiple extensions, voicemail boxes and faxing from a single number, call routing, conference calling, automated greetings and identifying available agents to handle a call. Their former CTO and founder is also credited with coining the term 'virtual PBX' – not to be confused with the company name – which was to become a brand in and of itself by leveraging a combination of high-quality solutions, prompt customer service and evolving technology.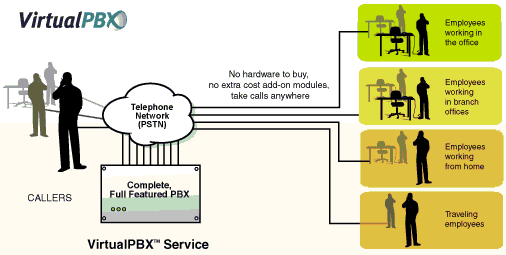 Over time, the company has continued to offer new solutions to stay ahead of the tech curve. In 2004, VirtualPBX was equipped with skill-based routing. It was further refined in 2007, with AutoRoute, to allow automatic queuing in call distribution units based on personnel type, caller ID (or area code), individual extensions, etc. VoIP interoperability and standard peer-to-peer solutions followed in 2008 and 2009. Today, the products are armed with market leading features, smartphone integration options and unified solutions for all communication channels like Dash.
---
VirtualPBX Cost
The cost for VirtualPBX can seem a bit tricky because there are three different options for payment with each option changing the monthly price. You can either pay annually, monthly with an annual contract or get on a month-to-month plan. Naturally the cost is the lowest with the first of these options and goes up accordingly. To lay it out in the simplest terms we have included a chart below for you convenience. Regardless of how you choose to pay any of the options VirtualPBX offers are a great deal but you can save a ton of money if you pay for the services upfront. Our suggestion is to try it out for the 14-day free trial and then if you love it and can afford to pay for a year upfront signup and pay for a year of service. You can always switch to a month-to-month plan after the first year.
Payment/Contract
Dash
Dash Unlimited
Office
Paid Annually
$15.99 (single user)
$14.99 (2-99 users)
$9.99 (100+ users)
$34.99 (single user)
$24.99 (2-99 users)
$19.99 (100+ users)
$33.99 (single user)
$24.99  (2-19 users)
$22.99 (20-99 users)
$19.99 (100+ users)
Monthly w/Annual Contract
$16.99 (single user)
$15.99 (2-99 users)
$13.99 (100+ users
$37.99 (single user)
$27.99 (2-99 users)
$22.99 (100+ users)
*Not listed
Monthly w/No Contract
$19.99 (single user)
$16.99 (2-99 users)
$14.99 (100+ users
$49.99 (single user)
$39.99 (2-99 users)
$29.99 (100+ users)
*Not Listed
---
The Service Plans
VirtualPBX offered plans can service single entrepreneurial ventures with their Dash (regular and unlimited) plans, as well as support large scale multi-national companies with their dedicated Office plans. The table below outlines a comparison of the basic feature sets of each plan.
Dash
Dash Unlimited
Office
Included Minutes
1,000 min + extra 300
min/user
Unlimited
Unlimited local minutes
VoIP Minutes Between Users
Unlimited
Unlimited
Plan minutes
Conference Minutes
Toll-Free Minutes
Plan minutes
Unlimited
1,000
Fax (outbound)
Plan minutes
Unlimited
1,000
Metered VoIP Lines
1/user
1/user
$5/month
e911 device fee
Included
Included
$2/month
Included toll-free number
Included local number
1
1
2
Department share options
Ring groups
Ring groups
Advanced ACD queue
Porting (existing number)
Self service
Self service
Assistance available
Call logs
✔︎
✔︎
✔︎
Call recording
X
X
✔︎
Smartphone compatibility
✔︎
✔︎
✔︎
Blind transfer
Attended transfer
Direct transfer
✔︎
✔︎
✔︎
Rental (desk phone, conference)
✔︎
✔︎
✔︎
Call blasting
✔︎
✔︎
X
30-day money back guarantee
✔︎
✔︎
✔︎
Dash -Fits the bill for regular, or single-user businesses. Cloud hosting allows 24/7 access to PBX support without any dedicated user or IT department. Can be always upgraded as business operations scale.
Dash unlimited – Among the most popular VirtualPBX plans, the additional $10 per month pays for itself if you anticipate several calls, conference calls between geographically distributed units, international satellite offices, or remote offices and faxed documents aplenty. The 'unlimited' bit works specifically for those features, with the rest of the features mimicking the basic Dash plan.
*Call recording feature is coming soon for Dash unlimited plan.
Office – The office plans are clearly targeted towards multi-national, or wide spectrum operations. The pricing is higher, with additional monthly costs for metered VoIP lines, e911 device fee and a limited number of conference calling and toll-free minutes. However, it is tailored for greater corporate-friendly features like:
Dropbox integration
Unlimited continental minutes (US and Canada) for main line and extensions!
Additional local and toll-free numbers
Porting assistance
---
FREE trial option
VirtualPBX is offering it's most popular plan – Dash as a free trial option for businesses up to two weeks.
Dash has had a meteoric rise up the popularity charts. Lon Baker, VirtualPBX COO confirms that Dash, built "from the data we got from our customers, their use habits, needs and feedback," has garnered critical acclaim. For the potential customers however, the word-of-mouth may not be enough and the FREE TRIAL would enable them to test it as a business solution before paying for it.
The offer includes: 300 minutes of call time or 2 weeks (whichever comes first), unlimited users (with profile and extension) and generates actionable feedback on the interface. The offer also generously includes ALL features of a regular Dash plan, making it a goldmine for IT decision makers to gather an insight into hosted PBX solution.
---
How Much Can Virtual PBX Save Your Business?
For all the great features, VirtualPBX plans above stand out for being highly affordable. At less than $35 even for a single user in Office plans, it comes in cheaper than any PBX hosted phone service. Here are some of the ways VirtualPBX can help provide savings for your company:
Cloud hosting – No expensive hardware to rent or store on-site for your business phone operations. Not even a fax machine or faxing costs to worry about!
VoIP options – simply ride the high-speed internet. No additional calling charges.
Unlimited continental minutes for US and Canada – No long distance calling expenses.
No fee for maintenance, support, or upgrades. US based customer support available as part of the package.
Real-time analytics, monitoring dashboard and browser based admin panel.
Cut down your costs further by availing the annual payment options. Plus, plan costs drop further for more users.
The overall estimates ring in between 40% – 80% savings over traditional PBX services.
---
The Features
A professional PBX business solution must offer more than just great service. Customers expect a seamless experience and critical features to retain their trust. Automated greetings, recording conversations, advanced call forwarding, extension management, transferring and many such industry-standard features are just some of the things VirtualPBX delivers. In addition, a friendly web-based interface to monitor each aspect of your service set ensures that your customers and clients are in good hands even during potential redundancies.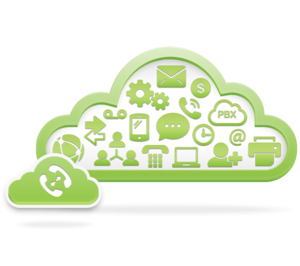 System setup and Account management
Hosted Service

– Leveraging the internet and public telephone network VirtualPBX accepts calls at a single number before appropriate routing kicks in. Such hosting feature obviates the need for on-site phone switch software or hardware installations.
Central Telephone Number

– Connect your remote office, satellite office, distributed locations, international locations and multiple employees with a single number. With targeted call forwarding, there is no longer a maze of extensions to navigate, even when the employees are on the move.
Multiple business numbers

 – each capable of distinct welcome message, forwarding options and extension management, can be used to designate different employee groups or track marketing campaigns and lead generation activity.
Extension management

– Advanced options to designate live options for different employee groups or departments and 'mail only' extensions for automated messages regarding directions to office, or hours of operation.
No busy line

 – VirtualPBX offers the unique option of no busy line ever. You can integrate it with landlines, cellphones and VoIP phones and let employees have a designated number at all times. Never need another line to avoid the inconvenience of 'busy' lines for your customers.
Web management portal

– Monitor all activity of your numbers and extensions using the state-of-the-art management portal from any web browser. Graphical charts, analytics tools, system configuration dashboard and tracking goals help you oversee operations, check messages, manage ACD queues, or control personal profiles. Administrator access allows flexibility to supervise individual extension owner profiles and re-calibrate goals to meet your business targets.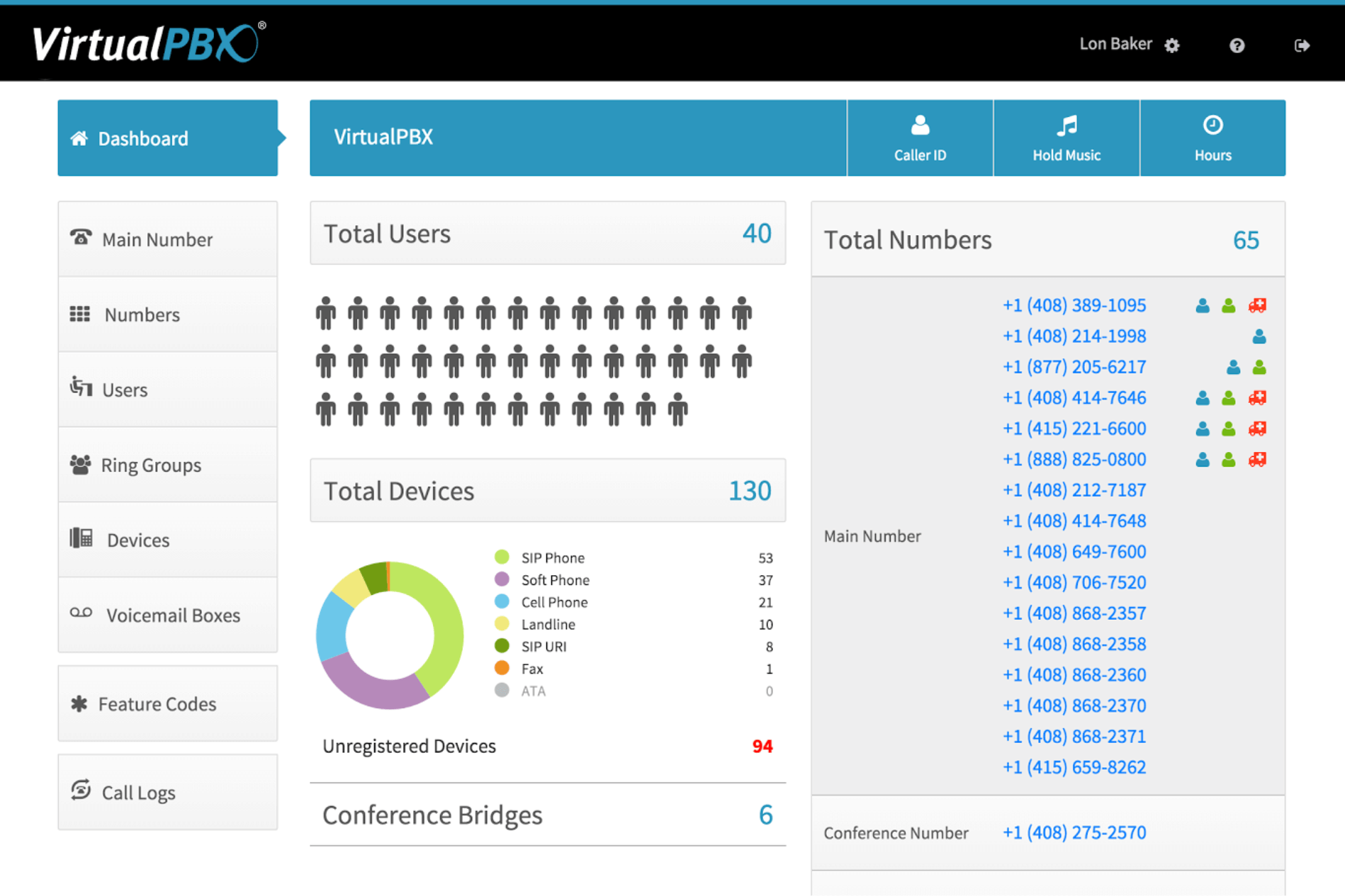 Award-winning data security features

– every call and information recorded is encrypted and protected. Physical data center access is guarded by highly secure identification checkpoints, fingerprint ID, key validation and government protected network.
Automated back-up and disaster recovery

– Any downtime in PBX units is costly. At best, it would miss a few calls; at worst, it could lose customers for good, miss lucrative deals and create lack of trust among existing customers. VirtualPBX publicly states a five nines (99.999%) uptime with secure energy and data back-up. Additionally, provisions for 'n+1' redundancy ensures minimum downtime even when systems fail or telecom units succumb, ensuring minimal service disruptions.
Call Routing
Call Routing

 – VirtualPBX shines with its advanced call-routing feature to assign extension(s) to designated person or groups. Save more on hardware switch and avail the benefits of routing calls to any phone, even cellular phones for traveling employees, back-up home phones, or alternate desk phones. Using your web management tool, you can configure the list of numbers, change the default number, activate or de-activate numbers from taking calls and more. Customize your automated company greeting and voicemail as well.
Flexibility of Phone unit

 – Virtual hosting and software management ensures you can receive calls on land-lines, smartphones, tablets, desktop computers, or any other softphone option. You can also assign longer ring time for international numbers to ensure calls are never missed.
Advanced Call Forwarding

 – Seamlessly transfer calls to to the operator, to another employee/ department, an ACD queue, or to an outside number with the transfer features. Additionally, setup to automatically drop calls into voicemail to record call-back information, message, or supervised call forwarding.
GeoRoute™

– This unique feature allows VirtualPBX units to detect call origin and automatically forward calls to desired destination person, department, or queue. Highly beneficial for distributed operation of franchises with geo-targeted sales operations. With area code detection, you don't need a generic receptionist. You may even route calls to partnered business operations with no service interruption.
SelectRoute™

– Another unique option which allows handling of non-standard business functions. Identifies alternate information input patterns, typically long numeric inputs (up to nine digits), or alpha-numeric details spelled out by caller for requisite business information. SelectRoute™ enables wider possibilities to handle specific marketing endeavors, product support and more.
Day and Night Modes

– customize your greeting, extension, answering groups, messagin and routing.
PBX Parachute

 – offers a standby PBX which can field calls in the event of external disruptions of power owing to natural causes, mechanical damage, or power fluctuations. PBX Parachute routes calls to preselected backup locations, personal phones, hotel phones etc. to ensure service continuity and minimal downtime.
Call Answering
Call Preview

 – Allows announcing name of company which owns the PBX unit, with distinction for each multi-unit extension or inbound number. Individual calling numbers are previewed electronically, as well as announced verbally with five customization options.
Advanced Caller ID (SmartID) 

 – Caller identification even for blocked or hidden numbers, allowing the end-user to weed out telemarketers, headhunters, phone scams, or simply cold calls. Even if your handset doesn't have caller ID functionality, you can hear verbal announcement of calling number (thanks to the call preview feature above!). Plus, displays the actual extension or 'follow-me' number called, so you can identify the group or individual the inbound call is intended for. Custom options by employee preference available.
Call Screening

– Admins can enable or disable screening globally for company-wide enforcement or at individual user level. Caller must announce their name before call is connected, allowing full identification.
Secure Call answering

– Password protected call connection options, especially for shared phones, home phones, or loaner telephony units for interns and temporary workers at work. Each individual may receive calls only after revealing their personalized password.
Alternate settings (Follow-me, DND) – Follow me setting allows setting up a back-up phone, cellular phone or internet enabled telephony device as the fallback setting for mobile users. Or users may simply enable Do-Not-Disturb (DND) to send the calls directly to voicemail.
Web-Based Configuration

 – Direct control using web portal for each extension owner, to over-ride or customize the global settings by administrator. Offers personalized touch and flexibility for features like follow-me number lists, fax messages, ACD queue logs etc. and reduced micromanagement work for administrators.
Fax and Voicemail features
Paperless Fax benefits

 – Incoming fax is automatically encrypted and displayed as PDF either on VirtualPBX web-tool, on web-enabled phones or directly attached to your email.
Notifications 

 – Never miss another critical message! Notification options include multiple avenues like web-based alerts, email alerts, text messages, or send the actual messages/ call logs / fax logs to designated email.
Centralized message storage 

 – VirtualPBX is like your cloud drive for centralized VM storage. Configure a single location (email, drive, phone inbox) or route them all to a personal number and your voicemail's are safe and accessible even when you're away from your desk, or traveling.
Personalized greeting

 – No more creepy, generic welcomes in electronic voice. The system allows your personality to shine through – record custom welcome messages for every number and extension.
Interrupt and Auto-callback – VirtualPBX addresses perhaps two of the most commonly cited Voicemail pet-peeves: lack of a callback number when caller has forgot to mention it in their message and ability to pick up the call by interrupting the voicemail just as it's being recorded. Now you can use the dashboard callback setting in the phone menu to return the call and simply press '#' to interrupt and get connected.
Auto-archiving – Save your business the embarrassment of having to reveal that your 'inbox is full' and it can't accommodate any more voicemail's. Avail the auto-archiving feature to stash away older messages so callers can always listen to your greeting and record their message. Professional and convenient!
Conference calls
Minutes

 – With 1,000 minutes for the Office plan, you get plenty of conference calling options. Dash unlimited plan has, (you guessed it!) unlimited conference calling minutes. For $49.99 a month, you can add unlimited conference minutes to Office or Dash basic plan (or 2.9 ¢/minute for pay-as-you-go option). These minutes are available for 10 seats on every conference call, on every listed device and extension. To add additional seats, pay $10 per person.
Direct conference 

 – Host a new-age conference without moderator assistance. Just a pin and password to access a conference call for maximum number of seats in the call. Besides, there is no hassle of scheduling involved. Just enter the phone key to engage the device and initiate conference for desired users.
Secure monitoring

 – Extension owners can monitor the conference from their web dashboard, block new attendees, password-protect the conference and supervise caller ID of attendees on the fly.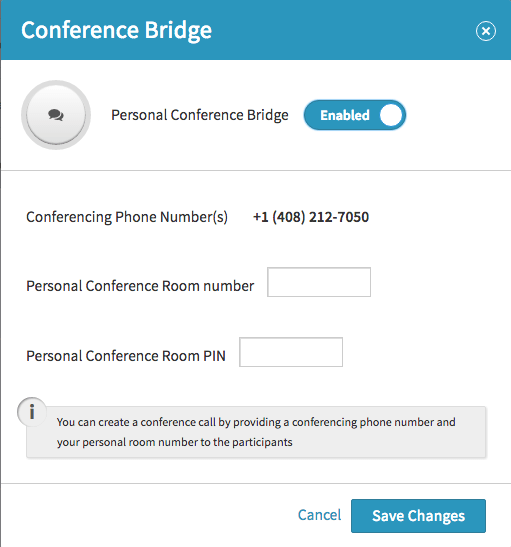 Greeting, Messaging, Call recording
Personalized Greeting

 – Record your own greeting message, custom for every line and extension. Audio-shy? no problem, opt for text-to-talk feature so you can enter the text and generate audio file in synthesized voice. Easy options to edit, re-record/re-upload and update.
Greeting message packages

 – Professional message options available, with over 80 voice-over actors, bilingual options of English or Spanish, different accent options, male and female voices and Snap Record. Check out the great packages available:
                 Single Message: $50 (less than 75 words)
                 Multiple Messages: $100 (less than 150 words), $50 for each additional 75 words
                 On-Hold w/Music: $135-$340 (200-800 words)
                 Standard Greeting: $10 (30 words)
Queue management
TrueACD Queue

– This adaptive queue management technology from VirtualPBX hunts available employee numbers or extensions, skipping over those on break and even programmatically adjusts to draw on preset reinforcement numbers. You may even determine wait-time for every number, to manage priority queues and handle multiple lines for inbound call traffic.
Improved connectivity

 – With smarter programming of numbers and extensions, available connections are leveraged quicker, optimizing response times and better connectivity than basic hunt groups.
Skill based routing

 – Identifies skill groups and uses the revolutionary smart routing technology to help your PBX unit neatly send queue traffic per group definitions. Work smarter, not harder.
Hierarchy routing

– Business end goal being more conversion from the hot leads, TrueACD queues can identify the best agents, fastest response time, most conversion results, or any other custom criteria for performance to route priority calls to them.
Overflow management

– managers, or supervisors can monitor the queues, check data, conversion rates, performance, agent wrap-up time, response time and host of other analytics information via the web portal. It also allows them to step in or get on board in case of high traffic. ACD queues can also be setup to work towards an even load distribution so there isn't a standard algorithm bogging down the busy agents.
Call waiting

– Signals for waiting calls for each number and extension to only the agent. Caller doesn't hear the annoying beeps.
Queue logs

– Check back on queue logs and history to fine-tune your future performance. You may access them at any time via the web portal, or set it up to be sent periodically to an email of your choice.
Customization options

– Custom greeting message, voicemail, music, call screening options and blacklisting options for each number allows you to truly treat each call with the relevance it deserves. You can even set limits on maximum number of calls on hold or in queue. Creating a virtual call-center is easier than ever before. Deliver a truly professional image of the business and empower your employees with best-in-the-class virtual PBX features.
Call recording
Call recording

 – Press '#9' at any point during the call to enable recording, or simply setup automatic call recording for any number or extension of the hosted unit. You can review the recorded calls later for training, supervision and service review.
Storage options

 – Default storage period of call logs in your console is 2 weeks. But that's hardly a downer. There is option for simple, one-click Dropbox integration, or setting up email forwarding to stow them away for longer. Simply log into vConsole and opt for "Save to Dropbox".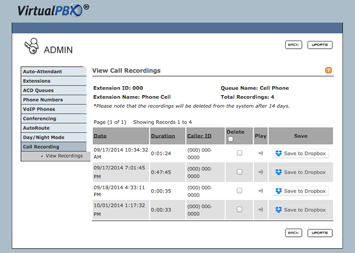 Plans for all Office plans begin at 1¢/min and you may upgrade to unlimited call recording for $29.99 per month.
Miscellaneous features
If you thought the comprehensive feature set above was all on offer, prepare yourself for more pleasant surprises! VirtualPBX units are armed with even more.
Web callback

 – When you're on the move, automatically route all your calls via internet to save more costs. Never pay the high costs of placing a call through hotels, international calls, sub-standard call quality of apps, or the hassle of carrying VoIP gadgets. Simply configure call routing over any internet carrier.
Dynamic operator assignment

– Enjoy the flexibility to decide the "operator" for different time slots. Instead of routing calls to specific numbers or extensions, select from any phone, location and even a back-up number of any telephone device (land line, home phone, cellular phone) for times when your regular operator is busy or unavailable. Caller would dial '0' and the web based routing operations would handle everything behind the scenes.
Call blocking

 – Head-hunters, telemarketers, cold calling exchanges, robo-callers, agencies – there is no end to annoying callers and now you can rest easy with the feature to blacklist entire agencies, or single numbers with a simple setting. Save more by restricting calls in and out of an area code where you don't do your business.
Toll free number

 – You also get a password protected feature to place calls from your own toll free number so you don't rack up bills for outbound calls you're making from phones outside of your business locations. Each extension can be tracked by admins to avoid abuse. So if you're calling from a pay-phone or a friend's phone, merely dial your toll-free number and avoid cost overhead.
---
The Customer Service
Unlike most other rival options and VoIP solutiosn, VirtualPBX has standout customer service reputation. The call center and technical support crew are equipped with technical know-how and affable of disposition.
The customer service is available via:
Toll free number –  1 (888) 825-0800 or International number – 1 (408) 414-7646.
Live Chat options
Specific support email for Customer Support (Support@VirtualPBX.com), Billing (Billing@VirtualPBX.com) and Account services (AccountServices@VirtualPBX.com)
FAQs sections on the site.
Sales and billing support are available 7am – 5pm PST (Monday – Friday).
Support is available 7am – 7 pm PST (Monday-Sunday).
The minimal downtime, disaster recovery and fault tolerance options ensure that customer issues are addressed quickly. Pricing and plan terms are seldom updated without multiple notifications prior to changes, ensuring customers are mostly in the know and have adequate time to switch or update service options if they so desire.
Depending on your business requirements may also pay to avail a 'concierge support' option, a priority queue to address your support tickets sooner than the rest.
VirtualPBX customer support isn't trained to resolve ISP, or internet issues either at your end, or the cloud provider. Like most VoIP services, you must be reliably integrated to an internet service to avail the benefits and minimize service downtime.
---
What We like?
Reliability – Hosting in a third party cloud is more reliable than traditional VoIP which serves over personal internet. Besides, options for disaster recovery, backup (Parachute), TrueACD queues (to manage inbound traffic) and host of other services ensure minimal service interruption and professional results. Despite SIP trunking and failover tests the on-site PBX units don't quite match up. It counts too, that VirtualPBX has a stellar 'five nine' stability record (99.999% uptime).
Saving – All plans are generous with minutes, fax options and basic features which pays for itself in few months. In addition, there is no cost of renting a physical space, in-situ PBX unit, ancillary hardware costs, server costs and associated electrical costs. Technology upgrade costs are for the service provider as well.
Flexibility – Integrates with all kinds of telephony units (business phone, fax units, cellular phone, home phone, portable devices). Scales effortlessly for multiple lines and extensions with custom options for each. Setup is easy and fairly quick for a complex unit.
Web based monitoring – options  via a simple dashboard panel, with charts, tables and data analytics
Security – Call logs, voicemails, notifications, agent-specific priority queues and admin panel information are all secured with password protection options. You may even have private call queues. Advanced call handling and blocking options ensure automated calls, spam calls and annoying marketing calls are weeded out as well.
Minimal training requirements – unlike on-site PBX the time and costs involved for training network teams, or customers to handle different devices and settings are non-existent. Centrally managed administrative panel with options to monitor and access individual accounts ensure the learning curve is easier.
---
What We don't like? 
With a solid set of features, excellent saving and friendly set-up there are no major complaints. In fact there have only ever been a couple of issues with VirtualPBX solutions:
Fee for customization services – With several competing options: RingCentral, Grasshopper, QuickPBX etc., there remains a competitive ground for free vs. paid services. VirtualPBX is richest in terms of features, but that also means there are monthly costs to many customization options and extended feature sets, especially those which require 'unlimited' access.
---
VirtualPBX FAQs
Setting up a hosted PBX unit does bring some familiar questions. We address a few of them here. You may always check with VirtualPBX website to find out more details on system configuration or general support.
Q. What kind of telephony options are compatible with VirtualPBX?
A. VirtualPBX can handle all traditional telephony units, integrated phone and fax machines, mobile phones and all softphone options (Windows, Mac Android and iPhone). In addition, their customer service may help you transfer over your Polycom phones or IP phones from third party providers like Phone.com, RingCentral and 8×8.
Your existing fax machine with ATA would also work with VirtualPBX, though it is recommended to keep a dedicated line to ensure better transmission quality.
Q. What is a POE?  Do I need it? 
A. Power over Ethernet (POE) phones are powered through the network whenever it is POE capable. VirtualPBX VoIP phones are POE enabled so it can switch seamlessly between compatible network or AC adapters.
Q. What additional phone equipment or software do I need to purchase?
A. Nothing! VirtualPBX needs just the payment for the plan of your choice and broadband internet (additional 80-100 Kbps bandwidth over your present data usage).
Q. Does VirtualPBX support international service? 
A. Yes, it does. Most of the plans include Canadian remote office options. International calling and faxing is supported at a subsidized rate per minute.
Q. How does VirtualPBX detect an outage? What is the service restoration plan? 
A. If your internet service goes down, or a power outage occurs without adequate battery backup, your IP phone will stop functioning. However, VirtualPBX allows you to pre-select a forwarding number to another phone to route calls in case the primary service unit is affected.
Q. What if I am not satisfied with the service or equipment quality? 
A. VirtualPBX offers a 30-day full money-back guarantee from inception of your service. You can always claim a refund if the service features don't match your business requirements. The company also supports the manufacturer's warranty on all telephony devices.
As a policy, all defective or RMA return equipment must reach the company first, before replacement units are shipped or the price is credited to their account. Valid RMA numbers must be visible in or on the return package.
Q. Can I port an existing number to VirtualPBX? Will I have the same number? 
A. Yes, you need to download and fill out a Letter of Agency (LOA) form to request the porting. You can definitely retain your existing number. The company endeavors to complete local number porting within 10 to 20 business days; and toll-free number porting within 3 to 5 business days. However, any unscheduled change in carrier porting terms, or incorrectly filled out forms may cause delays.
---
Overall Verdict
As a hosted PBX service VirtualPBX delivers on all counts. Taking away the on-site clutter of hardware, training costs for network personnel and renting of equipment saves 40%-60% over traditional business phone system options. A host of customization features, disaster recovery, back-up options and security ensures a professional, uninterrupted service time for the best impression of the business it represents.
There is room for growth in terms of some more free or competitively priced features but overall flexibility and scaling of solutions more than makes up for it. Most of all, it fares favorably when compared to VoIP or competing virtual PBX solutions in terms of call handling, recording, greeting and routing queue management.
---
Leave Your Review
Virtual PBX
Average rating:
0 reviews