A hotel phone system (Pbx) is essentially a telephone setup that a hotel uses. They have more or less similar functions as any standard business phone system with a couple of extra special features to accommodate the requirements of the hotel.
Several reputed suppliers provide hotel phone systems. Read on to learn about our favorite highly-rated PBX Hotel Phone Systems providers and our buying guide with even more tips to help you find the best hospitality phone setup that meets your exact needs!
Our Guide to the Top Hotel & Hospitality Phone System Providers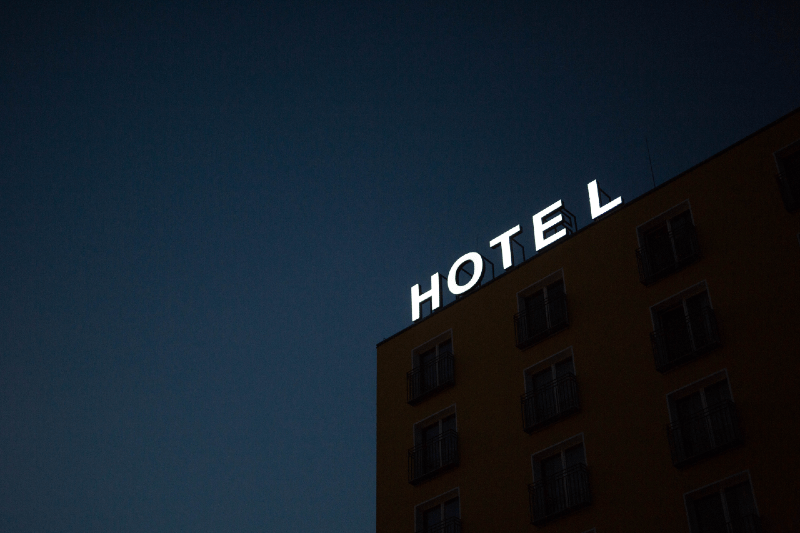 ---
1. Mitel
Mitel is a very popular phone system provider in the hotel industry. Mitel has been collaborating with various hotels that run the gamut from luxury to small establishments worldwide. Their communication solution is very straightforward, and the features are within the console. Moreover, the phone user interface is very user-friendly and does not require prior training to use it. This uncomplicated approach makes the hotel staff always aware of the guests' requirements
Features Included
Features in the Mitel Hotel Phone System such as automatic call distribution, voicemail, recorded announcements, auto attendant and so forth all boost services and hotel staff productivity
We have found Mitel's service and systems to be exceedingly flexible and easy to integrate with property management systems, hospitality applications, and telephones in the guest rooms. You can implement IP or traditional platforms.
Moreover, the Mitel hotel phone system is cost-effective, as well. You can also move it between public and private cloud sites without the need to invest repeatedly. Mitel also boasts a hospitality team, which collaborates with industry associations, owners, management companies, and consultants to come up with the ideal solutions for the most demanding clients of today.
Conclusion
In a nutshell, Mitel's hotel telephone system is a cut above the rest. It offers a software application that is easy to use and allows hotel staff to swiftly check-in guests, manage maintenance and cleaning schedules, and set hotel room status as the cleaning staff members get to work.
Mitel offers a broad range of hotel telephone system packages that include the non-touch screen and touch screen handsets.
---
2. Cisco
Cisco is one of the most reputable names in the realm of communications and technology. Cisco is also well known for providing hotels with feature rich phone systems and plays a pivotal role in the hospitality industry, offering various hotels with effective solutions to their continuously increasing requirements. Cisco now collaborates with hotels and motels to provide them with advanced communication setups and an incredible technological network.
Cisco Unified Hotel Communications is a quintessential example. This is a unified platform that covers the entire property. It features messaging, voice, messaging, voicemail, and video for everyone (staff at the hotel and guests alike). This particular platform is inside a network router that monitors and manages the communications in the entire hotel property. The hotel rooms are well-equipped with Voice over Internet Protocol (VoIP) and analog services.
Additional Features
Voice services
Group messaging
Wake-up calls
In-room dining
Intra-room calling
and much more.
Conclusion
Overall, Cisco is a great hotel phone system PBX provider, and we would highly recommend their hotel phone services for small motels and hotels. They offer a wide variety of options for bigger hotels as well, which include call logging, guest voicemail, and auto attendant.
---
3. NEC
NEC Hospitality Solutions are splendid for use in the motel and hotel industry and are highly regarded in hotels globally. Some of the biggest hotel chains in the world, including Marriot and Hilton, make use of NEC's hotel phone solutions. Its software is popular for a plethora of incredible features. More importantly, its users love it for the ease of use it offers to guests and the staff at the hotel. We found NEC hospitality solutions ideal for enterprise hotels.
NEC's smart hotel phone system solutions offer both off-premise cloud systems on-premise (virtualized or appliance models). NEC's hotel telephone system is more than capable of delivering the right solution for a single or a chain of motels or hotels. Their hospitality phone systems boost operational efficiency, speed up management, and better service provision, all at an economical cost.
Features
Moreover, NEC's hotel phone system comes with useful features galore for the hospitality industry. For example, the phones are programmable to notify when the rooms are available for booking or whether they require cleaning. The guests staying in the hotel may also benefit from a wake-up call and an assortment of other handy features, which make the NEC hospitality phone system an ideal choice for use in any motel or hotel.
All-in-all NEC does a great job of meeting hotels needs when it comes to business VoIP Providers.
---
4. 3CX
Summary
3CX's software does everything you would want a hotel phone system to do and much more than that as well!
The hotel PBX system of 3CX integrates seamlessly with PMS (Property Management Systems) to ensure maximum efficiency. This feature also allows the hotel staff members to perform most of the tasks from within the hotel management software.
Popular Features
3CX's hotel phone system's other features that we thoroughly liked include:
Displaying of guest name on management, reception and room service
Maid status allowing room attendants to set the status of the room through phone
Do Not Disturb, check out/check-in, wake up calls
Caller ID allowing front desk personnel to offer an entirely personalized service to the guest
---
5. PhoneSuite

Summary
PhoneSuite is one of the most prominent phone system providers in the world. The organization has installed more than 3500 phone systems for various big reputable hotel chains.  The PhoneSuite hotel phone system is ideal for small motels and hotels that have up to 60 hotel rooms.  Furthermore, Phone Suite also provides a very broad range of hardware options that include simple handsets for guest bedrooms and telephones for the front desk.
Advanced Features
There are also advanced optional features available in this Hotel Pbx System. For example, it offers extension cloning, which allows two phone lines per guestroom and a complete Project Management Systems control interface that responds to the concierge computer commands.
---
PBX Phone Systems for Hotels: A Buying Guide
In our guide below you can find more information to help you in deciding on which hospitality phone solution is right for hotel or motel!
What Are Key Features to Look Out for In A PBX Phone System for hotels?
If you are a hotel seeking to switch to a Virtual PBX phone system, there are some important features you should look out for in such a system.
Intelligent Messaging
In addition to hotel staff members having access to voicemail to email, the staying guests can get messages in their respective voicemail box (indicated by the telephone's message lamp) as well or as a message from the concierge or the front desk. Retrieving messages is as simple as a single touch on the handsets for either the front desk staff or the guest. The telephone handset's light is extinguished once the message is retrieved.
Any of the remaining voice messages at check-out are erased automatically from the messaging system.
Hotel Room to Room Dialing
The guests can very easily place a call to their colleagues or friends who are staying in the hotel by simply calling their hotel room number. You can have this feature disabled or enabled on a system, group, or room basis as per your preference.
Wake-up Call
The guests staying at the hotel can either have the front desk program their wake-up call or the former can do it themselves as well.
Guest Privacy
To preventing incoming calls, the guests can trigger the 'don't disturb' feature on their extension. An alternative strategy is to have the calls forwarded to the mailbox of the guests. The front desk might override the 'do not disturb' lest an emergency arises.
Hotel Services Information Messaging
Useful recorded information regarding the services of the hotel can be made available to the guests. By merely touching a button, the guests can access this information.
Direct In-dial
Outside parties may directly call the Guest rooms in the hotel. This is our favorite feature owing to the convenience it offers. There is no middle man involved when the outside party places the call to a guest staying in the hotel.
Hotel Room Status
The front desk can check the hotel rooms to see if a particular room needs servicing or is already clean. Once he/she has completed any tasks, the hotel room attendant can update the room's status from the phone in the guest room phone.
---
What Are The Main Advantages of PBX Hospitality Phone Systems?
More Latitude
Compared with conventional networks, Pbx hotel telephone systems give you a greater degree of freedom. The installation procedure is very straightforward as your hotel phone system provider maintains and keeps the server. All you have to concern yourself about is getting the phone handsets set up in all the right places in your hotel and even that your provider can do for you! Talk about convenience!
Saves on Expenditures
You will be able to avoid expensive installation fees and the hardware expenditures linked with costly in-house solutions.
Automation of Tasks to Save Time
Modern hospitality phone systems automate various elements of customer service, which saves ample time for your staff and your guests.
Such automated services comprise check out/in information, smart scheduling of cleaning of hotel rooms, and wake up calls.
---
Final Word on Hotel Guest Room Phones
There is no denying that a Private Branch Exchange (PBX) phone system is a pivotal piece of technology you should own to make the lives of your guests and hotel staff much easier. There are several hotel phone system providers available in the market, but the above mentioned ones stand head and shoulders above the rest.