The need for an efficient business communication platform in any business organization can never be overemphasized. Without an efficient communication system in place, it is impossible for teams to perform at the optimal level. Collaboration will be difficult and workflow will be significantly hampered.
In the past, businesses depended on traditional PBX systems for business communication. With technological advances and the advent of cloud-based services, however, most business are abandoning the old telephony systems. Voice over Internet Protocol (VoIP) phone systems are becoming the real deal in business communication.
There are so many benefits of using a business VoIP phone system including lower cost, improved productivity, improved security, and reliability. These and several other benefits are obtainable when you choose the right business phone system. There are so many companies currently providing VoIP phone service and choosing from the lot can be a challenge. By carefully considering what each commercial provider has to offer and comparing with other services, you can decide on which service is best for you.
Our Mitel Pricing & Features Review
---
What is Mitel?
Mitel is a telecommunication company that offers line of VoIP phone systems that are suited for all kinds of businesses. The network offers unified communication solutions with collaboration and conferencing tools to facilitate information flow within the organization. The tools and features offered by the Mitel VoIP phones help team members to stay connected and communicate more effectively, as well as help the business to stay connected with their customers in the most efficient manner.
The telecom needs of business organizations differ and Mitel understands this. The Mitel Cloud service covers different areas including business phones, MiVoice, MiCloud, MiCollab, and MiContact Center. While the services provided by Mitel are essentially cloud hosted, there are available on-premises solutions as well. Depending on the needs of any business organization, the full MiCloud service or other services that are packaged separately may be adequate.
The MiVoice service is basically for voice communication within the business organization; MiContact is basically for contact center operation just like building an advanced IVR menu; MiCollab is for enhanced collaboration and incudes applications like telepresence. Small and mid-size businesses can choose from these services all they need for efficient communication. The cloud service also integrate with other digital tools that a business might be using already to take business communication to a whole new level.
Mitel also offers industry specific solutions. The core service is the actual focus in these solutions but emphasis are also placed on certain features included in the service to make things easier for businesses in any particular industry. The education solution, for instances, emphasizes such important solutions as SMS features for quick relay of information to students or parents, emergency alert capabilities, and conference calling. Asides from the education package, there are industry-focused packages for healthcare, hospitality, financial services, housing, media and entertainment, government, professional services and retail.
---
Top Reasons to Consider Mitel
With so many other VoIP service providers in the market, why should you consider Mitel? There are plethora of reasons and we will briefly discuss the most important ones at this point:
Very Reliablem
When looking for a communication system to subscribe to, one of the most important factors a business must consider is reliability. You don't want to get hooked up to a service that can go off at any moment. It will not only affect your workflow but can also shake the confidence your customers/clients repose on your business. With Mitel, there is nothing to worry about your communication system. The company behind the service is well respected for their ability to recognize changing trends and create services that adapt to the evolving market. They also have the right infrastructure that ensures that your communication system remains stable without compromise. The system is hosted within a secure environment that meets HIPAA, SOX, and PCI compliance mandate. The service guarantees uptime in excess of 99% with no more than 35ms latency.
The Service is Highly Customizable
Businesses have different needs. Even businesses that belong to the same industry may have different needs due to differences in size and work pattern. The ability to customize a communication system to suit the specific need of a business becomes very important. This is one of the things you get with Mitel. A business can customize the service to fit their exact need. There are packages that are industry-specific to make things easier. Businesses can even decide to opt for on premises solutions when they are not ready to move to the cloud completely. Choosing just what they need and leaving out the rest helps businesses to keep communication effective and reduce cost at the same time.
Feature-Rich 
For a VoIP phone system that allows businesses to customize their services as they want, Mitel connect has so many features to make communication more fun. There are few phone systems out there that offer more than what Mitel Cloud service offers in terms of features. There is a comprehensive selection of calling, collaboration, contact center, mobility, and administration features to enjoy. Basic calling features like auto-attendant, call forwarding, call transfer, call waiting, caller ID, speed dial, music on hold, call screening, call blocking, dial-by-name and dial-by-extension, voicemail-to-email, and hunt groups are all available. Administrative features and tools that are available include account codes, extension assignments, and permissions. Available collaborative features include presence, instant messaging, video chat and others. There are also several call center features. We will have a comprehensive list of these features later.
Long List of Available Integrations
The ability of a communication software to integrate with other software or digital tools used by an organization is highly desirable. Mitel Micloud service can successfully integrate with business applications such as CRM, ERP, and ATS. Some notable software it integrates with include Jobscience, Maxhire, Linkpoint360, NetSuite CRM, Salesforce, Act, Desk.com, Microsoft Dynamics, Outlook, Zendesk, Zoho, Office365, and others.
Cost-Effective
While trying to communicate effectively, businesses also need to watch how much they spend. With Mitel connect, businesses can expect to pay minimum cost while obtaining top-quality services. The ability to customize the service to fit the specific needs of different business organizations means businesses will have to pay just for what they need. The pricing is also very competitive.
---
Mitel Features
As mentioned earlier, Mitel comes with a whole lot of features that help to give business organizations the sort of communication tools they require for their processes. We will list these features in different categories:
The Phone System Features
The phone system has a number of features that make calling easier and more effective. The features available under this category includes:
Auto-attendant
Call blocking
Call blocking
Call forwarding
Call screening
Call transfer
Call waiting
Caller id
Dial-by-name and dial-by-number
Hunt groups
Intercoms
Massage waiting notification
Music on hold
Paging
Ring tone personalization
Speed dial
Voicemail-to-email
Collaborative Features
Collaborative features are basically the features that facilitate collaboration within teams to drive processes. These are the features that bring team members together and let them communicate as a group with ease. In Mitel, the available collaborative features include:
Audio conferencing
Desktop sharing
Instant messaging
Presence
Video chat
Mobility Features
For businesses of the 21st century, mobility is very necessary. Most VoIP phone systems realize this and have some features that enhances mobility for their users. Mitel cloud service has specific features that enable users access their phone system even when they are away from the office. The phone system has iOS and Android mobile apps that can be used anywhere and anytime. These apps allow the user to make and receive calls from his/her mobile device, using the business line. Users can also conduct conference calls, and check their business voicemails through their mobile devices. In addition to the mobile apps, Mitel also provides softphone that works in desktop computers and laptops too. The desktop app/softphone let users to access all the features Mitel phones offer.
Contact Center Features
There are some features that are specifically meant to make your business contact center a lot more efficient. These features will ultimately help to improve your customer support team. Mitel is one of the very best business phone systems as far as call centers are concerned due to the array of features for that. The known features include:
Automatic speech recognition
Call recording
Call routing to personal queues
Customer callback
Email, fax, voicemail, SMS, and web chat integration
Hotdesking
IVRs
Optimized call routing by service level, customer identity, customer location, priority, schedules and skills
Prerecorded announcements
Silent monitoring
Universal queuing and enterprise resource matching
In addition to the call center features, the call center dashboard provides the system admin with a lot of information that helps to run the system more efficiently. A real-time view of how the call center is performing is provided with alerts on critical conditions. All media types including voice, email, and chats can also be tracked through this dashboard. The contact center service also provide a good amount of analytical data. All these can help the admin to schedule agents appropriately and supervise effectively. It also enables the admin to run successful outbound campaigns that focus on specific business goals.
Micloud connect and the entirety of the Mitel cloud have other features that may not be classified exclusively under any of the categories above. There are some features that are best described as administrative features like call permissions, feature permissions, account codes and extension assignments. There are other features that facilitate analysis and others that facilitate integration. They all work to ensure that the service gives you all you need to improve your business processes as far as communication goes.
---
Top Mitel Phone Systems
In addition to providing cloud-based services, Mitel offers its own line of IP and digital phones, consoles, conference phones and peripherals. The phones are generally top quality with a wide range of features. Mitel works with other known technology businesses including AirVM, Benbria, Martello Technologies, NetVitesse, Teldio, and YUPIQ. There is a dedicated team of experts that ensures that Mitel clients get the appropriate communication products that will meet their business requirements and enhance their overall experience.
The range of business phone systems from Mitel fit the requirements of different kinds of customers. The cloud phone systems and the on-site business phone systems as well as the possible integration with third-party business application improve business processes tremendously. Here are the top Mitel phone systems:
Micloud Connect
This guarantees secure and flexible cloud phone services and unified communications. It comes with robust cloud phone system features and is architected with enterprise-class security measures and redundancy at network, infrastructure, and application layers. It is backed by the Mitel's cloud Service Level Agreement. Formally called ShoreTel Connect CLOUD, it lets you move communication and collaboration to the cloud with confidence. The key benefits of this system includes improved team productivity, enhanced customer experience, improved business experience, and global presence. It is easy to get started with this phone system and you will receive convenient support going forward.
Micloud Flex
This is the phone system that lets you bring unified mission-critical communications into the cloud for increased efficiency, simplicity, and mobility. It was formally called Micloud Enterprise and was designed for large enterprises and companies that require a rich unified communication (UC) environment. This phone system comes with several communication features and offers world class reliability. The major benefits you will get from Micloud flex includes complete hosted UCaaS environment with customizable options and seamless integration, maximum flexibility and scale, easy collaboration, improved mobility, and the ability to delight your customers.
Mivoice Business
Mivoice business gives your business all it needs through an on-site unified communication and business phone system. The platform delivers voice, massaging, mobility, presence, conferencing, collaboration, and applications to users. It comes with an impressive feature set. It is also flexible and quite easy to manage. Mivoice offers all you need for on-site phone system so you don't have to combine tools from different vendors. Key benefits include comprehensive desktop suite, improved flexibility, fully integrated UC suite, and the ability to enhance your customers' experiences.
Mivoice office 250
This is another on-site phone system that is frankly more than just a phone system. It has the power to transform your small or mid-size business in a manner that will surprise you. While it can give you access to the latest IP phones and productivity enhancing applications, it can equally provide mobility solution to your employees. It comes with several important features to guarantee exceptional user experience. The key benefits of this phone system includes flexibility and scalability, hybrid solution, ideal for employees on the go, and cost-effectiveness.
---
Mitel Connect
Mitel connect basically unifies today's essential communications into a single application. The communication toolbox can improve your workflow in a manner that is better experienced than described. It makes it extremely easy for everyone in a business organization to stay connected at all times. It brings together such essential tools as IM, video, online meetings, on-the-fly conferencing and more under one platform so that everyone can communicate efficiently without moving from one app to another. It makes it easier for everyone to stay organized and connected and this can improve productivity tremendously. There are lots of features that comes with Mitel Connect as well as innumerable benefits.
---
Mitel Plans and Pricing
In the Mitel business phone system, what you will pay will depend on several factors including the features your business needs. Since businesses have unique communication needs, Micloud connect is available to all organizations under three plans:
Essentials
This is the basic plan that gives you all the basic VoIP and call control features. You will get PBX features, collaboration, and conferencing. At the moment, the essentials plan starts at $20.99 per user per month.
Premier
This is the most popular of the three plans. It offers all the features available in the essentials plan in addition to CRM integration and call recording. The internal MiTeam collaboration, parallel ringing, unlimited calling, and access to desktop & mobile apps are among the most significant things in this valuable plan. At the moment, the Premier plan starts at $26.59 per user per month.
Elite
This is the biggest of the plans in terms of features and value. As the name implies, it is for elite businesses, granting access to deeper analytics and collaboration. This plan offers all the premier features in addition to archiving and operator. At the moment, the elite plan starts at $38.49 per user per month.
It is important to note at this point that Mitel does not tie everyone in your organization to a single pricing tier. For the most cost effective estimate, you can mix and match users from multiple plans. What this means is that you can choose the amount of users in your organization that you want to add to each pricing plan. Make sure everyone have access to just the features that will let them communicate and work in the most productive way and this will help you save more too.
---
Mitel International Rates and Calling Options
When calling international numbers, Mitel have different criteria for billing their customers. When customers in the United States (lower 48) or Canada place standard calls to the other country, the calls are considered domestic outbound calls. But generally, calls to phone numbers outside the country where you are located are classified as international calls and billed in 6 second increments with a 30 second minimum. The rates for businesses located in such countries as the US, Canada, UK, and Australia are contained in pdf files that can be downloaded from https://oneview.mitel.com/s/article/International-Calling.
To dial international numbers, a Mitel user will have to:
Dial the outbound dial digit (usually 9) followed by the international access code (011)
Dial the desired country code followed by the local number
Engage the call
---
How is Mitel Customer Service Rated?
The Mitel Customer support is available 24 hours a day, seven days a week, all year round. Customers and prospective customers can reach the customer service via phone, email, or web chat. There are different numbers to reach the sales team and the support team.
Sales: (844) 510-0731
Cloud Support/Technical Support: 800-722-1301.
Going through several reviews, it is clear to see that the support team is always helpful when contacted. Most customers feel satisfied by the customer support team and rate them highly. This is another bonus for Mitel as a great service without customer support will not be too helpful on the long run.
---
Mitel Faxing
For many businesses, faxing remains an important element in communication. Mitel recognizes this and offers convenient fax solutions that enhance traditional faxing. Mitel fax is basically an email-to-fax service that can be used for inbound and outbound faxes. Supported document types (most if not all the documents you normally fax) can easily be attached to an email and sent to any fax number. For documents that are not supported and documents that are not saved on your computer, you will need a scanner to save them.
Inbound faxes are delivered to your email address seamlessly. Those sending the faxes will not encounter any difficulties at all as it follows the same process they use in sending faxes always: they use a 10-digit ShoreTel Sky Fax number (Mitel Fax Number). Your own outbound faxes can also be sent using a physical fax machine connected to a 'POTS' line.
---
Mitel Login
The Mitel login portal is easily available for partners, customers and employees to log in to their accounts. It is available at the Mitel website. From the page, users can login to all services like Micloud Connect and Sky, Mitel teamwork, and any other Micloud product. At the login prompt, any user will have to provide his/her login credentials (Username/Email and Password).
---
What We Like About This Service
There are certainly lots of impressive things about the Mitel service but some are just too outstanding that we have to talk about them gain. Here are the things we like most about this service:
Excellent Collaboration Features
With MiCollab, an available tool in the Mitel phone system, a business has all its members need to collaborate in the most efficient manner. This meeting and collaboration tool can help a business cut back on wasted time and resources – teams can work together from different locations and individuals can meet and work on the same project without leaving their desks or traveling. It is one of the standout tools in the service.
Availability of Industry Specific Solutions
Mitel offers industry specific solutions that can help their users to get ahead of their competitions. The features available in such solutions are basically those that help businesses in a particular industry improve their processes that enhance productivity.
The Ability to Customize Services Just As You Need
With Mitel, businesses can customize infinitely to get just what they need for their communication needs. It is even possible to assign different employees to different pricing plans. This will not only help businesses to save cost but will equally make every employee to be more focused and more productive.
Excellent Call Center Features
There are very few VoIP services that can be compared with Mitel in terms of call center improvement. The MiContact Center is an exceptional software that will improve how you communicate with your customers. It will enhance customers' experiences and make your business more customer-friendly.
The Availability of Top-Quality Phones and Accessories
Mitel provides their customers with top-quality phones and accessories to make business communication efficient and reliable. This eliminates the need to trust different vendors with your communication needs. Businesses are not obligated to Mitel phones but it is advisable.
---
What We Don't Like About This Service
While there are so many things that swept us off our feet about the Mitel cloud service, there are some drawbacks that we can't just ignore. Here are the few things we didn't like about the service:
Their Website May Be A Little Difficult To Navigate
Getting some helpful information from the Mitel website can be a little difficult. There also seems to be lack of knowledge-base or helpful information/guides for users. You will have to dig deep to get some questions answered or you call the support team.
There Are Complaints about Performance Issues
There are some complaints from Mitel users that the quality of the service can deteriorate, resulting to echoing, choppiness, and other performance issues. These are majorly due to internet bandwidth issues and internal network configurations. It can be improved.
---
Top Mitel Alternatives
If you are not convinced that Mitel is the right service for you, there are alternatives that you can consider.
Mitel vs. RingCentral
Mitel differs from RingCentral in so many ways. While there are three plans with lots of customizable options in Mitel, RingCentral offers four pricing options. While the Mitel essentials plan starts at $20.99 per user per month, RingCentral essentials plan cost between &19.99 – $39.99 per user per month. In terms of features, RingCentral Meetings is a multipoint HD video conferencing feature that makes RingCentral appealing but Mitel has several calling, collaboration, and call center features.
Mitel vs. Nextiva
Mitel and Nextiva differ in several ways. The cheapest plan in Nextiva is between $34.95 and $19.95 per month while Mitel pricing starts at $20.99 per user per month. Nextiva does not offer the sort of flexibility that Mitel offers even though it has lots of interesting features too.
Mitel vs. 8×8
8×8 as a hosted business VoIP phone service provider is a giant in the industry and can be considered a great alternative to Mitel. They are both used by the same types of businesses but 8×8 doesn't offer the level of customization that Mitel offers. Starting price for both is similar: Mitel starts at $20.99 while 8×8 starts at $19.9 per user per month. 8×8 offers more support for its customers than Mitel.
Mitel vs. Cisco
Like Mitel, Cisco is a prominent phone system that offers lots of incredible features to its customers. While Mitel caters for all kinds of businesses, Cisco is more focused on large businesses. Mitel also offers more flexibility than Cisco. Mitel is also more cost-effective than Cisco.
Mitel vs. Avaya
Avaya is another heavyweight that can be considered as Mitel alternative. They are both excellent as telephony and contact center solution providers but are different in many ways. While Avaya cloud is known for consistent support, easy scalability and complete mobility, Mitel Micloud offers advanced security, CRM integration, and flexibility. While Mitel pricing starts at $20.99 per user per month, Avaya basic pricing, as reported by third-party website, is about $25.00 per user per month.
---
Mitel FAQs
Q: Does Mitel offer Free Trial?
A: It is unlikely that Mitel offers free trail as there is no mention of that in their website. You can contact the sales team, however, to be certain.
Q: Are Mitel and ShoreTel the same thing?
A: Basically, yes. ShoreTel has been acquired by Mitel and all its currently available services are under the Mitel brand.
Q: Does Mitel also offer online Faxing?
A: Yes. The Mitel faxing solution is an improvement to the traditional way of faxing and works excellently.
Q: Do I need to buy Mitel Phones before I can use their service?
A: Not really. You can use Mitel solutions without their phones but it is recommended that you buy their phones to enhance your communications capabilities.
---
Final Thoughts on Mitel Call Center Phone Systems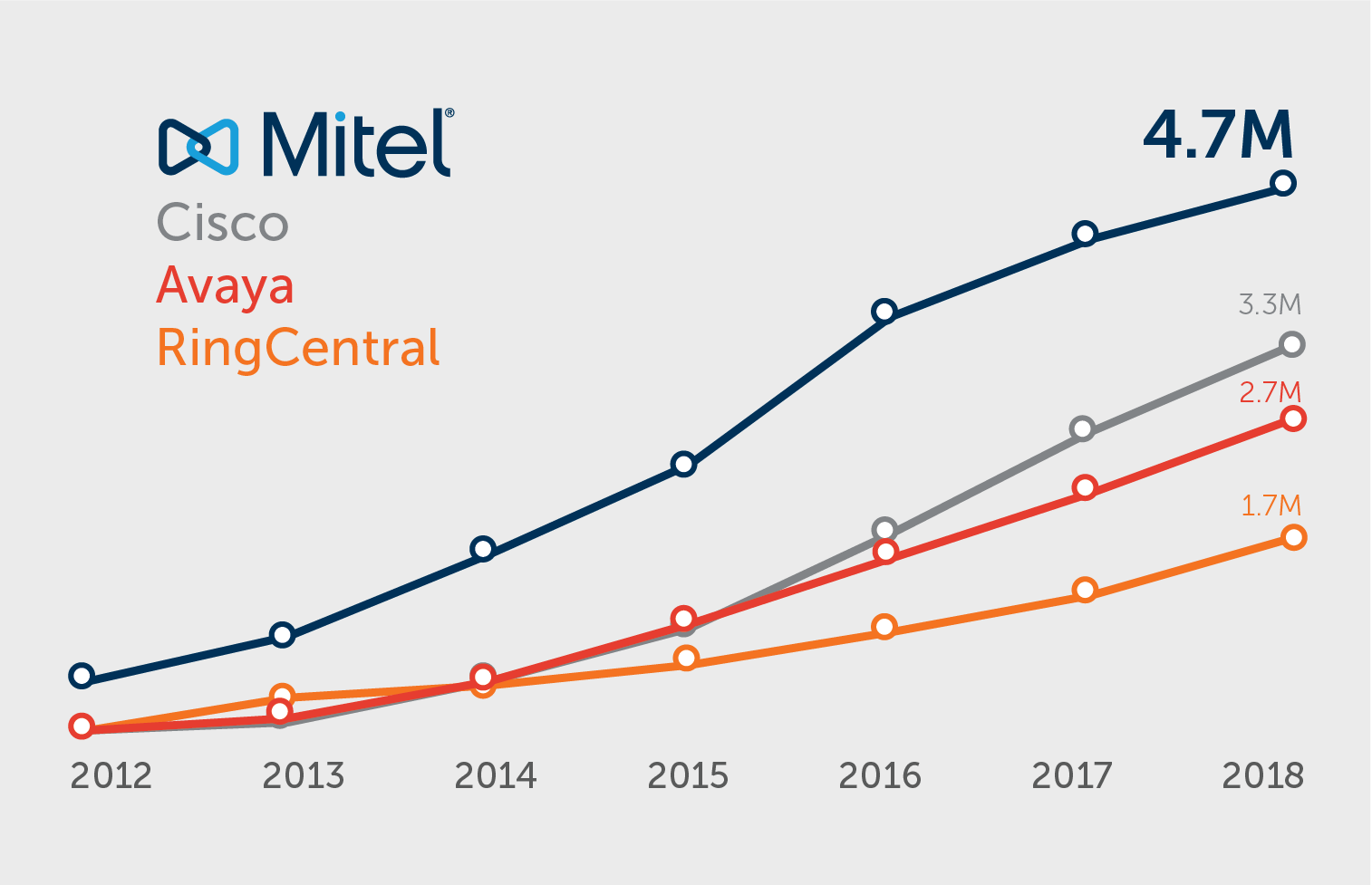 Mitel Call Center Phone Systems rank among the very best business phone systems for call centers. The Micloud connect is also an incredible service by all means. Mitel is ideal for all kinds of businesses, even though mid-size businesses and large enterprises will find it more helpful. The phone system has adequate features to drive the communication needs of any business organization. The flexibility of the service is also commendable: it is available in multiple hosting options and service plans. Users can also customize their account to fit their business needs perfectly. Though some people may consider the service to be on the expensive side, a proper understanding of what Mitel offers and customizing your service perfectly will see you enjoy its cost-effectiveness.
TheVoIPHub
Average rating:
0 reviews