Effective communication is fundamental to the success of any business organization. It is needed for sustained collaborative efforts and can make all the difference for businesses when they are interacting with their customers. Business communication can be in-house or external. Each aspect is crucial to the success of organizations and it is always best when there is a unified system for communication. While effective communication will ultimately improve productivity in any organization, lack of it has so many negative consequences including diminishing productivity, delayed projects and disgruntled customers. In the long run, a business that does not have an effective communication system will end up on the losing side.
While efficient communication is more of an organizational thing, there is nothing much that can be done in any organization when there is no efficient system to drive communication. Just like in every other aspect of life, VoIP has been changing how businesses handle their communication needs. In the past, telegraphs were popular until they were replaced by telephones and emails. Currently, video conferencing is becoming more desirable while faxing remains relevant. Finding a communication suite that supports the ideal communication channels for any organization is essential.
While trying to find the perfect communication tool, businesses consider the features offered by each service as well as the cost implication. It is important to get all the important features, but it is also important to get them at the right price. In the recent past, businesses used traditional in-house PBX systems for their communication needs but this is no longer the case as all kinds of businesses are now using VoIP phone services for business communication. These cloud hosted service providers are more efficient than the traditional phone systems, have more features and ultimately more economical. There are a number of options when it comes to VoIP phone service providers and one of the very best in the market is 8×8 communications.
Our 8 by 8 Virtual Office Phone System Review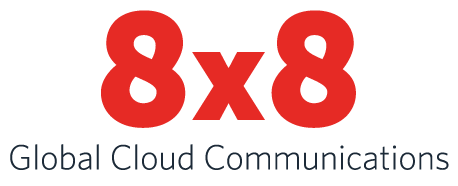 What is 8×8 Communications?
8 by 8 is a VoIP phone service provided by 8×8 Inc. The company (like their main competitors Nextiva and Ringcentral) is a premium provider of cloud communication and customer engagement solutions. Its services cover such areas such as cloud-based voice, contact center, video, mobile and unified communications. 8×8 caters to small and mid-size businesses along with large enterprises across all industries. The US based company is often referenced by some experts and industry insiders as the best phone system around.
Founded back in 1987 as Integrated Information Technology, Inc., or IIT, the company started as a fabless vendor of semiconductor products for the graphics chipset market. In the early 1990s, the company started working on solutions for the video conferencing market. It was around this time that it changed its name to 8×8, too. It transformed steadily over the years, producing and marketing technologies related to the VoIP industry. Over the years it has established over 140 patents for its proprietary solutions.
8×8.com launched fully as a VoIP service provider in 2002 under the Packet8 brand. A year later, it launched its own video phone services on the Packet8 network. From that point, the company has launched several services, acquired several companies and catered to the communication needs of businesses around the world. It has also earned recognitions: this year, Gartner positioned the company in the Leaders Quadrant of its Magic Quadrant for Unified Communications as a Service (UCaaS) for the seventh consecutive year. The company was recently awarded the 2018 Best Practices award for the North American Integrated CCaaS and UCaaS Competitive Strategy Innovation and Leadership Award. 8×8 is headquartered in San Jose, California, USA.
For years they have distinguished themselves in the VoIP market in terms of the quality of services they provide and the way they treat their customers. Quality assurance is evident in their business practices and this is clearly one of the reasons they have high profile customers including McDonalds and Allstate Insurance. According to the company's website www.8×8.com, the phone system has earned the trust of more than 1 million business users.
---
Why Consider 8×8 Hosted VoIP?
Among the numerous VoIP phone service providers, why choose 8×8 for your business communication needs? Considering that many businesses, including top brands in different industries are already using 8×8 communications, there must be something special about their services. According to the company, what they offer is "so much more than a business phone system". Still in need of reasons to use this phone service? Here is a highlight of some of the biggest advantages businesses can gain from choosing 8×8 virtual office:
Fully in-house platform- There are several VoIP service providers that depend on third party technology to run their cloud-services. This is not the case with 8×8; the company uses its own in-house platform, having invested heavily in infrastructure. As mentioned earlier, the company boasts of over 140 patents and is fully dependent on its own resources. This makes the phone system very reliable with 99.99983% uptime. 8X8 Inc. also has a global network spread across 12 data centers to ensure a quick, clear connection for every user.
Easy to use – Another reason to consider 8×8 is the fact that it is very easy to operate. From the set-up process to activation and getting started, the 8×8 phone system is one of the easiest systems to use. Easy self-service configuration means that users can make changes on-the-go even without the support of a full-time IT professional. This makes things faster and helps everyone to communicate better.
Affordable and flexible pricing – Despite offering best-in-class VoIP phone services, 8×8 is very affordable. Their pricing structure is also very flexible, making it simple for different sized businesses to find the plan that will be ideal for them. Some options businesses can choose from include unlimited calling plan, metered calling plan, a global calling plan, and even an annual option for the unlimited plan at a reduced rate.
Scalability – With 8×8 communication, scalability is not an issue. The system is highly flexible and if your business needs to add more phone lines under your active plan, it is as simple as adding new users. The cost will automatically be adjusted. It is also easy to remove extensions if there is need for downsizing.
Rich service portfolio – Like other top service providers, 8×8 is not just about voice calling. There are several other services offered by the system in addition to its cloud based phone service including SIP trunking, call center solutions, video and web conferencing solutions, and mobile app for business communication. Some of the services like web conferencing with video, for instance, are only available for virtual office pro users.
---
8×8 Features
As a top VoIP service provider, 8×8.com has an array of incredible features that make business communication smoother. There are standard features that are available to all users as well as optional features businesses can add according to their specific needs. There will not be enough space to discuss all the features in details so we will be touch on the highlights here.
Standard Features
Basics – They include Unlimited calling, 3-Way Calling, Business SMS, Call-Forwarding, Conference Bridge, Caller ID, Caller ID Blocking, Call Waiting, Call transfers, Direct Phone Number, Do Not Disturb, Group Call Pickup, Additional Ring Group, Group Intercom Paging, Voicemail, Call Park, Voicemail to Email, Internet Fax and much more.
Phone System Features – The phone system has a number of features that make calling easier and more effective. Auto Attendant replaces the need for a receptionist with a virtual receptionist; Ring Group enables a group of extensions to share the distribution of incoming calls; Number Porting is supported to let you bring your current number with you when moving to 8by8 phone; Music on Hold plays music or marketing messages as your customers wait on the line; Directory Assistance is a feature that lets you list your business with a Directory Assistance Listing provider easily; The Hosted PBX is an economical and effective cloud alternative to costly and clunky PBX equipment; and Extension Dialing lets users call anyone in the company, no matter where they are, by simply dialing the appropriate extension number.
Collaboration – There are a number of features that facilitate collaboration within teams to drive processes. Instant Messaging lets you communicate with business contacts instantly; Conference Bridge lets you hold conference calls from your 8×8 Virtual Office at no additional cost; Virtual Office Call Recording (Only available to Virtual Office Pro users) lets users record incoming and outgoing calls and play them back if need be; Online Meetings (Only available to Virtual Office Pro users) is the web conferencing service; Instant Integration allows you to bring all your contacts from 8×8 virtual office desktop, your Gmail, Lync, Outlook, Office 365, and more to your fingertips; and the Presence feature let users see who is available before trying to contact them.
Mobility – There are special features of the 8×8 phone system that makes mobility easier and better. Virtual Office Mobile for iPhone and iPad lets you access and use your account through these smart devices; Virtual Office for Android let you use the business phone service on your Android smartphones; and the 8×8 Virtual Office Softphone transforms your computer to a web-based phone to use all your virtual office voice services at no extra charge.
Management – The 8×8 Virtual Office can be managed easily, thanks to some amazing features. The 8×8 Account Manager is an easy-to-use administrative portal that lets you set up and configure your phone system easily; Virtual Office Online is a web-based dashboard that lets users access, manage, and use their phone features online; and Virtual Office Desktop is the application that is compatible with windows and Mac, and integrates a business softphone with other features like online voicemail, instant messaging, corporate directory, video calling and more.
Integration – 8×8 has some of the most extensive integration options in the market. Businesses get G Suite Integration, Salesforce Integration, Zendesk Integration, NetSuite Integration, eAgent Integration, Click2Pop, Web Dialer, Skype for Business Integrations, Desk.com Integration, Google Calendar Integration, Outlook Integration, ACT! Integration, Salesforce Integration (legacy), Okta Integration, and Aryaka Integration.
Optional Features
Custom Management – The Virtual Office X8 Edition comes with an inbound and outbound contact center, a drag 'n drop IVR, predictive, progressive and preview dialing and much more.
Business Options – Additional features offered under Business Options include Barge Monitor Whisper, Branch Office, Hot Desking, Call Queuing, Overhead Paging, Virtual Attendant, 4-Line Appearance, Virtual Extension, Power Key Service, Additional Ring Groups, Additional Auto Attendants, and Switchboard.
Phone Numbers – 8×8 offers International Local and Toll-Free Numbers that help you to expand your global presence; A Toll-Free Virtual Number, which is an inbound number that rings to your auto attendant, ring groups, or your 8×8 line, lets US callers reach you at no cost to them; Virtual Phone Number rings to a primary 8×8 line and eliminates long-distance toll charges for individual callers within that number's area code.
Analytics – The Virtual Office Analytics Supervisor gives insights on call activity for your 8×8 phone system or any selected call queue or ring group; Virtual Office Analytics Essentials is another optional feature.
Standard Fax Solution – 8×8 fax services work with standard fax machines. It can connect your normal fax machine to the internet through an analogue terminal adapter (ATA). The fax plan is also flexible.
Additional Services – The Audio Production Store is a professional voice recording service for auto attendant or IVR. Professional Installation is also available for subscribers that need a professional team to install their phone system, though it is quite easy to install.
---
8×8 Desktop App
8×8 virtual office is all about making business communication more efficient and that is exactly what the Desktop app helps to actualize. The app, which is available for PC and Mac delivers exceptionally in terms of call quality and native features. It is basically a comprehensive unified communication application that integrates many features including business softphone with visual voicemail, corporate directory, instant messaging, fax capabilities, presence, video calling, instant messaging, web conferencing and social media.
There are so many interesting things about this native Windows and Mac applications. The softphone feature, for instance, supports additional features that make using your computer for communication more efficient. It supports HD audio with transfer, 3-way calling, video calling, easy-browsing through the corporate directory, visual voicemail, importing contacts from Outlook, Exchange, Google, and Skype for Business contacts. Optional premium features include SRTP secure audio and Call Recording.
The 8×8 Virtual Office desktop has been improved over the years. Each new version come with improvements. The current one has a wonderful interface and is extremely easy to use. It is perfect for continuous use throughout the workday and most of your employees will easily fall in love with it. The 8×8 Virtual Office Download is also straightforward once you are a customer.
---
8×8 Mobile App
8×8 Virtual Office also makes it easy for you, your employees and customers to stay connected on the go. With the virtual office mobile app, you can manage your business communication from anywhere at all. Using the account only requires that you have an 8×8 Virtual Office account. Once you have one, downloading is simple and straightforward. From Google Play, you can get the mobile app for Android devices while from App Store, you can get the app for iOS devices.
The app let you have access to the major communication features of the 8×8 Cloud Communications. This means that everyone with 8×8 Virtual Office account can make business calls from their cellular debice and the ID will still show that the individual is calling with the company's phone number. With the app, users can enjoy phone calls, video calls, meetings, voicemail, chat, corporate directory and more from their iOS and/or Android devices.
8×8 mobility brings flexibility to business communication. The virtual Office App also supports 3-way calling, fax management, HD Voice, Secure Voice (as premium feature), and Virtual Office Meetings with HD Video (as premium feature). As stated earlier, all you need is to have an 8×8 account, download the app from relevant app stores, login with your username and password and you have the entire 8×8 phone system on your mobile device.
---
Service Plans and Pricing Found on 8×8.com
8×8 pricing is quite flexible in a manner that suits different business sizes with many different service plans at different price points. You will have to choose the one that suits your business depending on the features you need and your budget. Scalability is also easy with most of the plans.
Virtual Office Edition Service Plans
With the Virtual Office Editions you have a powerful, modern business phone system that is easy to use and has top-of-the-class features. It boasts of simple configuration for easy administration and is equally mobile friendly. You will also enjoy reliable service with 99.99999% core uptime. Quality internet faxing is also guaranteed with desktop and mobile fax options. You will also enjoy unlimited global calling to up to 47 countries. The premium features are also available to people using this plan.
Virtual Office X2 – $25 per month per user and comes with the basic communication, messaging and collaboration features to get the job done.
Virtual Office X5 – $35 per month per user and comes with enhanced capabilities like call recording and larger conferences.
Virtual Office X8 – $55 per month per user and comes with an advanced set of features including super analytics and contact center capabilities.
X Series Cloud Service Plans
This is a single intelligent system for voice, meetings, collaboration, call center and more. It is an enterprise communication solution that is easy to manage and improves overall efficiency. Even with the basic plan in this series, you have access to unlimited calling to 14 countries, video and audio conference for up to 100 participants, call recording, personal call analytics and integrations with SFDC, Zendesk, NetSuite, and Dynamics. Up the ladder, there are many additional capabilities. For X4, X6, and X8, the number of unlimited calling zone countries for phone and contact center is 47 countries, including the 14 available to X2 users.  The ultimate package, X8 have such unique features as speech analytics, multichannel contact center, predictive (or progressive) outbound dialer and more. The pricing for the X series is very flexible.
X Series X2 –  Essential capabilities to get the job done.
$28 per month per user for 1-99 users
$24 per month per user for 100-999 user
$22 per month per user for 1,000+ users
X Series X4 – Most popular plan and ideal for users that need more scalability.
$48 per month per user for 1-99 users
$44 per month per user for 100-999 users
$42 per month per user for 1,000+ users
X Series X6 – More features for businesses with complex communication needs
$115 per month per user for 1-99 users
$110 per month per user for 1-999 users
$105 per month per user for 1,000+ users
X Series X8 – Ultimate plan that comes with the most comprehensive and advanced features
$175 per month per user for 1-99 users
$170 per month per user for 100-999 users
$165 per month per user for 1000+ users
If you want a quote you can visit https://www.8×8.com/resources/tools/request-a-quote
---
8×8 International Calling Options
8 by 8 is quite friendly for those that call internationally on a regular basis. When you settle for the right plan for your needs, it is possible to save between 50-90% on international calls.
For most of the popular 8×8 business calling plans, users can make calls to specific countries for no additional charge. The8 plans in the 8×8 Virtual Office and Virtual Office Pro are:
Unlimited extension plan – This gets you unlimited calling to the continental US, Canada, Puerto Rico, Guam, US Virgin Island, France, Ireland, Italy, Spain, and the United Kingdom. The unlimited extension is for worldwide network calls with any 8×8 customer, business-class voicemail, and a unique direct inbound dial (DID) telephone number. Calls to mobile phones, premium, special, and information service numbers are not covered by the plan.
Metered Extension – This is very similar to the Unlimited Extension Plan. The only real difference is the price and minutes included. It offers unlimited inbound calling, unlimited calling to and from any 8×8 extensions, 250 minutes of outbound calling to the US and Canada: 2.9 cents per minutes is additionally charged after the 250 minutes and the extra charge also applies to any other international toll. SMS is not included in this plan and it is not available in Australia/ New Zealand.
Global Plus Extension – This grants you unlimited calling to over 40 international locations. Calls to premium, special, and information service numbers are not covered by this plan. It supports landline and mobiles in most of the international locations but supports only landline in few countries like Argentina, Cyprus, Italy, Taiwan, Turkey, and few others.
For locations that are included in the plans, international rates apply. The rate differs from place to place. You can easily find out the international calling rate for any country by visiting www.8×8.com/resources/tools/international-call-rates/business-and-residential.
---
How Much Could 8×8 Save You?
No office needs are the same, so there's no standard formula to determine how much a business can save by switching from a landline provider or traditional PBX installation to an 8×8 cloud VoIP setup.
There are definite savings to be had for many companies, though. Start with the unlimited local and long-distance calls which are usually not available through old-school telcom companies, and features like caller ID, voicemail and auto-attendant which can add a lot to the average monthly phone bill. Add in the amount that's saved on PBX hardware or software (plus the maintenance costs associated with servicing existing equipment), and the fact that no IT staffers or expensive service calls are required to maintain or upgrade a VoIP system – and you've saved quite a bit.
IP Phone equipment info can be found at: www.8×8.com/communications-solutions/equipment/ip-phones
---
How is 8×8 Customer Service Rated?
Great services without the right support does not amount to anything. From all indication, 8×8 cares much about its customers but how exactly does the company take care of the customers? 8×8 Inc. seems to have strong emphasis on customer satisfaction and they have made some remarkable moves to make things right for their customers.
On the company's website 8×8.com, the support area has an extensive knowledge base, neatly arranged in a manner that users can easily find real help. There is documentation with extensive setup guides, downloads with firmware/software programs, plug-ins and APIs for integration and FAQs section with hundreds of entries that can solve your problems. The knowledge base is clearly the most helpful way 8×8 takes care of its numerous customers.
For 8×8 phone support, the working hours of the company's customer services leave something to be desired. For a company that is so big, one may expect a 24/7 customer support via phone. This is not the case as the representatives are only available by phone from 5am to 9pm Monday through Friday and 5am to 5pm on Saturday. They are also available by chat from 6am to 5pm Monday through Friday.
In addition to this conventional support options, there is a virtual expert user's forum for 8×8 tech support. Customers have had several issues resolved through these other online forums. In all, it is actually easy for 8×8 customers to get whatever help they need to fix any hitch with their 8×8 VoIP phone system.
Most 8×8.com reviews show that customers are happy with the services they are getting. There are some complaints, however, but it is clear that most users are satisfied with their interaction with the customer support team.
---
How to Contact 8×8 Support?
To contact 8×8 support, there are different options you will have to choose from depending on your purpose of trying to establish contact.
Customers can simply find the best option for contacting 8×8 company by visiting the 8×8 contact page.
To contact support directly, users can visit https://support.8×8.com. They will be directed on how to get to what they want exactly.
At the technical support front, users can create a case, chat with the 8×8 tech support team, or place a call through the Need to call option. It is possible to create multiple cases when users are faced with multiple issues. Chatting with the support team can be started after completing the case submission form and is available during chat hours: 5am -6pm, Monday to Friday. It is also available for Virtual Office and Virtual Contact Center only. Calls in reference to existing cases require callers to have Case ID Number ready.  There are numbers for Australia, New Zealand, and the United Kingdom. The numbers can be found on the Support Link above.
---
8×8 Setup Process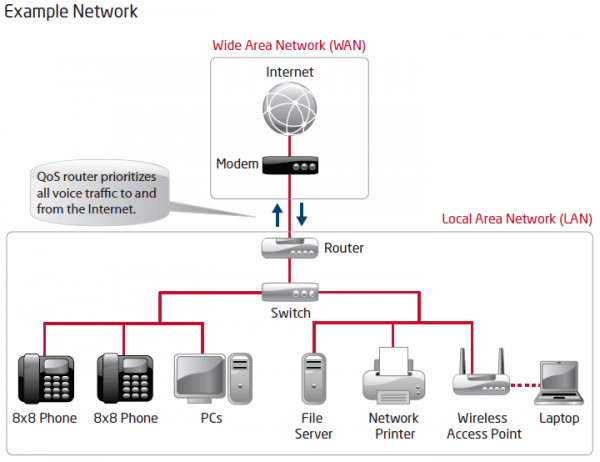 Another interesting thing about 8×8 is the simple setup process. It takes just a matter of minutes to get the phone system activated and you can configure it to your exact needs right away. After signing up with the company, your package will be sent to the address you specified. It will include an IP phone, a power cable, and an Ethernet cable. The 8×8 phone is preconfigured so you just need to plug the Ethernet cable to the LAN port then into the internet jack. Connect the power cable and connect the phone handset.
The 8×8 phone will reboot and connect to the network automatically. An activation button will appear almost immediately, press it and enter the activation code that was sent through the welcome email from 8×8 when you signed up. The phone will restart automatically and you are ready to go. Before using the 8×8 Virtual Office Phone, there is need to create a profile in the account manager. This is where you can create and edit user profiles, add users, configure/manage the extensions, and manage phone system features. Advanced features like auto-attendant, ring groups, call recording options, and numerous others are also managed through the Account Management Portal.
The responsibility of assigning specific phone numbers and extension to users lie in the hands of the system admin and can be done through the Account Manager Portal. Once users have their extensions and dedicated phone numbers, they can access the account from handsets at their desk if you chose that option. They can also access their account through the several other options (web browser client, the 8×8 desktop app, and the 8×8 mobile app for Android and iOS). They will have access to all the features applicable in their accounts through any of the options.
---
8×8 Faxing
Faxing is still very important for most businesses and 8×8 Inc. have you covered in this regard. 8×8 fax is an personal online faxing service that comes with each Virtual Office Pro extension. It is definitely a better and more flexible way to fax than the traditional method. The Fax over IP solution is based on the T.38 ITU standard for sending faxes across IP networks in real time. It works perfectly with standard fax machine brands, using an analog terminal adapter (ATA). This is an economical alternative to having a separate fax line from a landline phone company.
There are so many positive things about 8×8 fax services but the wide range of documents it supports is one of the outstanding ones. It actually supports over 60 file types. It will also convert the document or file into PDF before sending.
In terms of fax plans, 8×8 offers unlimited fax extension and metered fax extension. Users can also opt for unlimited fax extension second port activation or metered fax extension second port activation if they have the 8×8-certified Obihai, Audiocodes or Cisco SPA122 adapter.
For the unlimited fax extension, you will get:
Unlimited inbound faxes
Unlimited outbound faxes to the US/Canada and
International faxes billed at 8×8 international rates
For the metered fax extension, you will get:
Unlimited inbound faxes
300 minutes of outgoing faxes (extra domestic outgoing faxes will be billed at 3.5 cents) and
International faxes billed at 8×8 international rates.
There are several other impressive features about 8×8 fax: you can send multiple documents in the same fax; you can create your own fax cover sheet with your company logo and info; you can get fax alerts in your email and print instantly; capacity for 100MB of faxes in the internet fax inbox; and availability of international or toll free fax number at extra cost.
8×8 Account Manager Login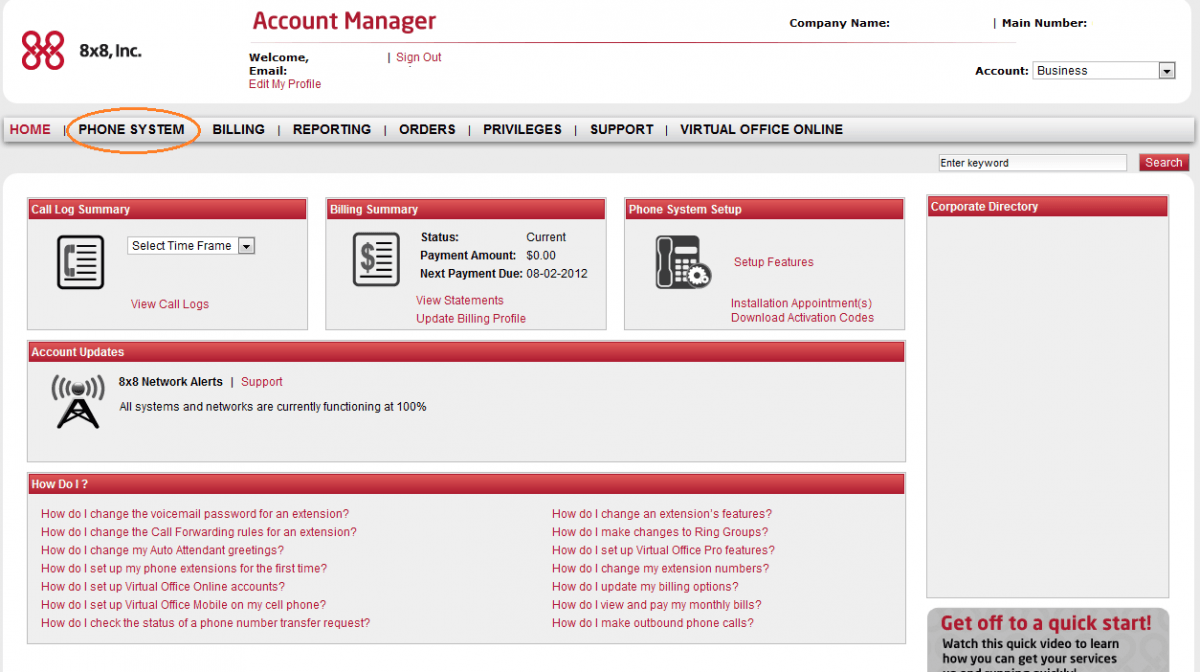 The 8×8 Account manager an easy-to-use administration portal. The Account Manager lets you manage the entire phone system from anywhere. You can set up or configure your phone system, set up extensions, Auto Attendants, Ring Groups, and more. To log in into your Account Manager, you can visit https://accountmanager.8×8.com/customerLogin.xhtml. You will be required to provide your admin credentials (Username and Password), and you will be granted access to your account to manage the system.
Extension users can also manage their extensions online by using the Virtual Office Desktop app. They can make calls through the app; chat with other users in the system; set up their own call forwarding rules; see their call history; and manage their emails. They will also need their extension username and password to login.
---
What We Like About This Service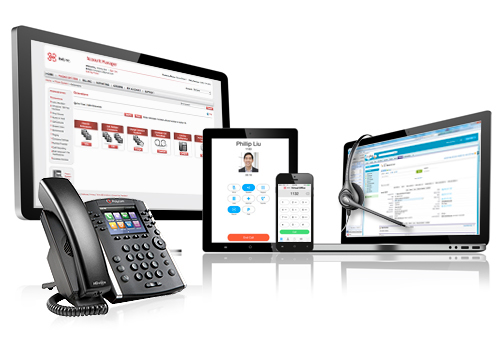 Certainly, there are so many things to like about 8×8 VoIP but some factors stand out among the rest. The major things we like about the service are as follows:
Easy Set-Up and Management – For a VoIP phone system that offers so much, the simple setup process is something that can't just be overlooked. It is one of the simplest phone systems to setup. Managing the system is also super-easy. The Account Manager and the 8×8 Virtual Office Desktop app makes it super easy for admins and extension users to manage their accounts.
Extensive List of Features – Out of the box, the 8×8 VoIP phone system comes with an extensive list of features this is one of the reasons it is regarded as one of the very best business phone systems around.
Friendly and Flexible Pricing – For a phone system that offers so much, 8×8 pricing is friendly. The fact that the pricing structure is quite flexible means businesses have several options to choose from. It is an affordable service that will greatly improve efficiency in organizations.
Solid Desktop and Mobile Capabilities – The way 8×8 works with desktop and mobile devices is another great reason to love the service. With the right PC or Mac, the admin and extension users can do much with their accounts. The mobile app also make it possible to take the business phone system anywhere with ease.
Integration with Several Office Tools – 8 by 8 phone system has some of the most extensive integration options of VoIP service provider in the market. Major CRM and business management tools can easily integrate with this service to make things more efficient for businesses. Netsuite, Outlook, SalesForce, and SmartOffice are few of the digital tools that work efficiently to improve business processes.
---
What We Don't Like About This Service
Though there are so many positive things about 8×8, it still has some limitations. Here are some things we do not like about the service:
Customer Service Need Some Improvement – A big company like 8×8 Inc. can offer 24/7 customer service but they don't, at least not as of this writing. Even though there are several helpful materials on their website, the fact that they don't offer 24/7 phone or live chat to support customers not ideal.
Termination Fees Apply and Can Be High – 8×8 charges termination fees when you decide to cancel their service.
---
8×8 VoIP FAQs
Q: Can you get a free trial of 8×8 services before committing?
A: Yes, there is a 30-day free trial available.
Q: What sort of internet connection is needed?
A: 8×8 depends on strong internet connection to deliver top quality phone services. A high-speed internet connection is very necessary.
Q: What equipment do you need to implement 8×8?
A: Only a router for connections to your Ethernet (QoS-enabled routers are best) and either SIP phones or analog phones with ATA adapters. 8×8 sells every style of desk phone pre-configured, but any SIP phone should work fine.
Q: Can businesses fax with 8×8 VoIP phone service?
A: Yes, 8×8 offers an excellent faxing service that is priced flexibly and is more efficient than traditional faxing.
Q: Do you need a special type of computer for integration with productivity software?
A: No, any modern Windows or MacOSX machine with a decent amount of storage and RAM will work just fine.
Q: How do I access my 8×8 account?
A: Accessing  your 8×8 account is as simple as going to their website and selecting the login button which, like most sites, is located at the top of the screen. Then just enter you username and password and you'll be in your account.
Q: What countries are included in the global extension plans?
All countries in the unlimited package, plus Austria, Belgium, Czech Republic, Denmark, Estonia, Finland, Germany, Greece, Luxembourg, Netherlands, Norway, Poland, Portugal, Russia (Moscow and St. Petersburg), Sweden, Switzerland, Japan, Malaysia, South Korea, China, Taiwan, Hong Kong, Singapore, Australia, New Zealand, Chile, Brazil (Sao Paulo), Venezuela (Caracas), Mexico (Mexico City, Guadalajara, Monterrey), Israel.
---
Final Thoughts On 8×8 Inc.
8×8 Inc. stands tall as one of the best providers of VoIP phone services. The products offered by the company are top-notch and can improve any businesses ability to communicate internally and externally. The fact that the system is easy to setup and use is one of several benefits of choosing it. It also integrates well with many digital tools to make business communication and management a lot easier and more efficient. 8×8 phone services also works well with desktop and mobile, making it easier for users to take their business communication system anywhere. The number of available features is simply mind-blowing. 8×8 is a top business communication solution and remains one of the very best VoIP phone services around.
---
Other Top Business VoIP Providers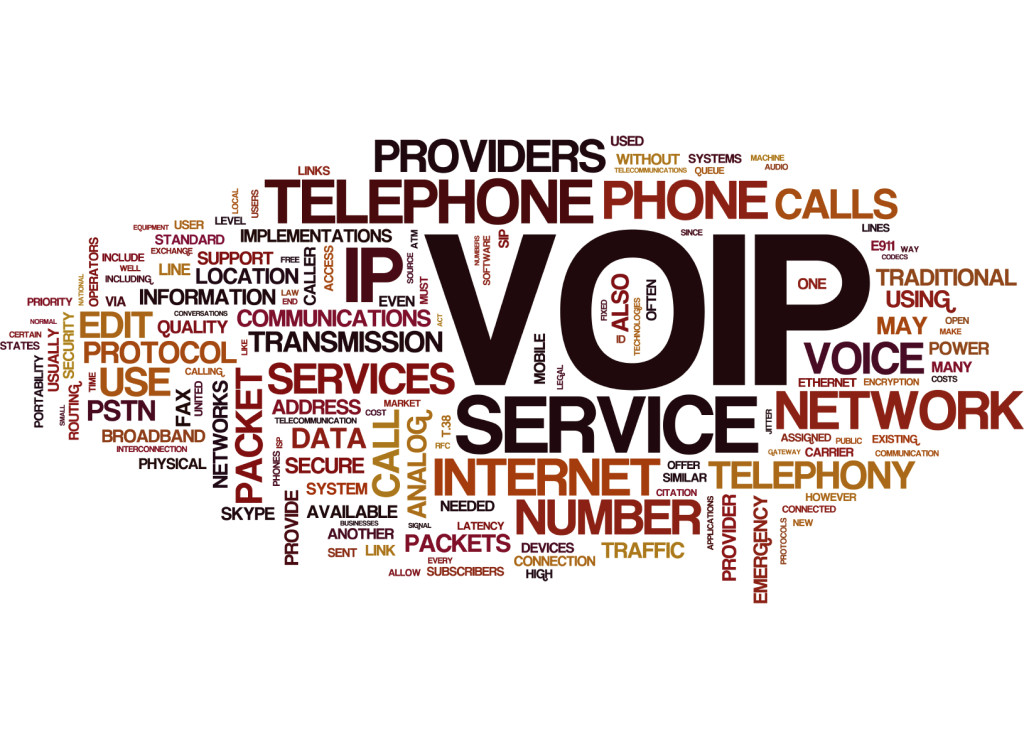 If you are starting a new business or want to make the switch to save money we suggest you check out our VoIP comparisons of the top Providers and also our reviews of other top business VoIP providers listed below.
RingCentral Phone Review – Ringcentral is a very clear industry leader in the cloud communications landscape. They offer an extensive range of features and competitive pricing. Most businesses would benefit greatly and save money if they switch to RingCentral.
VirtualPBX Business Review – VirtuaPBX offers one of the widest sets of features when compared with other top business providers. They also offer the ability to scale as you grow in order to meet all businesses' needs, whether you're a small business, a startup or a large corporation.
magicJack BUSINESS Review – magicJack business is a no frills, cheap service offered by the residential VoIP giant, magicJack. Though this service is ultra-cheap it offers enough essential features that it is an attractive option for small businesses trying to cut costs.
Ooma Office VoIP Review – Another cheap solutions for businesses, Ooma Office comes in at just $10 per month before taxes and government fees. This company is lauded for it's excellent call quality and top notch customer service. This would be another excellent option for small business owners looking to keep costs low.
---
Leave Your Review
TheVoIPHub
Average rating:
1 reviews
Apr 26, 2020
Happy with our service from 8x8.com
We've been using the business phone service provided by 8x8.com for a few years now and couldn't be happier. The top notch product and great customer support is what we love the most.