The role of UCAAS and CPAAS are having a larger effect on the way that businesses communicate. These advancements in technology are on the rise and it's leading to an increasing number of businesses, both large and small, integrating cloud-based communication services into the way that they run their company. 
It used to be that only larger businesses could spare the extra expense of using unified communications solutions. However, the market has transformed over the years, and is continuing to improve.
This post covers how UCAAS and CPAAS are changing and benefiting the ways businesses communicate among their employees and customers.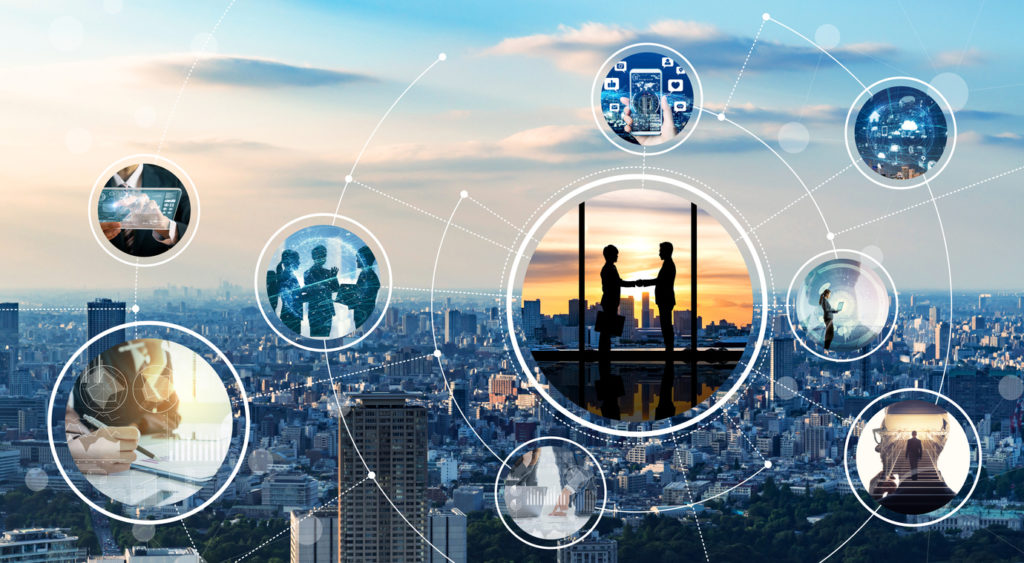 UCAAS Digital Transformation
If you've been looking for a way to make digital changes to your business, you may be interested to learn how the UCAAS market has been growing recently. 
The UCAAS market is projected to reach a value of $79.3 billion by the time we reach 2024. This is up from $8.23 billion in 2015. So, it's clear that the market is going to go through an exponential growth period over the coming years.
One of the main reasons for this growth is because UCAAS provides you with the ability to keep your unified communications based in the cloud. As a result, your business is able to save on expenses related to physical hardware.
Businesses are finding it more common than ever to keep up with the times due to younger people entering the workforce. They come in with a certain expectation of being able to communicate using the newest technology.
UCAAS helps the teams in your business to collaborate in real time. Being able to send and receive instant messages as well as voice and video calls helps people interact smoothly as a collective. 
Businesses are putting serious investments into the cloud as their primary method of communication. 2018's IDG report states that businesses have been investing an average of $2.2 million. This budget is expected to rise over the years too. 
The businesses that have successfully integrated UCAAS have done so by making it their main source of communication. Making the move to UCAAS isn't something you should do just because everyone else is, it's something that can steer the company towards performing successfully in the modern age.
---
State of CPAAS Market
CPAAS enables businesses to use the technology on the internet to their advantage. You can implement CPAAS as a subscription or pay on demand plan. This makes it a more versatile option for businesses to use. 
All kinds of companies have been using CPAAS technology for years. It provides you with an incredibly easy way of communicating in real time. 
For example, whenever you get a message from a business that's reminding you of a payment or appointment, you can be sure that they're using CPAAS. 
Businesses interested in using CPAAS used to only have a few viable options available, such as Skype. However, CPAAS developments has made sure that there are plenty of RTC (real time communications) choices on offer.
As a result, small, medium, and large businesses can all benefit with improved voice, video, and messaging communications. This is possible due to the minimized cost of setting up infrastructures available nowadays. 
Most CPAAS integrations come with support, applications that are already built, and tools for software.
---
Where the CPAAS Market is Heading
Businesses interested in boosting their workflow will find that using CPAAS is the way forward. You're able to implement cloud-based software to take care of instant messaging, voice, and video communications to work with apps and the internet. 
Your business can cut down on the time employees spend sending out messages for appointments or confirmations for orders. Those are processes that can be automated to free up your employees time so that they can focus on the more important tasks.
It's becoming more common for providers of UCAAS to team up with providers of CPAAS solutions. This has lead to apps being more flexible and easier to scale. Not to mention, they're available at a lower cost which provides small businesses with an entry point to start using these cloud-based systems. 
Augmented and virtual reality are some of the latest pieces of technology that CPAAS vendors are looking to introduce over 2020. It's likely that we'll be seeing video conferences become a lot more interactive with virtual and augmented reality being a part of video solutions.
This opportunity for new technology to be integrated in more businesses has been possible due to the remarkable growth of the CPAAS market. By 2023, research shows that the augmented and virtual reality market could be valued at $94.4 billion.
---
How CPAAS & UCAAS Are Merging
We've been noticing a trend of more CPAAS and UCAAS providers merging to create one business. The level of success that these providers have had coming together as one has been varied in the past. 
UCAAS Services & Unified Communications
UCAAS companies are focused on real time communications, which includes things like video and voice calls, as well as instant messaging. This type of system can be integrated into your business with a pay as you go plan. 
Therefore, it's easier for smaller businesses to scale it over time as they grow larger. These services are also provided via the internet. 
CPAAS & Communications Service
CPAAS is also a service that's cloud-based and works for businesses looking to implement apps of their own along with the real time communications features. 
Prior to this service, it was only larger businesses that were able to create their own communications, as interfaces can be expensive. Writing code from scratch is also a long process that can be difficult for many businesses. 
Instead, CPAAS services can be an option that helps with code to use as samples, applications that are built, software tools, and more. As a result, businesses can save on expenses and valuable time.
---
CPAAS & UCAAS Working Together
When you merge CPAAS and UCAAS together, UCAAS is more focused with the application processes. Whereas, the CPAAS has more to do with the platform side of things. 
They can work well together as they're both created with the same goal: Helping businesses utilize unified communications while being cost and time effective. 
Both services are cloud-based and allow businesses of all sizes to improve communication within their work teams and with their customers. 
Since there are some similarities between the two services, they've both been able to grow very well in the modern world. There's a trend happening where UCAAS service providers either roll out their own CPAAS services, or acquire them. 
This had lead to CPAAS and UCAAS companies having to find more ways of showing that they're different from one another. Ultimately, this is a good thing for businesses as it means that both services are working harder to come up with better unified communications features.
---
Unified Communications Trends in 2020 and Beyond
There are some new trends to lookout for in 2020 when it comes to the top unified communications trends. Check out these trends below to better prepare the way your business communicates. 
Collaboration – Studies have shown that an increasing amount of businesses use apps that help teams to collaborate easier. Therefore, it looks like there's going to be an even bigger push for these kinds of apps in 2020. They'll have updated features that improve the user experience and help your employees work together even smoother.
Security – More businesses are taking their security procedures more seriously when it comes to their unified communications. This includes things like firewalls, encryptions, audits, and more being integrated into UC apps. 
Videos – UC platforms are becoming more interested in replacing the communication between businesses and their customers from written to video communications. This is due to the growth of streaming on social media apps and how easily accessible it is. Therefore, UC could help your business do more than just video conferences between teams.