Many companies are making the switch from traditional phone lines to VoIP systems for a wide range of reasons. One of the main reasons being that traditional phone lines severely limit your business's ability to be mobile.
The only way that you're able to continue using traditional phone lines and stay on top of incoming calls when you're out of the office is to provide people with an alternative out-of-office number. 
This can be a hassle and it's likely that not a lot of people who are ringing you will remember or have an alternative number for your business saved. 
Therefore, businesses have moved to VoIP systems to enable their employees to have an easier time taking calls when they're traveling, without people having to call multiple numbers. 
The cloud-based system that VoIP services rely on is what makes it stand out as being superior to traditional phone lines when being on the go and keeping up your productivity.
---
Benefits of Having VoIP Services When Traveling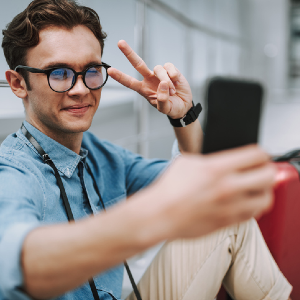 International Numbers
Many VoIP systems provide businesses with better call rates when it comes to making calls internationally, so long as you who have a phone number from the U.S. Alternatively, there are often subscription options that come with an international cloud-based phone number.
This enables you to make unlimited international calls. It's required that you have a steady internet connection to be able to make these calls. Employees traveling to different countries can have an easier time keeping in contact with the company with VoIP services.
---
Call Forwarding
Call forwarding is among the biggest features that businesses can benefit from for people who are away from the phone in the office. 
For example, if you're traveling or working from a different location, you can have the calls coming into your office phone routed to your mobile phone. It's a fantastic way to ensure that you're always able to take important calls and remain productive when you're elsewhere. 
Depending on the VoIP service you're using, call forwarding may be automatic or you may have to set it yourself. Call forwarding tends to work best when it comes to receiving calls. 
You can even have calls forwarded straight to voicemail. However, this is a feature that people only take advantage of when they're on vacation.
---
Mobile Apps
VoIP users love being able to access their system from desktops and smartphones while mobile. This is because the entire system can be easily managed via the internet. So, you can download the VoIP app on your desktop and mobile phone.
It's a handy feature that lets you have total access to your VoIP services, regardless of where you are, so long as you have an internet connection. 
Being able to have apps downloaded can be an excellent way to provide your employees with more flexibility. If they're expecting a call but also need to travel somewhere to take care of another business matter, they can take the call and still make it to their destination at the same time.
---
Headphones
People who are trying to take important calls when traveling and in busier places can sometimes have a tough time being able to properly hear the other person. This can be a downside to taking calls through VoIP systems while on the go as it's likely that you'd have to call the person back.
However, an easy way of avoiding this problem is to use headphones. Using headphones that have a microphone lets you properly hear the other person while also ensuring that they can clearly hear you while you're on the move.
---
Internet Connection
When it comes to employees traveling abroad and having access to your VoIP service, you'll want to consider that foreign networks can leave your system more vulnerable. This is especially the case when it comes to using Wi-Fi networks that are public. 
People often use public networks while traveling as they're cheaper. However, hackers have a much easier time accessing your system via these networks. 
Therefore, it's a good idea to ensure that employees who are traveling sort out a specific mobile data plan so that they can continue using the VoIP services to keep in contact with your company. 
If you don't have any other option but to use a public network when using VoIP services on your mobile, be sure to use a VPN. VPN's work to prevent people from being able to see your real location and internet traffic.
---
Conclusion
Using VoIP systems can have fantastic benefits when it comes to providing your employees with more flexibility. They can keep up with incoming phone calls, no matter where they are and boost their productivity. 
There are also some potential risks to keep an eye out for, as we've highlighted in this post. Be sure to use the details found in this article to be able to use VoIP services while traveling to enhance the way your business runs.