Ooma Telo 2 continues the trend of strong telephony benefits of a landline-like unit, adding more oomph to the low-cost hardware alternative. The initial investment is for the Ooma Telo 2 Air that connects any standard telephony device to the internet, much like the first generation Ooma Telo, is only a tad higher.  However, unlike any other VoIP solutions, you don't have to pay any monthly fees. It's a perfect option to leverage the reinvention of landlines as a 'freebie' with cable and internet packages. Ooma's pitch with the Telo is to essentially offer a third-party service which offers better hardware and service, easier set-up and dedicated customer service compared to the default package from your internet service provider.
Our Ooma Telo Air 2 Review
---
Ooma Telo Air 2: Specs
The Ooma Telo 2 unit delivers lifetime telephone services like free nation-wide calling and affordable international calling via broadband Internet. Leveraging the VoIP technology, the Ooma Telo 2 unit is available in two colors – black and white – with the signature blue Ooma logo to embellish the top of the unit. The tech specs of the Telo 2 unit include:
Prominent, large physical buttons for basic controls (Adjust Volume, Adjust Brightness), changing lines, sending calls directly to voicemail, retrieve voicemail controls (including options to Play, Reverse, Forward, Stop) and trash messages. All voicemails are stored in Ooma's cloud storage, making it easy to retrieve them by logging into your Ooma account from any internet enabled device with your account credentials.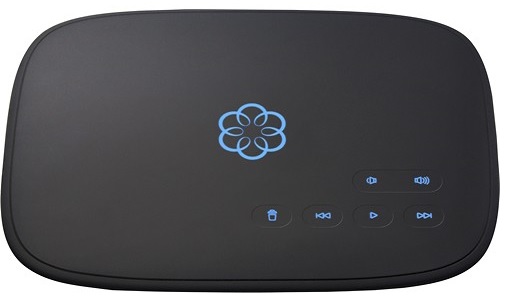 Several expansion ports to extend the features to multiple phone units or lines:
1x RJ-45 10/100 Ethernet WAN port
1x RJ-45 10/100 Ethernet LAN port
1x RJ-11 Phone Out port
1x USB 2.0 Port You may also purchase adapters (sold separately) from Walmart or Amazon to extend the USB port for Bluetooth capabilities, Wireless adapter ($49.99 from Ooma stores) for Wi-Fi support, support for Ooma Telo handsets and online directories.

Included features like free voicemail management, call waiting and Caller ID
Portable Unit at less than 2 lb and unit dimensions of 10.6 x 8.3 x 3.0" the Telo 2 is a sleek, compact hardware unit which doesn't stick out in a professional space. The Wi-Fi features also ensure freedom from a maze of cables and wires or needing to plug them into your internet enabled device.
---
Features
Ooma Telo 2 stands out for a number of tangible benefits and features over competing services but stands out very little from the earlier version of Ooma Telo.
Cost effective – As a VoIP telephone service, Ooma Telo 2 has an upfront cost of the wireless unit and the Telo device. However, it gets completely rid of the monthly fee and hidden charges involved in with VoIP options and internet telephone services such as NetTalk, MagicJack, Vonage or PhonePower. While there are some state taxes for communication and 911 services to be paid (so it's not completely free!), the Ooma Telo 2 unit pays for itself within approximately three months of use.
Free 60-day trial of Ooma Premier, Free in-network calls – Ooma Premier, armed with several advanced voicemail and phone service features is available for a free 60-day trial with the Ooma Telo Air 2 device. At $9.99/month you're already saving $20 simply by using the Telo 2 unit! You can also call fellow Ooma units anywhere in the world for free.
HD call quality – While not quite up to Ooma Business standards (which is clearly targeted at professional quality business users), it is definitely better than MagicJack or NetTalk. The HD sound is free from echo, static interruptions, white noise or fading.
Wi-Fi adapter with Dect 2.0 support – Unlike several competing brands, the Wi-Fi option is available and reliable, steering clear of a maze of unsightly wires for a telephone alternative and the limitations of physical proximity they pose. Furthermore, Ooma's Dect 2.0 Wi Fi support is a path-breaking innovation which helps excellent audio clarity and overall service strength with minimal interruption or bandwidth hogging for any other Wi-Fi enabled device in your household. You can either tie in or work independently with your smart home gadgets.
Advanced security and firewall configurations – As a secure, high-performance router with firewalls against malicious interruptions and eavesdropping over electronic media, Ooma is equipped with QoS support. It helps you set up networked devices, home-based servers and LAN/WAN features safely.
Easy Voicemail access – from anywhere, by merely dialing your own Telo 2 number and pressing the star (*) key. You can even record memos, set up notifications or customize greetings.
Standard Telephone features – Despite ushering in the new-age alternative of telephony over internet, Ooma Telo Air, especially with the premium users, retains many of the nice features of standard telephone service like email/ text message of voicemails, ability to play back recorded messages, edit and update greetings, excellent options to screen and block calls with privacy settings (no more telemarketers or anonymous callers!), good sound quality and easy set-up options – all in an attractive pricing bundle.
Mobile App – While Ooma doesn't have a softphone option for desktop the mobile app is crisp, lightweight (only 9.5 MB), doesn't ask for too many permissions (audio unit, notifications and contact list) and is far more reliable than the MagicJack or Invoxia apps. The app is available for iOS and Android, an indication perhaps of the user demographics in USA and Canada. Windows phone and Blackberry isn't supported as of now.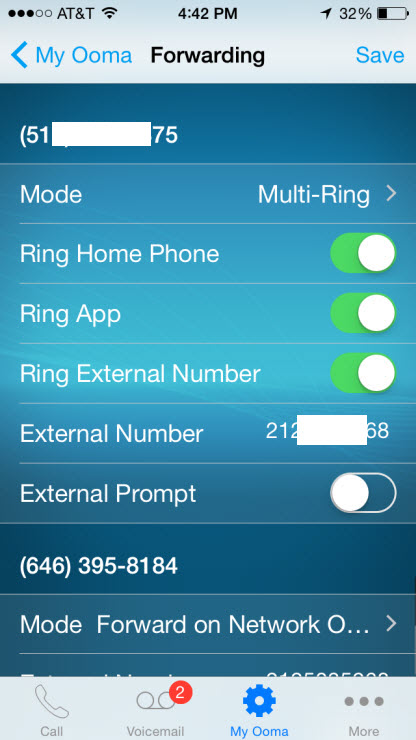 Smart Home integration options – Philips Hue, Amazon Echo and WeMo are all compatible with the Ooma Telo Air with a visual indication alert for commands and signals, as well as voice-controls available for actions.
With a spiffy table-top adapter with a speaker and friendly web-interface, Ooma Telo 2 certainly makes the step up as a traditional landline alternative. Calls didn't drop or trail off even in slightly weaker connection zones.
---
Setting up the Ooma Telo Air 2
Once you unbox your Telo 2 adapter package, you'd need to first register online at the Ooma site (if you haven't already).
Enter the activation code located at the bottom of the device, accept the terms of service and verify the E911 information.
Select your area code for your phone. Since this is internet, your physical location isn't important – however, some of the popular locations like Chicago (312), New York (202) or San Francisco(415) might not be available.
Submit the form with your profile information (name, phone number, password, email ID, 911 address and security question).
Click the "Activate" button.
Connect your Telo Air 2 device to the internet router via the Ethernet cable, to the phone and AC power outlet. The ports are marked to make this step a cinch.
Once you're plugged in, your ports would come alive with a blue LED light indicating they're active. It may take a little while to download any software upgrades when you first connect and the lights may either flicker or stay orange until the process is done. Do not turn off, reset or unplug your device during this process.
Select your notification preferences, back-up or emergency number, privacy settings and other custom set up options. You can port both your existing numbers or dedicate a new number during this set-up process.
The web-based dashboard interface can be used to access or refine the account preferences further or monitor other details.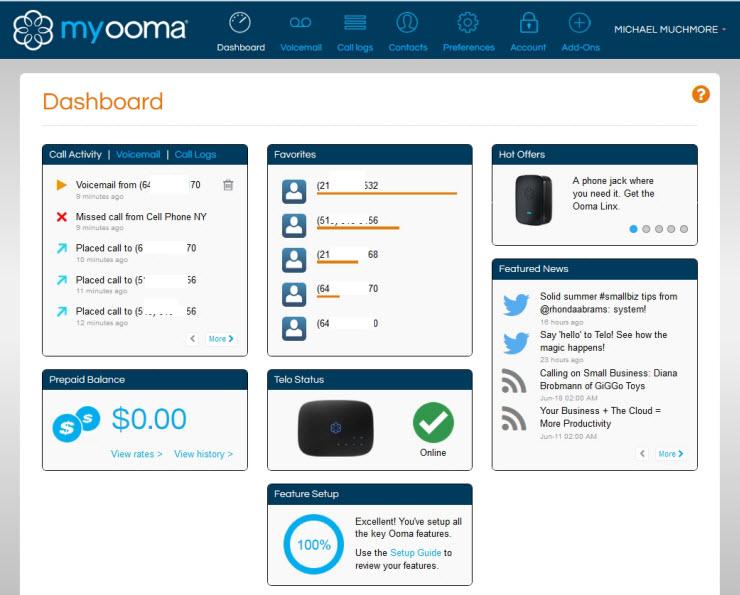 ---
Ooma Telo Air 2 Service Plans & Costs
Ooma's pricing is relatively low in general and the Telo 2 is no different. The device retails at $99.99, although Google and Amazon frequently offer special deals and merchant rebates to slash the price down by $10-15 per unit. The basic/ free service has nationwide support in USA and Canada. You also have the option to up the ante and pay $9.99 per month for the Premium premier service if you would like (See our Premier or Basic Comparison for more details on their differences). The unit potentially will work on any internet enabled router outside the country too, however the billing rates would be akin to any US number being used abroad. This means people outside the US with Ooma can make free calls back to the US.
Other costs and fees for services are as follows:
Service
Cost
Basic Service Plan, plus mobile app (iOS, Android)
Free, $29.99 for Hawaii, Alaska, Puerto Rico
Monthly fee (State imposed communication charges, taxes etc.)
Variable by location (e.g. NY, NJ – $3.99 per month)
Porting/ Number change fee
$39.99 per number, $19.99 per update (caller name or number)
Directory assistance
$0.99 per call
Reactivation fee
$9.99 per number
Extended warranty
$39.99 per year per number
Ooma Linx Device
Ooma wireless network adapter
$49.99
Ooma Bluetooth adapter
$29.99
Ooma HD2 handset
$59.99
International calling plans

200 minute
500 minute
60 countries unlimited World Plan
70 countries unlimited World Plan Plus

$4.99 /month
$4.99/ month (only for Premier users)
$17.99/month
$25.99/month
Ooma Premier
$9.99/ month
Premier Services

Virtual numbers
Enhandced calling
Enhanced voicemail
Voicemail transcription (standard)
Voicemail transcription (Premium)

Cost

$4.99/month
$4.99/month
$4.99/month
$4.99/month
$9.99/month (40 messages)
*$0.25/message for additional messages.

---
Drawbacks
As a device, Ooma Telo 2 and the Ooma VoIP telephone services are fairly top-notch. The downsides are few and far between and don't bog down the overall experience. We look at some of the things which we didn't quite like:
Compared to Ooma Telo (on clearance for approximately $59.99 while supplies last) the hike in price seems a touch steep, especially since there hasn't been any noticeable improvement in basic (free) plan benefits. The design and indicators have been upgraded to reflect a more contemporary design. The only visible benefit is the dialing option to set up the "Do Not Disturb" mode not available in the earlier model. Given the 'affordability' pitch, this sticks out a bit. Besides, the monthly state taxes and communication regulatory fees mean, it isn't completely free from monthly payments either.
Wi-Fi support would require additional hardware to be paid for, as would many of the premium features not available for basic plan.
Service cancellation from Ooma is a slightly drawn-out process. There is an obvious pitch to re-furbish and resell the equipment 'to a friend' and the cancellation process doesn't set in motion until the monthly billing has been accounted for, which might be an annoyance should you decide to cancel a few days into your billing cycle. That being said, the 24/7 customer service toll-free number and the live chat options are generally amicable and helpful.
---
Conclusion on the Telo 2
As a basic internet telephone service Ooma trumps most options available for home telephone or VoIP in terms of features, call quality and costs. The Ooma Telo 2 device is more expensive than it's predecessor, with few tangible technology upgrades. However, even with the slightly higher price tag, the device and service pays for itself in a few months and rakes in the savings over nearly all standard or competing options. Barring minor gripes about the cancellation process, Ooma Telo 2 is an excellent device though we recommend going with the original Telo device (while supplies last) because this newer device costs more and we didn't find any noticeable improvements.
---
Leave Your Review
TheVoIPHub
Average rating:
2 reviews
Aug 26, 2021
How can one tell the Telo model?
Ooma does not provide a designation on its boxes as to Telo or Telo 2. It simply refers to its devices as Telo, Telo Air and Telo 4G. Its chat reps will not provide model numbers (which appear on the bottom of the units but not on the box). How does one know if one is purchasing a Telo 2?
Aug 8, 2017
Telo 2 has new features
My understanding is that there are at least two features (maybe more) that work on the Telo 2 but do NOT work on the "Telo" model. #1 it can work with Amazon Echo...#2...It can work with "Nest".