What Is Ooma Linx?
Ooma Linx is the ideal accessory to expand your Telo or Office Manager unit, connect additional devices, and add flexibility to your home phone system. The great thing about the Linx is it can be used with both Ooma's residential phone service and Ooma's business phone service.
Traditionally, home phones are hamstrung by needing to be near an electrical outlet, a phone jack, or a LAN port (VoIP units). The Telo Linx resolves the situation by turning your electric outlets into an expandable phone jack using a POTS (Plain Old Telephone Service) adapter. Additionally, it doubles up as a phone jack for any telephone device used at your home – wired phones, fax machines, or even answering machines. You may even dedicate a second line from any U.S. area code to add more muscle to your home phone or home office unit, regardless of the actual location of phone jack.

---
Setting Up Ooma Linx
Typical Ooma Telo or Ooom Office Linx packages are the same and cost $49.99 extra for including the Linx device and a manual/starter guide. The hardware properties are as follows:
Color: Black (glazed or matte finish)
Indicator light (Blue LED – backlit)
HWD: 4.5" x 2.2" x 6.5"
Device connectivity range: 50 m (160 ft) – once outside the range of your Telo device or telephony equipment, the indicator LED turns Amber in color.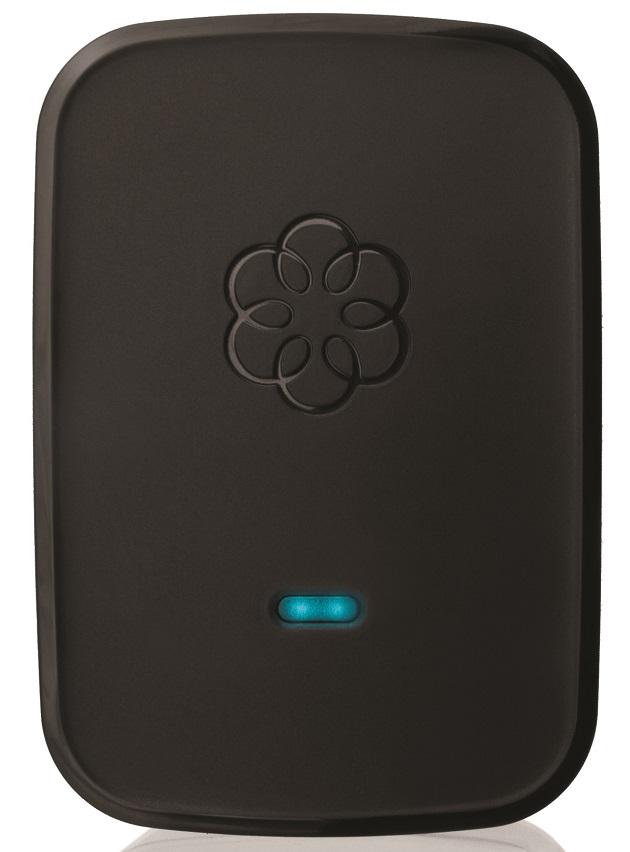 To start using Ooma Linx device you would need a telephone/ ethernet cable to connect at least one telephony device (not included in the package). To activate the device:
Plug in the Linx unit to a convenient power outlet, keeping in mind the 160 ft range from your Telo.
Press and hold the PAGE button (located typically on the back or top-right corner of the device) for five seconds to initiate registration mode. Once the Telo and Linx recognize each other automatically, the registration initiates and continues for a couple of minutes to ensure necessary software installation or upgrades are verified. The blue LED will glow once the process is complete. 

*

*

Do not unplug device if you see the LED flickering between blue and amber color. It is perfectly normal during software upgrades and can take up to 20 minutes after connecting for the first time. Wait until the process is complete, and the LED light is stable at solid blue.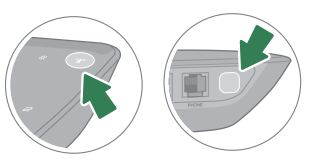 Once firmware upgrades are complete, you may unplug and connect your Linx wireless phone extender device to any other location in your household, but within an agreeable 'sweet-spot' of your Telo range. This is purely to ensure any automatic updates or downloads happen without issue. 

Connect your phone system and note the Ooma dial tone.
That's it! Setting up Ooma Linx in a central location to pool into all kinds of telephony options like a standard phone, fax machine, or cordless handsets is a cinch!
---
Ooma Linx Review
Ooma Linx may essentially seem like a phone jack to extend your home telephony or VoIP unit but we found some pretty good features, and some minor gripes.
The Good
Versatile

– Ooma Linx is compatible with all standard telephone and VoIP devices.

Smart

– It can automatically detect fax settings in a multi-function printer, or standalone fax devices. When you try to send a fax, it tailors the in-built software settings to facilitate the service.

Flexible

– The Linx device extends either of your Ooma phone services to any room in your home or office. It adds essential mobility to your telephone unit. You may send a couple of test faxes to faxtoy.net or a friend's machine to verify.
Savings – Helps cut down cost and hassle of rewiring your home .

Additional Line

– The Linx device is handy if you are looking to set up two or more lines. With a Premier or Office subscription service ($9.99 a month) your Linx unit can be set up to act as the second line with exclusive voicemail service. Considering the $65-70 monthly charges for a regular phone, with expensive contract clauses – this is certainly a good saving coming in at roughly $50 per month.
The Bad
Pricey

– As mentioned above, Ooma Linx could bring forth some handy savings. however, if your home telephone needs are more (multiple members, home office requirements, exclusive line needs) – the costs could add up quick. $50 for every new phone line could mean $150 for a couple with a teenage kid!

Range

– There have been known issues with the range of Linx devices for a relatively big homes. While Linx signals are reliably strong in open spaces, too many walls and distance more than 45-50 meters can affect signal quality.

Device count limitation

– The Ooma Telo unit is limited to four devices. It's easy to max out with a fax, a standard POTS (plain old telephone service) unit, and couple of other VoIP devices.
---
Other Ooma Linx features to avail?
Ooma Linx is equipped with nifty set of features even for the Basic subscriber. It offers you calling, receiving calls, conferencing into existing calls, caller-ID, 911 calling, and call-waiting.
Premier users, in addition to Instant second line options, may also get virtual phone numbers, private devices, and a handy 'intercom' feature to get an incoming call 'beep' or notification in all devices irrespective of whether you're the one engaged in an active call.
For a small VoIP network, household, or home office needs – Ooma Linx is a must-have to expand the range of your telephone services. However, if you have multiple users, a bigger space, or wider device needs it might be a while before the Linx devices pay for themselves. Either way, Ooma Linx is a good, sustainable one-time investment.